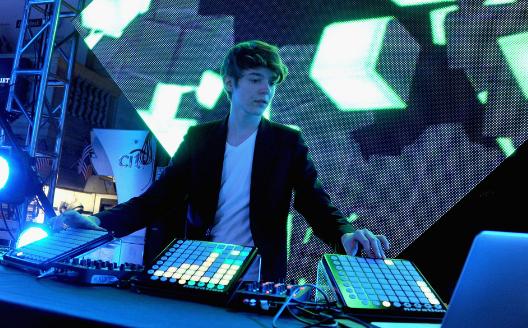 Electronic wunderkind Madeon is gearing up for a big year with a new album slated to drop and a massive live tour with fellow former child prodigy producer Porter Robinson. One thing that fans have always appreciated about the young frenchman is his mastery of the Novation Launchpad. In fact most people discovered Madeon through his crazy "Pop Culture" mashup video (Which can be seen below) where he clip launched an absurd amount of his favorite songs flawlessly. It took the internet by storm and made DJs seriously reevaluate the way they approach live performances.
Madeon – Pop Culture (live mashup)

Now, Madeon has given his fans the opportunity to learn how it's done through his new app on his website called "The Adventure Machine". Featured is a preloaded Notvation Launchpad interface that is loaded with some of Madeon's most memorable samples that you can tap and build your own Madeon remix.
CLICK HERE TO MAKE YOUR OWN MADEON REMIX >>> MADEON ADVENTURE MACHINE
Now for those of you who think this is just some cheap game, this is far from that. It's pulling the curtain back and helping fans understand different methods of performing and Also this helps fans understand how songs are structured to a certain extent. Of course there's only a finite amount of samples to choose from but come one guys it's a web app. If you want more just go to Guitar Center and grab a Launchpad they only cost like $100 and it syncs right into your cracked version of Abelton 9 (Go buy that too, come on guys be cool).
A quick break down so you know what to do going:
RED BOXES: Those are your basslines.
BLUE BOXES: Those are your drums loops.
TEAL BOXES (Or like green I don't know): Those are your vocal and synth samples.
Each clip you press will be on a 4 bar loop and everytime you select a new clip to play it will change and correspond in 4 bars. Keep in mind you can only have a 1 drum loop going, 1 bass line going and 3 samples at a time. So make your choices wisely because you can see how simple and how complicated it can get being Madeon.
Make sure to check it out in the link here and have some fun! Tell us what you think and when you're making your remixes…TURN THOSE SPEAKERS UP!
Rage On My People
"Follow" Madeon: | Facebook | Twitter | Soundcloud |
Comments
comments