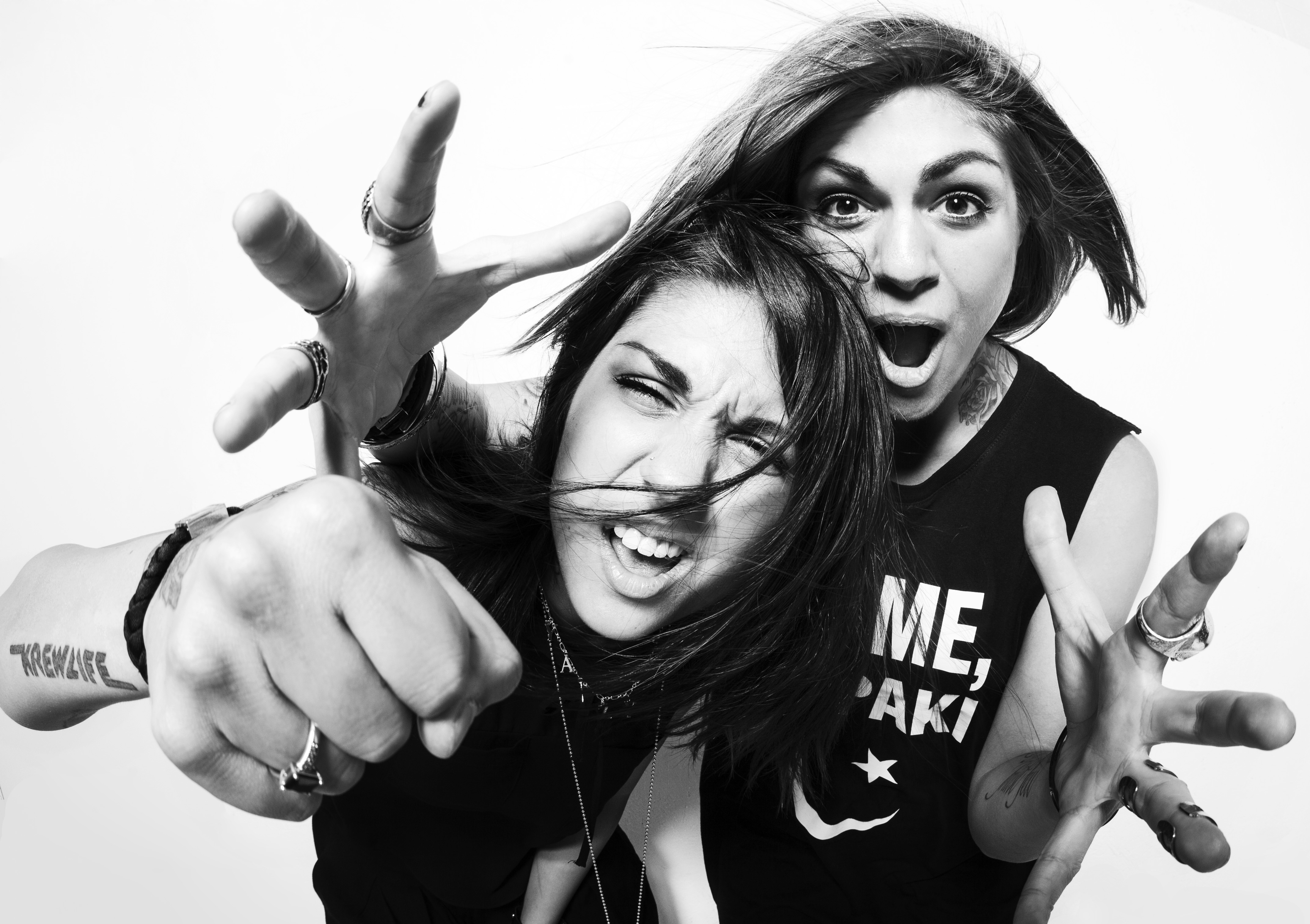 Photo Credit: Nikko LaMere
Krewella rocked Ultra's Live Stage yesterday – and despite all of the coverage about their equipment not being plugged in (newsflash: it was), we thought these five things from their set were pretty damn cool.
1. Live Instruments After dropping hints about their new live stage set up for the past few months, Krew fans finally got to see what the Yousaf sisters had in store for UMF's Live Stage. The surprise? Alongside the girls on stage was a drummer (Frank Zummo, one of the founders of Street Drum Corps) and a guitarist (will update with name soon!!), who rocked out for an hour as the girls DJed and sang.
2. Jahan and Yasmine Sang Covers In the past, the girls only sang Krewella originals live. But at Ultra they showed us that they can sing more than their own material, and moreover, not just EDM songs. "Four Five Seconds" and "Take Me to Church" were two stand outs from the set. Let's just say I'd be happy if the only version of "Take Me to Church" I ever heard again was from Krew.
3. The Diverse Song Selection Though Krewella is already known for genre blending, this set took that to the next level. Aside from the inclusion of pop songs as mentioned above, the girls mixed in rock tracks like Blur's Song 2. They even played Jauz's dope "Tip Toe Wing in my Jawwwdins" remix, I'm sure you never thought you'd hear RiFF RaFF's voice in a Krew set.
4. Jahan's Speech Right before the end of their performance, Jahan took to the mic to thank the fans for coming out to support them during their set. She started off by acknowledging that Krewella has had a rough year, I pulled out my phone and recorded the rest of it, here's what I caught:
"And that's because the stories being told to the media weren't aligned with what the Krewlife means. Do you know what the Krewlife means? The Krewlife is about community, unity, acceptance, tolerance and most importantly peace. So you guys are here because you're the remains of our fans and that means a lot because you guys, you guys are an intelligent, independently thinking Krew. Because you know better than to fall for the headlines, you know better than to eat the bullshit that's been fed to you. You know how to think for yourself. And most importantly you have faith in us, thank you so much you guys are the future of our Krew."
5. The Dedication to Rainman The last song in their set was a brand new track titled "Friends" and before they sang it, Yasmine got on the mic to say this:
"This last song is a brand new one. This one is for anybody in your life who might have done you wrong, but you love them, either way you will always be there for them. I want you to think of that person and send them all the love you have right now. We want to dedicate this one to Kris."
The dedication came as a shock to most fans in the crowd, as many would assume after the heartbreaking and very public split up and lawsuit that Jahan and Yasmine would want to bash Rainman. But it was the exact opposite, and they were so genuine about it.
Check out 10 minutes of their UMF 2015 set here:
Comments
comments