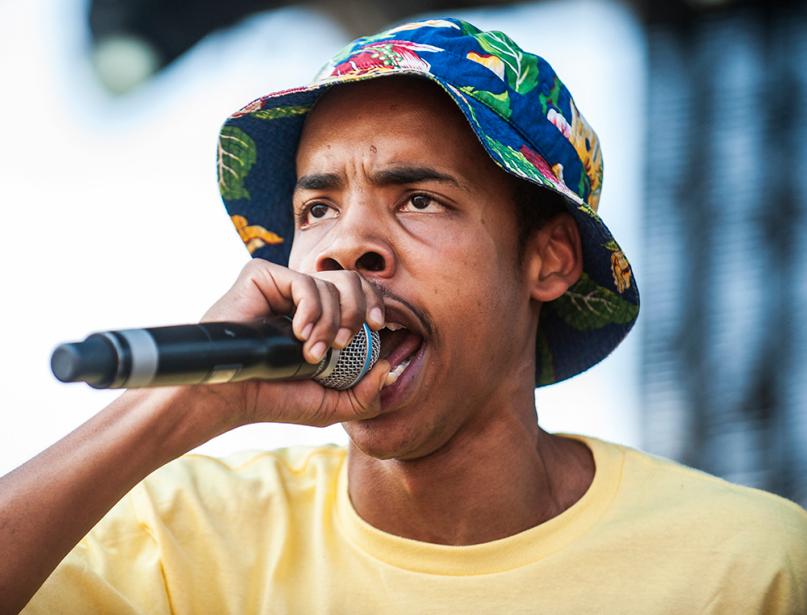 Photo above shot by David Hall
Both Earl Sweatshirt and Action Bronson have dropped off major albums this past week bringing a buzz to the hip-hop scene. Bronon's album Mr. Wonderuful, and Sweatshirt's album I Don't Like S**t, I Don't Go Outside are albums that show immense progression from the two powerhouses. Mr. Wonderful has already been rated by Pitchfork with a rating of 6.3 and a review explaining how he adheres to his indie sound on his first major label release, something that many people feared would change as the album came nearer. Earl's album received a solidified 8.0 from Pitchfork as well. The album is said by Earl to be a return to his former sound after his last album Doris was said to be riddled with doubt. This new album shows his confidence renewed.
The two come together on Warlord Leather to create a dynamic sound with a perfect balance of production by The Alchemist. The notes featured below the track point to it's release as a commemorative piece surrounding their recent albums. During Earl's opening verse he comes out strong with strong lyrics relating closely to the experience of seeing his live performances. "Hit the road for some months,For the fan in the front. Woah, getting punched out, Screaming Woah with his hands up." This concept shouts out to his initial fame for being the kid on EARL that nobody expected to say the things he did, and how that created his diehard fan base. Bronson comes in equally heavy with with quick multi's and a stronger verse than some songs featured on his release album. With lines such as, "My mind make the fish swim up in strange patterns. Drift in the bay, Saturn, switchblades, new face Get the face tatted. It's time my lungs look shattered, Hanging backwards off a ladder." This song shows the powerful combination these two have together as they exemplify different styles and overall tone within the piece.
With both of the recent albums being received positively by fans and critics alike, the release of this track comes as somewhat of a surprise with the recent issues between artist Earl Sweatshirt and his label – Columbia Records – due to the way in which his album was released Monday March 23rd. While speaking with NPR for an interview at SXSW, Earl went into full detail about his immense anger with Columbia for the leaking of the track list, title, and album art. He wanted fans to focus on new music without the album hype. However now that it has been released, apparently the music is going to keep flowing. Luckily he and Action Bronson came together to create some fire within the angry blaze going up with Columbia Records. See Earl's Interview below and be sure to check out the track.
Earl Sweatshirt speaks on his album release.
"Follow" ARTIST: | Facebook | Twitter | Soundcloud |
Comments
comments