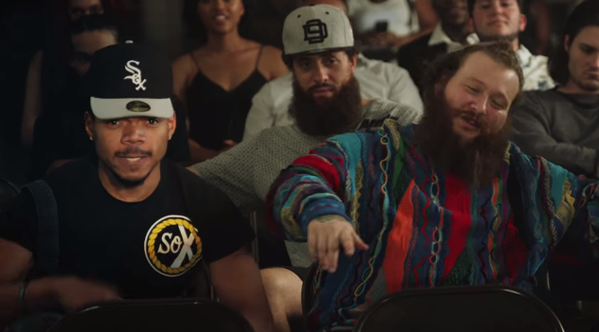 Action Bronson Baby Blue ft. Chance The Rapper (Prod. Mark Ronson) | Download |
With his debut album set to drop on March 24, Bam Bam (Action Bronson) blessed his fans with some amazing new visuals for his single "Baby Blue" featuring Chicago wunderkind Chance The Rapper and production by "Mr. Uptown Funk" himself Mark Ronson.
They bring the song to life by doing their own version of Eddie Murphy's classic "Coming To America" and honestly it might be as funny as the original movie. Featuring Bronsalinio playing multiple roles in the same crazy situations like Eddie did so many years ago with his boy Big Body (aka Young Torso aka Big Body Buggatti) as his Arsineo Hall. Chance is featured pretty much as himself however, the visualazation of his feature verse goes off perfectly as girls "Cut their tongues on a paper cup" and "Tits sag in their early 20's" as soon as he says it (Laugh or cringe it's something to see). All tied together by Mark Ronson's beautiful, soulful jazzy beat that will chase away any blues you might be going through.
The roll out for "Mr. Wonderful" has been just that…wonderful. The once obscure underground NYC rapper is now on set to take over the game and proves time and time again that Bronson with a budget is something to behold that just yields quality entertainment. He recently graced the stage at the MTV Woodie Awards with Rae Sremmurd presenting Video Of The Year and candidly spoke on cinematography, story lines and concepts while the Mike Will Made It's prodigies just said "Beautiful girls" over and over again. This seems to be what separates Bronson from the pack because instead of the usual and the average, he always brings the weirdness and the creative. So show this video some love and get ready for the album because "Mr Wonderful" is coming!
Turn up those speakers and rage on my people!
"Follow" Action Bronson: | Facebook | Twitter | Soundcloud |
Comments
comments