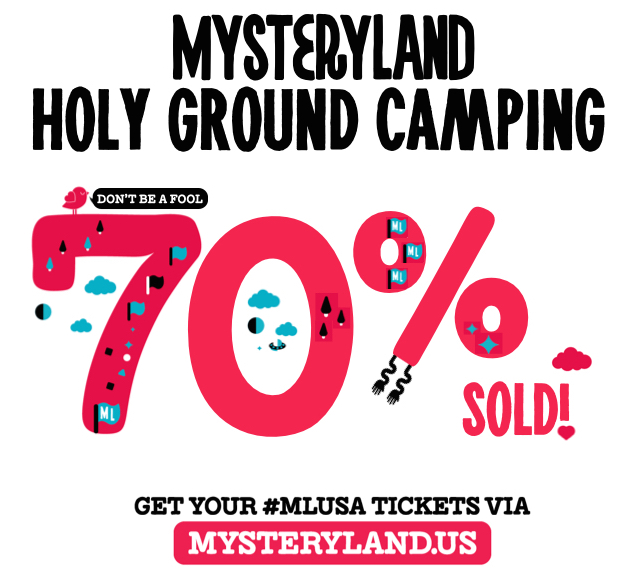 While New York has been getting slammed with snow and frigid temperatures recently, all we can think about is returning to the Holy Grounds of Mysteryland USA. We're only 98 days away, but who's counting. As the second edition of Mysteryland USA slowly approaches, Holy Ground spots are selling like hot cakes. Just like the festival itself, the magical Holy Grounds has also received a makeover! The campsite is already 70% sold out so act now before it's too late! If your on the fence about joining the Holy Grounds, check out this year's camping highlights listed below so help you make that final decision.
MYSTERYLAND USA 2015 |Tickets Here|
HOLY GROUND CAMPING HIGHLIGHTS FOR MYSTERYLAND USA 2015
1. 70% Sold Out, of which Friendship Camping, ML's group camping is already 100% sold out!
2. Official theme for 2015: "Camp DoYaWannaDance" — inspired by old school summer camps and classic games (Giant Drinking Jenga, Giant Connect four, Giant Battleshots, Giant Beer Pong, Giant Operation Game (Birdie), Bounce House dodge ball, Hamster Ball soccer, 20′ inflatable slide, Stand Up Comedy, Acro Yoga classes, Bellyfit classes)
3. Camp on the historic Woodstock '69 festival grounds
4. Three stages on Friday! Unofficial first festival day for campers only! 2PM – 2AM programming! The return of BangOn! NYC Bus, introducing Pineapple Paradise and the Camping Circus tent!
5. Start the day earlier partying – "The Breakfast Club" opens up each day at 11AM, hosted by 'Saved By The 90's'. Booze brunch!
6. Large assortment of food and beverage vendors, incl. vegetarian, vegan and gluten free.. + Mocha chime frappe grande lattes and kale spinach pineapple juices.
7. Chilled out seating all over the camping grounds
8. Morning Deep House Yoga and spiritual workshops
9. BYOTent, pre-set up easy tents or super deluxe VIP lodges (info here: http://www.mysteryland.us/en/camping-options/)
10. Silent Disco for the after-after hours!
11. Camp just a few minute walk away from the festival grounds!
12. Over 1/2 million dollars ($500K) invested into improving the camping grounds, such as gravel roads, showers, drainage, parking, mud prevention etc.
Comments
comments