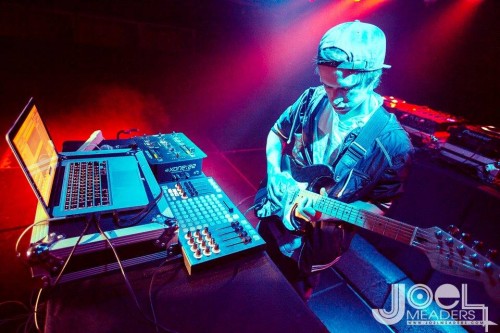 After being a fan of his since his inclusion in Pretty Lights' remix album a little over a year ago, it was awesome to get a chance to talk to him after his opening set for Gramatik at Best Buy Theater in NYC last weekend – one of two back-to-back sold out shows to a packed house.
Before we get to the interview, I want to take a moment to say that this was one of the best concerts I have ever attended. I got there during Marvel Years' set, and was pleasantly surprised to learn that he plays guitar while DJing, which adds a very cool element to his already very solid live show. His unique brand of electro funk makes it feel like the summer even in the dead of winter, and he had the crowd moving the whole time. After his set came Russ Liquid, who covered a ton of ground, dropping styles of music that sounded like nothing I've ever heard before and working the crowd with his use of live instrumentation. Playing an actual instrument seems to be a requirement to earn an opening set at a Gramatik show, which is definitely a policy that the rest of the industry could stand to adopt.
After Russ Liquid came Slow Magic, who I had never heard of and thus had absolutely no context for. When he came out wearing a giant glowing animal mask and fuzzy vest, I was pretty surprised, to say the least. His set, in which he played his own unique brand of artsy, sort of ambient music, complimented by live drumming on a pair of floor toms and I believe some trigger pads, was very cool. It was a nice break from the intensity of the other artists, and had moments that were breathtakingly beautiful.
After Slow Magic came the man of the hour, Gramatik. It had been a year and a half since the last time I saw him perform, and that was way too long. During his set, he had TONS of guest performers – Russ Liquid played sax and trumpet pretty much the whole time, along with Andrew Block on guitar, and a couple different vocalists came out, as well as Exmag for a little while. He played for almost two hours, covering everything from the Street Bangers days up through his latest album, and I don't think I stopped moving the entire time.
When his set came to an end, I realized that he had played every single one of my favorite tracks of his except for 'Hit That Jive' and 'Stairway To Hip-Hop Heaven.' Just as I was coming to terms with the fact that these were both pretty old and it was totally understandable that he wouldn't drop them anymore, he came back out for an encore with Adam Deitch (from Lettuce and Break Science) on live drums, and proceeded to absolutely crush them both. I left the venue grinning from ear to ear, and wishing that more artists knew how to put on a show like Gramatik.
If any of these artists play near you, definitely make the trip – any one of them is worth it. Check out our interview with Marvel Years below:
The first thing I heard from you was your track on the Pretty Lights remix album – how did you get involved with that?
It was really random actually. Through the help of some mutual friends Derek (Pretty Lights) and his management heard of Marvel Years and what I was doing, and ended up giving me the opportunity to do a remix. It kind of unfolded from there.
Where do you see yourself/the music scene going in the next five years?
I would love to continue traveling and making music for as long as I can. I feel like the electronic scene is slowly becoming more open to the idea of live instrumentation as another element added to the show, which is really cool for me as well as other producers who grew up playing instruments their entire lives and enjoy it.
How did you first get started as a musician and who are your biggest influences? What drove you to electronic production?
I first began playing guitar when I was 11, and I played in a few bands through out middle school and high school but nothing really came of it. It wasn't until I was 18 that I began making music in logic pro and posting it online. People started to hear it and things kind of just took off from there. I was really into hip hop for awhile so guys like 9th Wonder, Rjd2, Ratatat and Gramatik were huge influences on me.
What do you have coming up in the near future?
We have a ton of shows coming up in the next couple months as well as some new releases and other things in the works so stayed tuned for those announcements.
You've been on a couple tours – where is your favorite place to play live?
Every place I have played has been so accepting, I think my favorite places to play are markets I haven't played as much. Going into a show not expecting a whole lot out of the crowd and then being blown away by their reaction is always an awesome feeling.
Being from Vermont, were you influenced by the jam band scene?
Twiddle is from my High School and Phish is from my college so there is definitely an influence there.
Photo Credit: Joel Meaders
Comments
comments