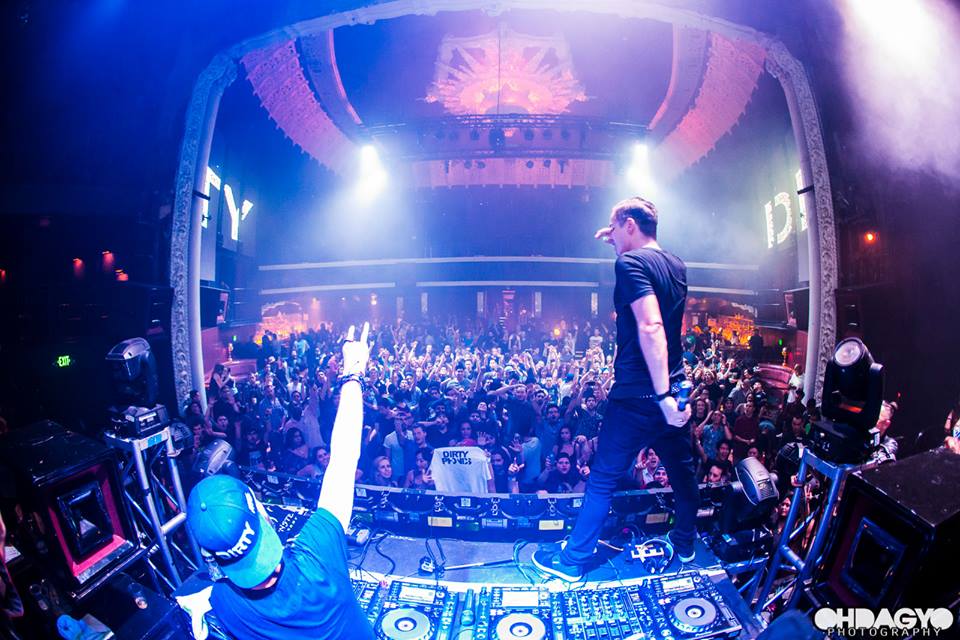 When Dirtyphonics decided to name their latest EP "Write Your Future," they couldn't have been more on the money with the way this EP would identify with listeners. The intro tune "Power Now" featuring Matt Rose resonates with rock lovers and metal heads alike while "Hustle Hard," with UZ & Trinidad James provides the perfect motivational,hip hop anthem to get you through your day. Things only get more intensified as 12th Planet and Dirtyphonics team up with Julie Hardy for a filthy, wubbed out tune that vibrates from the speakers to your spine. To round things up, comes a melodic dubstep track featuring Matt Rose,with lyrics that compliment the fuzzy feeling of the bass. Overall this EP, provides the perfect soundtrack to the every day motions of life. Be sure to grab your copy below or stream via Soundcloud.
Dirtyphonics – Write Your Future EP | Download |
Be sure to catch Dirtyphonics on their tour as well, dates below.
February 11th: Seattle, WA at Foundation
February 13th: Los Angeles, CA at Avalon
February 14th: Edmonton, AB at Frequency @ Shaw Conference Center
February 18th: San Francisco, CA at EPR
February 19th: Boston, MA at Venu
February 20th: New York, NY at Webster Hall
February 21st: Puerto Rico at Electric Daisy Carnival
February 24th: Salt Lake City, UT at The Complex (with Steve Aoki)
February 25th: Denver, CO at Ogden Theatre (with Steve Aoki)
February 26th: Kansas City, MO at Arvest Theatre (with Steve Aoki)
February 27th: Minneapolis, MN at Myth (with Steve Aoki)
February 28th: Chicago, IL at Aragon Ballroom (with Steve Aoki)
March 1st: Royal Oak, MI at Royal Oak Music Theatre (with Steve Aoki)
March 2nd: St. Louis, MO at The Pageant (with Steve Aoki)
March 12th: Santa Ana, CA at Yost Theater
April 3rd: Houston, TX at Kryptonite
April 10th: Philadelphia, PA at Soundgarden Hall
"Follow" Dirtyphonics: | Facebook | Twitter | Soundcloud |
Comments
comments