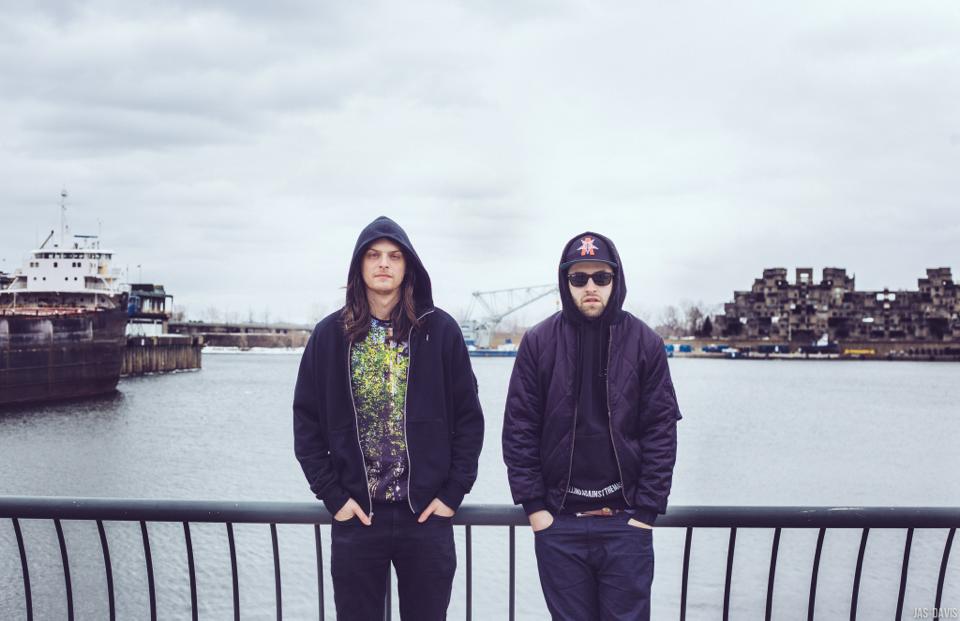 Photo by: Jas Davis
The Canadian-bred production legends, Zeds Dead, know how to survive through the winter and want to make sure their DEADication fans can as well, until festival season.
Zeds Dead has been known for one of the nastiest, yet most fresh styles in bass music. But as time passes and music continues to evolve, so do tastes and interests. Artists are always trying to grow and explore more tastes of theirs. Zeds Dead has been doing exactly that. Tracks like "Lost You", "Hadouken" and "Bustamove" off Somewhere Else, as well as their recent "Gravity" remix and the Oliver Heldens collaboration "You Know", are all a testament to how they are progressing their art and using their gifts to implement tastes. But if you've been a fan of Hooks & DC for a while you know they've always had a wide range of tastes in music, didn't just happen "overnight" like some think. If you've been with them since Mass Productions then you know. Or if you've caught Zeds Dead at an after-party then you know. But some don't and can't get past that, which I find troubling.
The new Dead Of Winter Mix encompasses everything from deep and tech house, dubstep, drum and bass, trap, and future bass. Starting the mix off right with "Lost You" straight into "You Know" with Oliver Heldens is a pretty awesome combo.
The main showcase for the mix is the playing out the official remixes to songs off the Somewhere Else EP for the first time ever. These remixes hailing from Hunter Siegel, Valentino Khan, Sleepy Tom, Nebbra, Kove, MSCLS, and the special Hadouken VIP edit from Zeds Dead. Really can't wait to hear the tracks in their entirety, too good!
Zeds Dead shreds it up again for all of us on another seasonal mix packing it with original material, tons of remixes, and some of the hottest track selections put together that I've seen in a while. Oh…FREE DOWNLOAD, thanks dawgs.
Zeds Dead – Dead Of Winter Mix | Free Download |
TRACKLIST:
Zeds Dead – Lost You ft. Twin Shadow and D'angelo Lacy (Kove Remix)
Zeds Dead and Oliver Heldens – You Know
Hunter Siegel and Wax Motif – All Night Man
Zeds Dead – Bustamove (MSCLS Remix)
Icarus Fly – 1981
Culprate – The memoirs of Gregory Otterman
Sheba san – Okay
Riddim Commision ft. Eve – WWYS 'Why Would You Stop' (Billy Kenny Remix)
Jauz – Feel The Volume
Zeds Dead – Hadouken (Valentino Khan Remix)
Zeds Dead and Dirtyphonics – Where Are You Now ft. Bright LIghts (Hunter Siegel Remix)
Jackal – Chinchilla
Koven -Eternal and You
Habstrakt & Megalodon – Yabba Dabs
Wiley – No Skylarking
Zeds Dead – Hadouken VIP
Original Sin – Screamers
Sub Focus – Safe in Sound
Esta – God of the Block
Andrew Bayer – Need Your Love (Phonat Remix)
Mazde – Shifted Thoughts ft. La Mar
Zeds Dead – Collapse ft. Memorecks (Nebbra Remix)
Disclosure – You & Me feat. Eliza Doolittle (Baauer Remix)
Snails – Stomp
Rusko – Happy Chords
Jack U – Take U There ft. Kieza (Zeds Dead Remix)
Elliphant – Down On Life
Zeds Dead – Bustamove (Sleepy Tom Remix)
DJ Fresh – Gravity ft. Elle Eyre (Zeds Dead Remix)
Jauz – untitled
Henry Krinkle – Stay (Justin Martin Remix)
Ghastly X Goldplate – Dogs In The House
Riton – Lost In Sound feat. Spank Rock
Gui Boratto – Take Control feat Come and Hell (Weval Mix)
Aaron Jackson & Wayne H – Rude Boi Rhythm
Ookay – Drop Et Agen
Stwo – Work
Mr Carmack – Roller (Lindsay Lowend Remix)
Vindata – All I Really Need feat. Kenzie May
Mssingno – XE2
"Follow" Zeds Dead: Soundcloud | Facebook | Twitter
Comments
comments