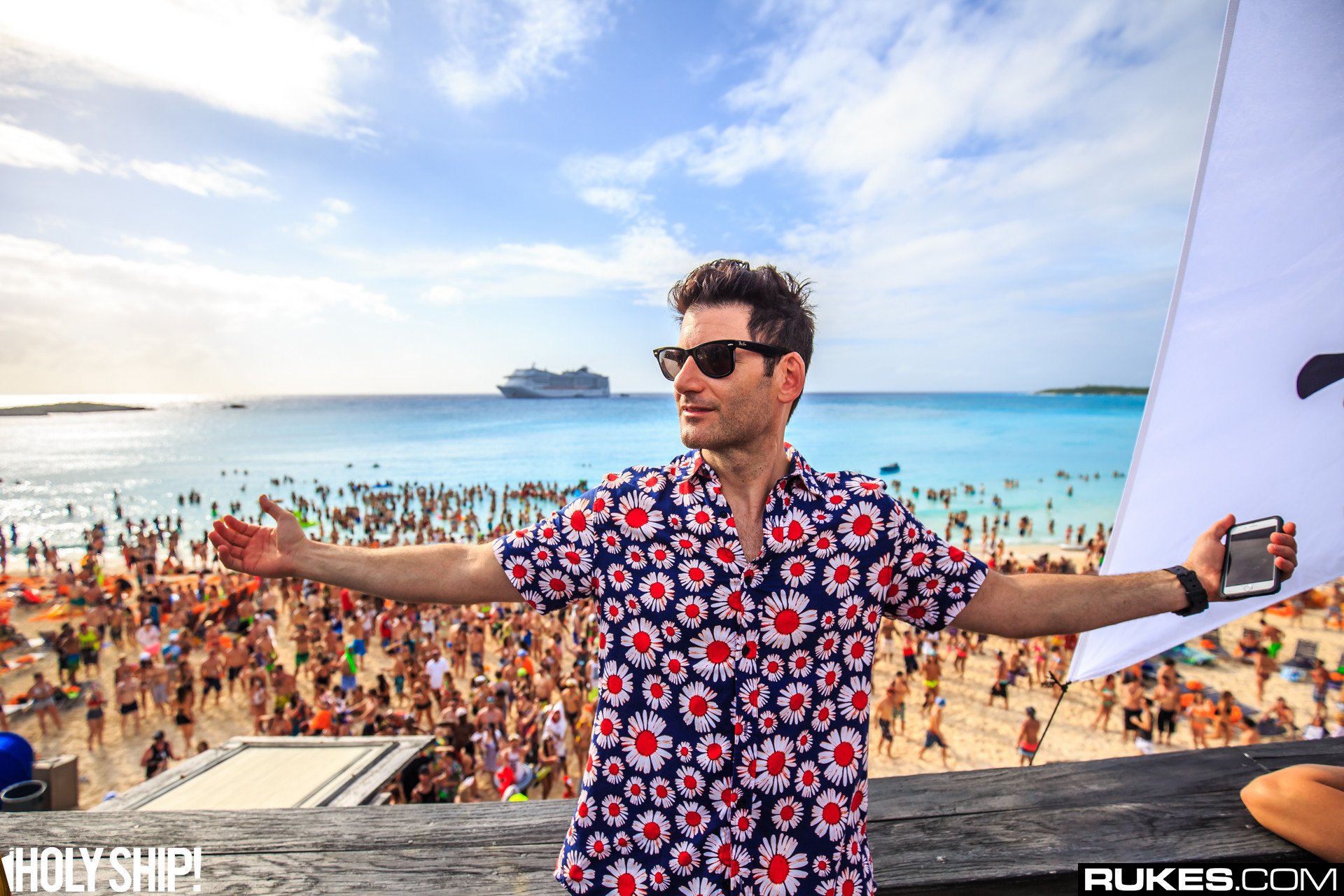 Being a young individual with a massive passion for the music industry, there have been multiple artists and individuals throughout the scene that I've always looked up to. Gary Richards has always been at the top of that list. Having built his empire with the HARD festivals and Holy Ship, Gary Richards is a man of influence on all levels of the industry. When I was offered the chance to interview him at Lights All Night, I immediately accepted this incredible opportunity. I could have easily spent hours picking this mastermind's brain about all of his success and brilliance throughout this world, but the 20 minutes that I was given were more than enough for us to discuss some of his latest and upcoming works. I hope you all can enjoy reading through this interview as much as I enjoyed giving it!
TSS: You have been the creator, if you will, behind the concept of "G House". How did that come about? What did it spark from?
GR: I heard a few tracks where they were sampling Hip-Hop and House. I wanted to build a set around that. I felt like I needed to make some s*** to put into the sets. The first tune was "West Coast", where I sampled Dre and Snoop. And then I thought, f*** sampling. Let's try to get some real rappers in here. I hooked up with YG before his album came out. I got really lucky on that, and then we did "Party Up". He introduced me to Ty Dolla $ign and then he came into the studio. I saw the way that guy sings and it just kind of spiraled. Then Interscope signed me and hooked me up with Too $hort, Problem, and Kurupt. It's just been a whirlwind, you know, because I've worked with other bands – I was, like, the manager- I'd book a studio and make a record, but I was never the artist. So to be in the studio with these guys and see how they craft their lyrics and songs, it's just a-whole-nother layer that's actually the most important layer of the whole thing. It's been really eye-opening for me. It's given me a whole new perspective on making music.
TSS: What's your approach with that? Like you said, you were with YG and Too $hort and all these cats. Is it that you have heard their music and you want to spark and create your own sounds around them, or is it that you have an initial concept of a beat that you have and you want them to come in on it?
GR: How I did it on this record, so, I work with a guy named Wax Motif. Me and Waxy go to his pad and we just make beats. We make different tracks and we're like, okay. The one with Kurupt, it's like, let's do one with a piano. The rappers get the half time, the slower kind of thing, so you kind of have to massage them in. Let's craft this song where it starts off as half time/slow and builds into the House part. Let's bring this track into the studio and just play it for the guy. They sit there and they listen to it. And you ask them, 'Do you like it?', and you're like, Oh, s***. I hope they like it. Every track they'll be like, 'Yeah, yeah', and they'll get their little pen and paper out. They'll write down some lyrics, go into the booth, and then we'll just f***in' collab. They leave, go back in the lab and chop it up, then turn it into a thing. Each guy tailored the beat to what I think they would like or what would make them comfortable with it. You know, 120 House isn't what any of these dudes do. It was cool because each one of them would tell me that my s*** was different. They would just think that I'm some old, EDM dude named Destructo. (They don't even know about HARD!) I wasn't trying to make some Pitbull, radio, f***in' Swedish House Mafia s***. It was more cool. They vibed with the beats. Each one of them instantly vibed. They would say, 'Okay, this is cool. This is very different from what we've tried to do with other producers.'
TSS: Hyping on your comment about the 120 beat and that certain style of House, it sounds like there are so many genres that have been created within House. You know, you've got Progressive House becoming more popular and Future House becoming more dominant as many artists are up-and-coming as well. Not not to make it sound cliche, but how do you see the future of House progressing alongside Hip-Hop like you've done with G House? Do you think G House is something that you have limited to your own unique style?
GR: I've always tried not to pigeonhole s*** into genres. I always go with it's either good or it's not. You listen to the radio, it's funny, I turn on the radio and Chris Brown has got these beats that he's singing over and he's not glued in. You know what I mean? It's f***ing Chris Brown. The guy is f***ing dope. I think it'll bob and weave and then find its thing. Whatever version of it you call it, it's House. Music is basic elements: bass, drums, melody, and some vocals. However you put it together, you know, if it's good, it's good; if it's not, it's not. I don't really know what the future holds. For me, I just go in on what I feel like I'd want to play at a club. My motto is, Do I like it? Cool. Let's roll with it. It's kind of hard to predict what the f*** it's gonna be. What's good is that people who maybe got into this because they heard 'Levels', or whatever, they're starting to hear 'Dirty Bird' and they're like, 'Whoa. This is cool.' It's opening their ears even more. I think I'm also doing that to some degree. I think it'll just keep rolling, you know? Kids today don't really look at genres. They like everything. It's a mashup of everything; it's how you mash it up. There have been so many times where I've gone to a club in Hollywood and heard two songs together at the same time. What the f*** is this DJ doing? Just play the song. They don't know how to put it together, but then you get dope people that know what they're doing, so it's good. Good producers will keep rising up.
TSS: You recently signed with Interscope Records. I know they've been able to introduce you to a few artists. Is there anybody that you would want to work with outside of Interscope? Is there somebody that you've been wanting to collaborate with?
GR: I definitely have a long list of people, but I just spent a year making the EP, so I'm going to let that marinate. What happened was, how we got Too $hort and Problem was that they heard YG. I feel like I just want to let this record get out there for awhile. Hopefully more dudes will come to me. Warren G came in at the end. I think that people move on quick in this day and age. I don't want to move on too quick. I feel like I've got six tunes that all work together. I want to see where it is in six months, even a year. I don't want to all of a sudden rush out more s***. I want people to get into these tunes. Hopefully some of the guys that are on my list will come towards me instead of having to track them down. Obviously, Dr. Dre would be someone ideal to work with. And Snoop, too. It's a long process. When I put out 'Higher' two years ago, I thought s*** was going to blow up. And then you're like, f***. A year later, Steve Aoki tells me that he's playing 'Higher' and getting into Deep House. People are tweeting me that Martin Solveig was playing 'Higher' at Tomorrowland a year and a half later. Music takes time to marinate into people's heads. I'm not too fast to jump on to make more shit. I want to make sure people hear these tunes.
TSS: What are your thoughts on these artists that are deciding to transition to different genres than from what they originally started with/are known for? Tiësto being a prime example as somebody that decided to switch from Trance to House.
GR: A lot of the people in this scene just jump from one thing to whatever is cool. They just latch on to that and be big. The real s*** that lasts is when it's in your heart. You come with something that you just f***ing feel. In my entire career, I've never sat and thought that something was big for me to just want to do that. Actually, maybe it happened once or twice in my career when I owned a Record Label. I probably heard a song that I thought sounded like a hit, signed it, and it was a piece of dog s***. There was all this stuff that I signed that was the weirdest, left of center s*** that I just loved. It eventually garnered a following. All the best bands, you know, Nine Inch Nails -my brother managed Slipknot- all these weird things eventually became big. DJ's just try to do whatever they can to get big. That's what's wrong with our s***. I've never worked with any artist where I had songwriters and all of these people who would come in to try to manufacture some s***. It has to come from the heart to be real. I want to work with people that know it's real. I'm in it for music. I'm not here talking to you because I want to get out there. I came here tonight to play because I love to play. I got to get my music out there. I love what I do. I'm just trying to make s*** that I can be proud of in 10 years. If people like it, cool. If they don't f*** 'em. That's a good question because I feel that a lot of DJ's do that. My goal with 'Higher' was to make a tune to get on the Beatport Tech House. I wanted to make a song with a long build and a long arrangement. There was no other reason than I wanted to do something different.
TSS: Which band/artist was it that sparked your entire passion and adoration for this industry and the DJ lifestyle that you now pursue?
GR: I go back. My original affinity for Electronic Music where I really found out about it was with Kraftwerk and their album Electric Café. Orbital came later, but it was Kraftwerk and Afrika Bambaataa in the very beginning. In Hip-Hop, I heard the electronics. I used to drive around when I was 16. I had a subwoofer in my car. You listen to a Led Zeppelin record, it sounds f***ing sick. It's the best s*** ever, but the sonics aren't there with the 808. Even N.W.A. and 2 Live Crew had the Miami bass and those sounds always perked my ear. When I heard Acid House, (you mentioned Orbital), Underworld, Chemical Brothers, Prodigy and all that s***, then it was like whoa! It was a-whole-nother thing, but things that connected it the most for me were Depeche Mode and Nine Inch Nails because they took the sounds and added songs while giving it a Rock vibe. I like Rock, too. When I heard Trent Reznor's first record, I told myself that this it. I always love Black Sabbath. I love Heavy Metal. I worked with Trent Reznor. He did the score for 'The Girl with the Dragon Tattoo'. He had his agent hit me up, I went to his house, and he hired me to do six parties around the world for the movie. He said that when they do Marketing in Taco Bell, all they know how to do is take the star's face on a Taco Bell cup. He wanted to do something cool, so he looked around to see who was doing cool music. When he started, it was Wax Trax and TVT. It was all about the labels, but in this day and age what has the cool vibe was HARD. He said that he wanted to be involved with HARD and have me launch these events. When he asked me if I wanted to do it, I couldn't even believe that I was talking to him! I mentioned Depeche Mode. I did a tribute album for Depeche Mode. I had The Cure and Smashing Pumpkins do Depeche covers. I've been rocking it for a while.
TSS: I know you've got your tour coming up here shortly. How do you go about approaching which artists you're going to bring on tour to open for you?
GR: Anna Lunoe and Motez, I mean, I love their tunes. I toured with Motez in Australia. I played with Anna a bunch of times. I'm going to be playing the same kind of venues that I've already played, but the openers sometimes rinse it out and they play 'Levels'. I want people to come for the whole night. I want people to come to these venues from 10:00 PM – 2:00 AM and it's f***ing dope. I was just fortunate enough to have those guys wanting to do it. T. Williams as well. I mean, they're all part of the family. It's a nice package and I think the nights are going to be sick. I'm really fucking excited."
Be sure to catch Destructo on tour with Anna Lunoe, Motez and T. Williams over the next few weeks!
Full dates at www.ship2shipfam.com
"Follow" Destructo: | Facebook | Twitter | SoundCloud |
Comments
comments