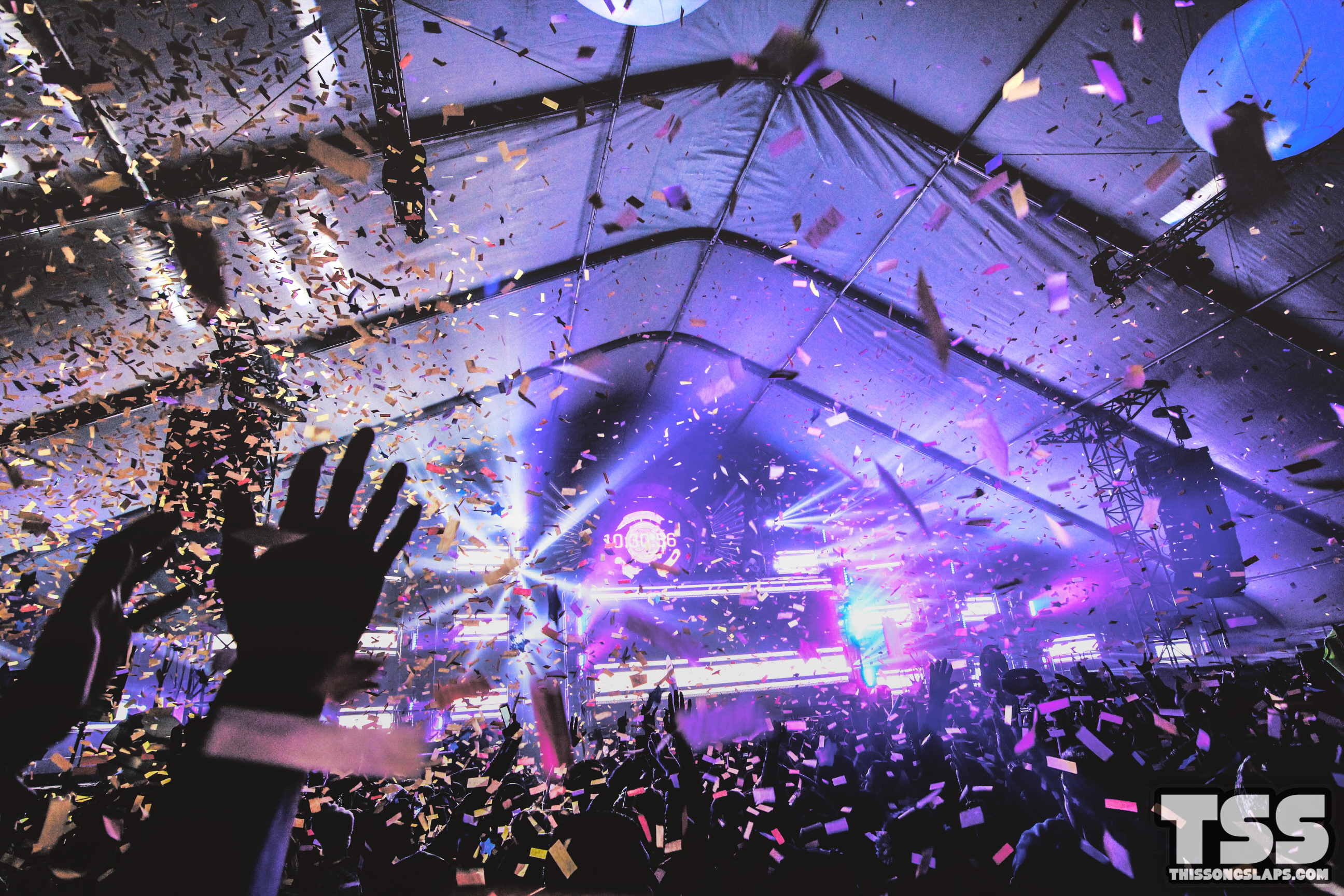 In the midst of countless parties, club events, and large gatherings of basics and non-basics, we found ourselves at Insomniac Events' first ever 18+ N.Y.E hosted #COUNTDOWNNYE.
Since it's ban in 2013 for noise complaints by surrounding San Bernardino residents, this night has been our 5th run back (Crush, NRG, Basscon, Escape) in 2014 to the NoS Center after it's first successful (festival) return to the venue which took place during Halloween weekend for Escape: All Hallow's Eve. Thanks to the city's spiraling corruption and bankruptcy, Insomniac Events was able to present headliners an opportunity to kick off the new year where it all started (once again); an offer a true headliner could not simply resist.
In this review we will discuss the matter of DJ sets, production, plur to un-plur vibe, and overall verdict of whether you missed out or not.
Let's talk sets.
Bingo Players
I miss(ed) Bingo Players (RIP Paul), but i've seen them many times before and know that they never disappoint. The word on the street is they threw down anyways. Oh, and remember Bingo Players will always be plural.
Showtek
Showtek. Oh yes. Fresh off of their future house release of '90s By Nature', you already know Showtek was going to set the energy bar level high, and they did. Dropping the usual bangers such as 'Cannonball', 'We Like To Party', 'Bad', 'Hell Yeah!', 'Sun Goes Down', 'Bouncer', and of course 'Booyah'.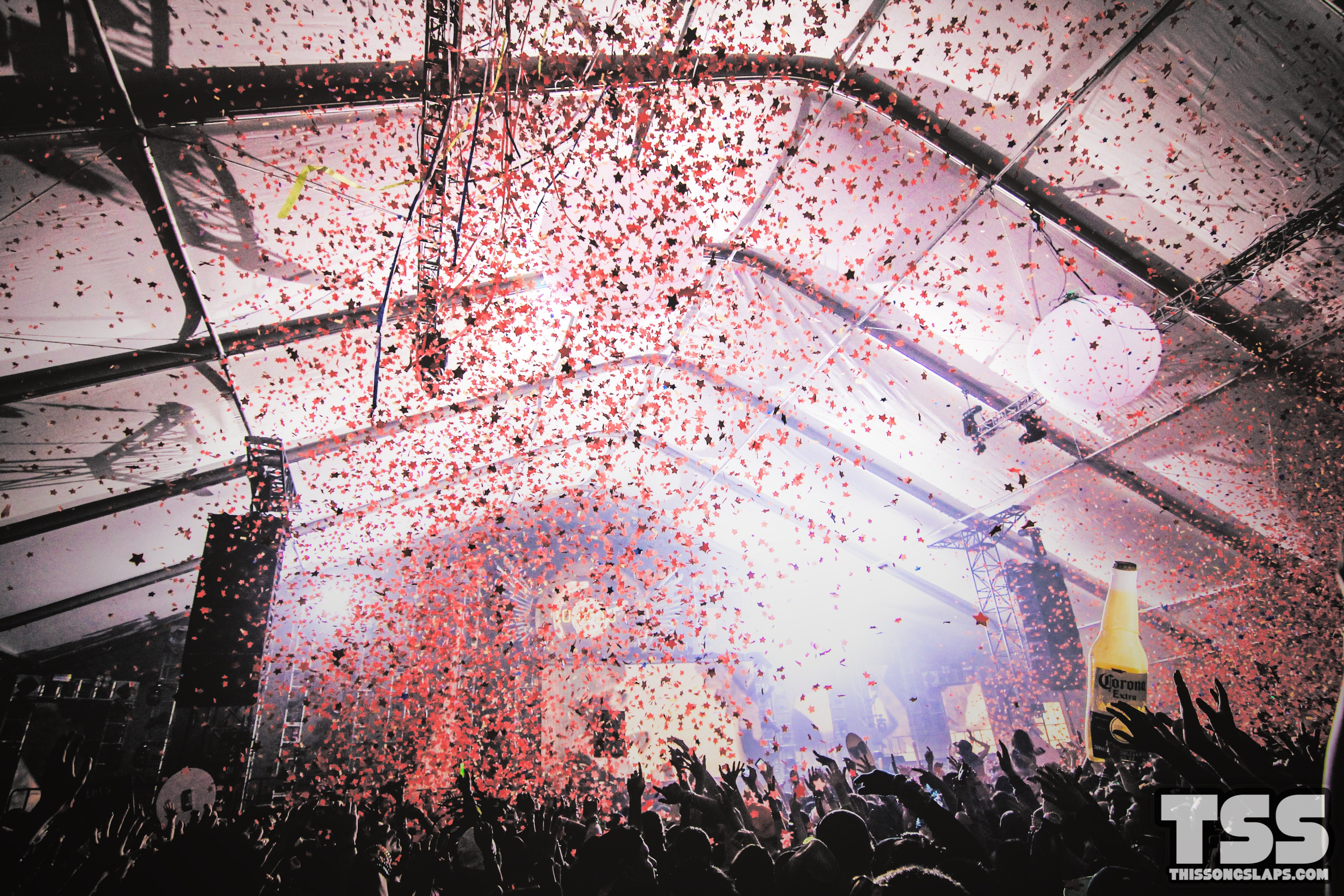 This set was everything you would expect and more as Showtek did the hardstyle lover in me a favor by dropping 'FTS (F*ck The System)' as their last track before heading out to White Wonderland in Anaheim in which they hosted the midnight countdown at the all white new year's gala where you can also listen to their full set (here).
DJ Snake
Turn down for what? DJ Snake.
I'm going to honest here. DJ Snake has had the ultimate breakout year just have recently signing with Interscope Records and of course with song releases such as 'Turn Down For What', 'Get Low', and 'You Know You Like It' – so, you would totally expect him to play a set that would further impress fans musically right? Half right.
Don't get me wrong, the turn up was definitely real. Though, I felt a bit of awkwardness from the crowd as the set progressed.
I couldn't tell if it was either because fans wanted to turn down specifically during this set because it was still cold as f*ck and the fact that DJ Snake is now considered "mainstream" as well as the only "trap" artist on the line-up going up against more progressive-trancey house artists like Audien and Porter Robinson vs. big room banger DJs like Showtek and Laidback Luke. Not to mention the simple fact that fans got the chance to catch DJ Snake at EDC LV and HARD Summer last year and the structure of his #COUNTDOWNNYE set was pretty pretty pretty similar to those performances.
Even at one point DJ Snake had to repeatedly ask the crowd to "get low", but no one was having it. I'll tell you why.
Crowd control. The ability to grasp the crowds full attention in an hour under is a skill only developed by years and years of experience. DJ Snake is still a n00bie in the EDM DJ scene. I remember hearing about how Dillon Francis had to come in and save the day during DJ Snake's first ever performance at Avalon in Hollywood about a year ago because he was doing so bad, which is most likely why DJ Snake has stuck with the same structured set this past year, just to play it safe.
Though, none of that stopped us from having a good time; DJ Snake gets a pass due to his extensive touring as well as the fact he had to ride a chopper straight to Create Nightclub in Hollywood for his own NYE countdown.
When you rush DJs, you end up rushing their sets (mindsets) so what you're eventually going to get is rushed art (incomplete sets). Moving on.
Audien
I love Audien, I really do, but again, the crowd was split on this one.
I mean, you would figure that having the most played out remix of year would constitute to having fans know all your past hits and releases followed up right? Wrong.
Audien's remix of 'Pompeii' by Bastille has been played out in every DJ set this year. Audien is far from being a new comer though. He has been part of the Anjunabeats (Jono Grant – Above & Beyond) label for years and now thanks to that remix he has been able to breakout of the "trance" look into the more progressive "EDM" side of dance music.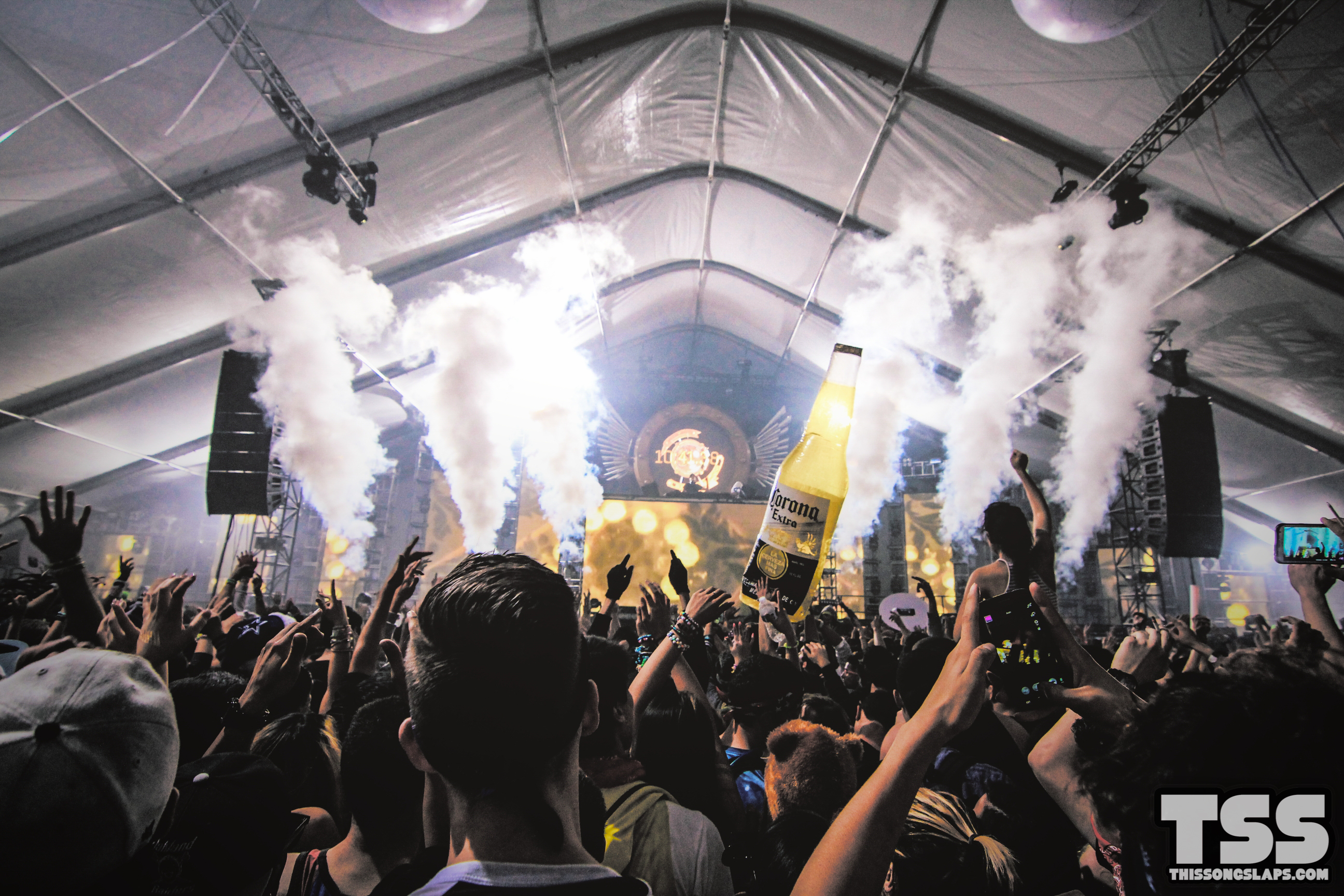 So the set was going to be a rager with a crisp cut of euphoria right? Kinda. I had high standards for this set after a perfect 10 for 10 performance from when I got to see him for the first time at Ultra Music Festival last year but again, I felt as if the crowd halfway through the set was catching on to the similarly structured set Audien might have performed during his 'AUDAcity' tour just a month before.
Later, it was pretty obvious towards the end I figured everyone was just waiting for Audien to hit play on his 'Pompeii' remix since that was literally the only song the crowd knew the lyrics to.
Porter Robinson
You're damn right I freaked out when I first saw that Porter Robinson was going to do a DJ set to close out and bring in the new year simply because it's been so long since he last graced us with an hour of pure magic.
Moreover, this past year (2014) has been the year where he has taken a break from DJ sets and premiere dance music festivals to further implement his live performances of his debut album 'WORLDS'.
An album which had a lot of skepticism at first due to the nostalgia of his 'Spitfire' EP in 2011 but later musically made sense over-time after the complete 180 shed more light to the over-saturation, repetitive, and simple rinse and repeat process these so called "EDM" DJ acts get away with. An album which some like to refer to as "100% EDM Proof" – meaning that there was no twerkulating reverse fist-pump arm-trap breakdown or an epic build-up with a dirty big room drop included with the very necessary "EVERYBODY F*CKING JUMP!" sample.
This is the album that's giving the double-middle finger to the Americanized dance music market that has split this genre into 2 (mainstream vs. underground).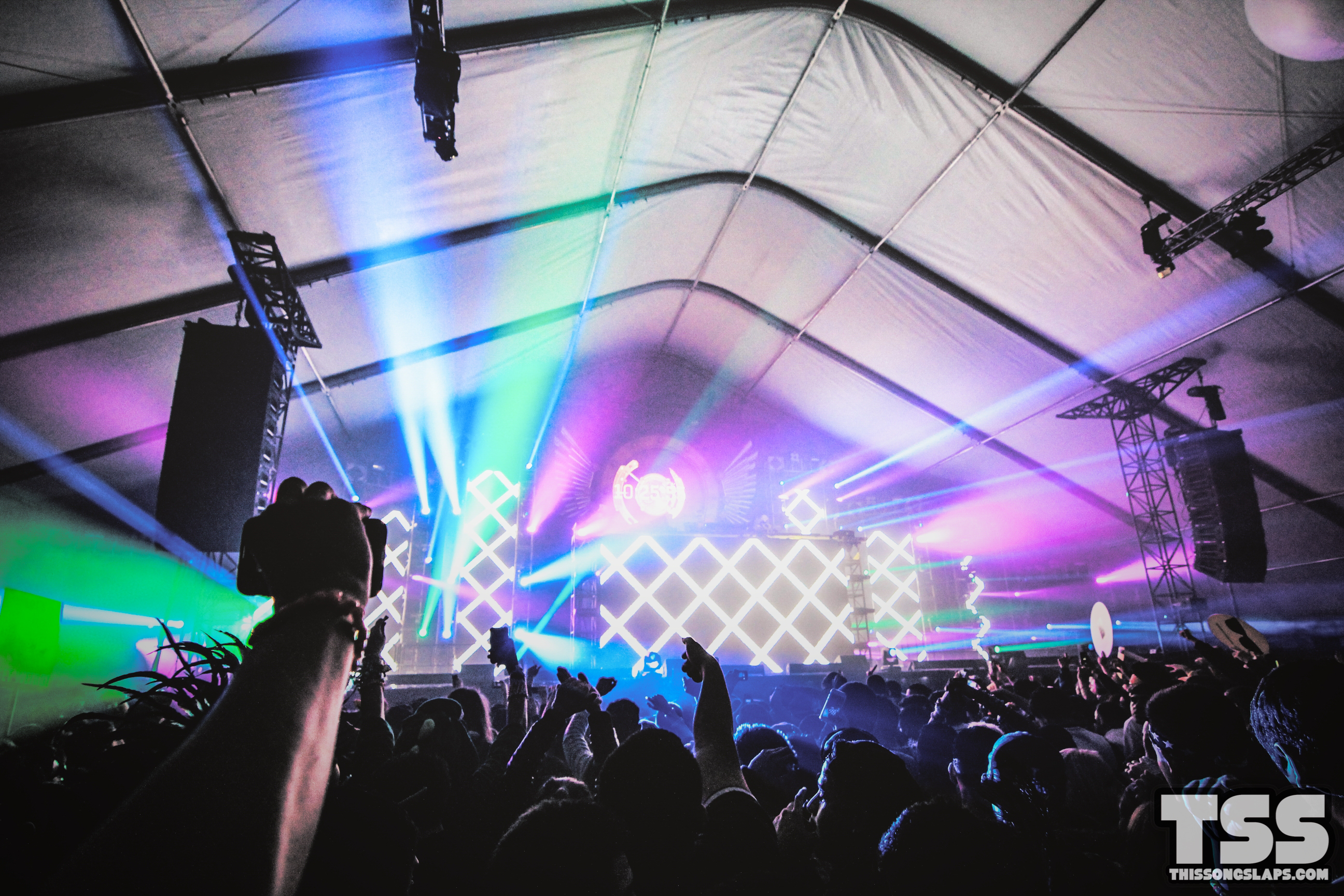 So what the f*ck was I supposed to expect? Was I going to be bored and disappointed? Or was my mind just waiting to be f*cking blown away?
Let's check this tracklist and find out. Full credit to Matthew Lawantoro (watch 3 part set video – here).
Tracklist:
1. Porter Robinson & Mat Zo – Easy (Intro Edit)
2. M83 – Midnight City (Eric Prydz Edit)
3. Daf Punk – One More Time
4. MUST DIE! – Hellcat (Habstrakt Remix)
5. Alesia – Hyacinthus
6. Paul Oakenfold, Cassandra Fox – Touch Me (Beat Service Remix vs. Porter Robinson Edit)
7. Wolfgang Gartner – Illmerica
8. Gesaffelstein – Control Movement (Original Mix)
9. ZHU – Faded
10. Point Point – DoubleOreo (San Holo Remix)
11. Odeza – Say My Name (Ganz Remix)
12. DJ Zebo – Action
13. Rustie – Slasherrr (Flume Edit)
14. RL Grime – Core
15. LAXX – The Limit
16. You Alone – Psychic Type (Galantis – You (Brillz Remix) vs. Alice Deejay – Better Off Alone (Psychic Type VIP)
17. Nömak & L'homme – Horsequake
18. Porter Robinson – Language
19. ID – ID
20. Dinka – Elements (EDX 5un5hine Remix)
21. Plump DJs – Skylon
22. Jack U – Take You There (Tchami Remix)
23. Lorde – Tennis Court (Flume Remix)
24. Porter Robinson – Flicker (Worlds Edit)
25. Point Point – Life In Grey
26. AutoLaser – I Need You
27. Oliver – Night Is On My Mind
28. ID – ID
29. Major Lazer feat. Amber Coffman – Get Free (What So Not Remix)
30. 8ER$ VS. MATSTUBS – Burn Babylon
31. Keys N' Krates – Are We Faded
32. Porter Robinson – Less Seconds (Vadehound Bootleg)
33. Go Freek – Take You
34. Orjan Nilsen – Filthy Fandango
35. Jauz – Feel The Volume
— video cuts off here but the set ended with a few edits off of "WORLDS" such as 'Sad Machine', 'Divinity', etc.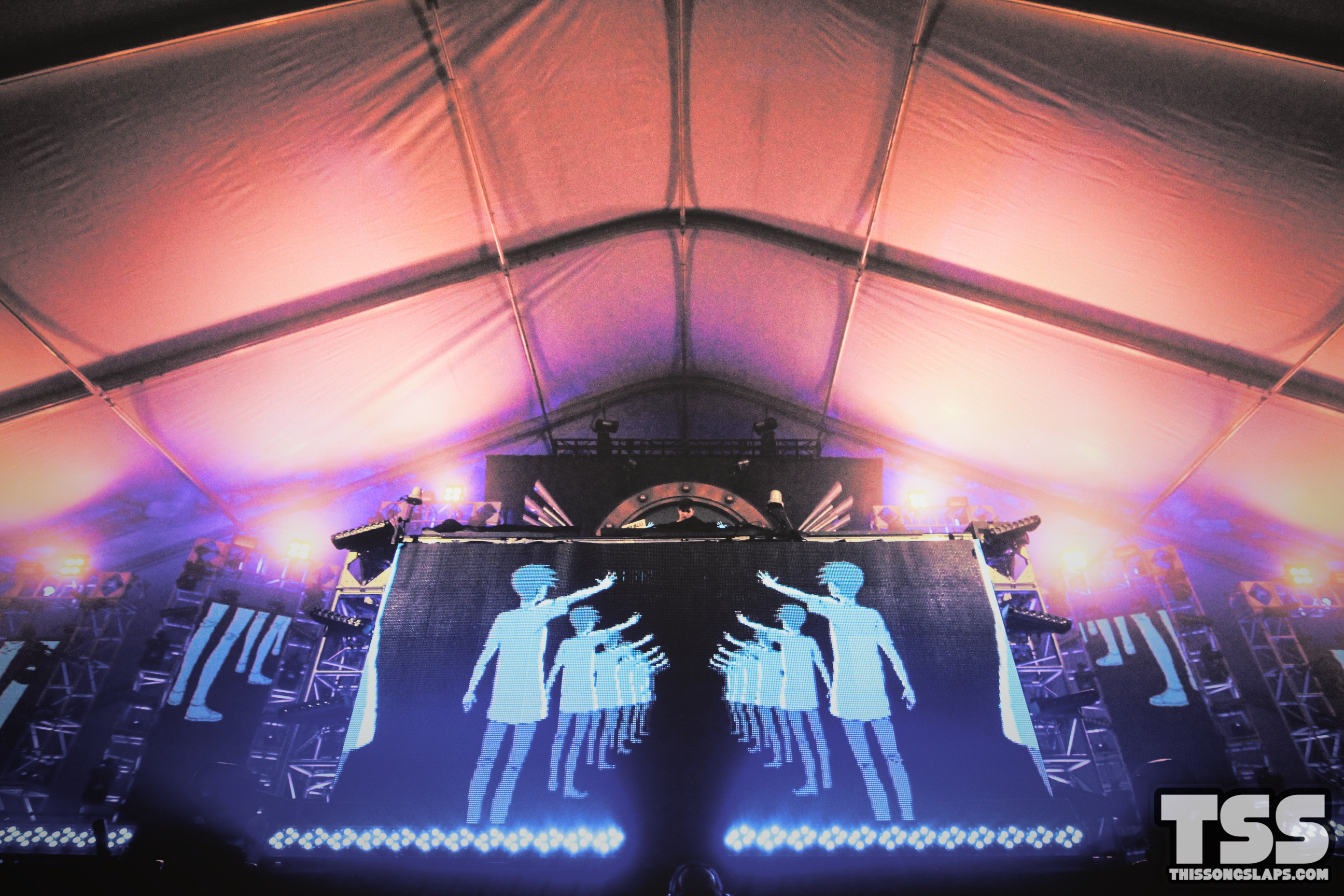 Amazing.
A few days later I read this tweet from our friend 3LAU, pretty much stating that real music will always prevail and that dance music fans are getting smarter and over-passing the same old bullsh*t "EDM" drops.
I noticed this exactly during this set in which crowds of "fans" ditched their front spots to either leave entirely or go towards the back, especially as soon as Porter started to drop less and less "club safe" tracks.
Then it all made sense. Which I why I wrote what I wrote about what happened during Audien and DJ Snake's set. Sure, I would've just said their sets went off and the fans loved it every bit of it, but what would be the point of the review? Of course these two are both talented and very respective artists (it just happened to be these two – I could've chose anyone really) and I don't mean to deteriorate or defame their brand and live music selection at all.
As someone who lives, eats, and breathes electronic music it's important for the fans to know what is really going on and to visualize all raw perspectives. So that when you actually attended whatever event, you're not brainwashed into the idea that everything is just rainbows and unicorns and that every DJ is just going to drop Beatport's Top 100.
If you want to go see a DJ hit play on a list of the most current popular dance tracks then you know exactly who to see. As for those poor attendees who left early, Porter said himself in a tweet (which was deleted) quote – "@porterrobinson: disappointing rage kids is my fav".
I love it, and I love that the majority of headliners are embracing this fresh feel which is exactly what our community (scene) needs, a fresh start and new musical balance. I guess we shall wait and see how all this plays out in 2015.
Thanks (again), Porter.
Laidback Luke
Bet y'all didn't know Laidback Luke is actually my dad right? (see).
My dad knows what's up. He's considered one of dance music's most prolific and technical DJ performers for a reason.
Rolling up to the stage in a Matrix like coat, the Filipino-Dutch mastermind went in on an all-out rampage of big room jungle terror music and of course throwing in ever-timeless classics such as 'Turbulence', 'Speak Up', and everybody's favorite, 'Dirty Talk'.
Oh, and fer teh lulz, LL ended #COUNTDOWNNYE with… b*tch you guessed it! – Countdown by Hardwell & MAKJ.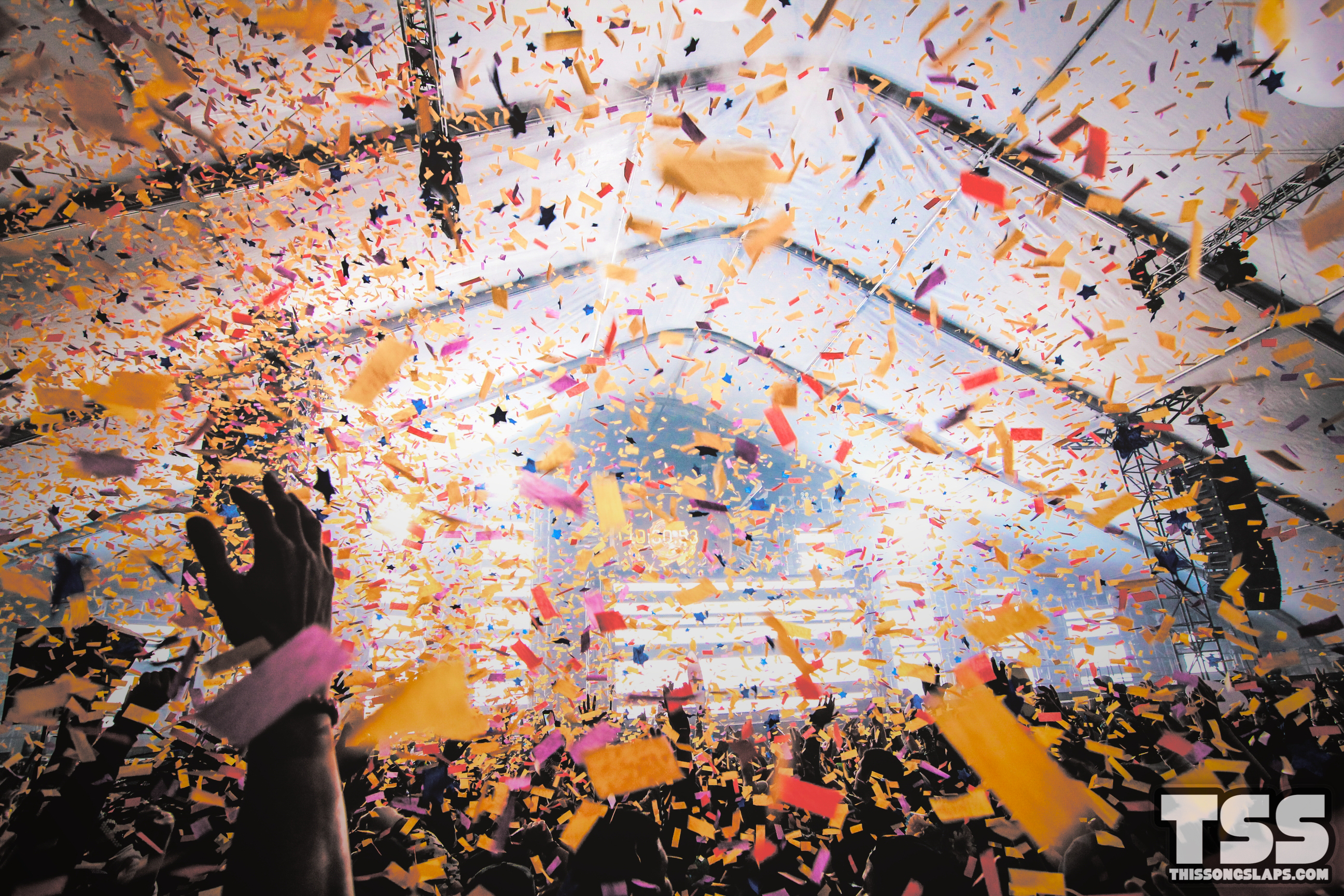 VERDICT:
In short (because you most likely skimmed through this all) – the first ever 18+ N.Y.E. event hosted by Insomniac Events was yet another successful night that felt like it was pulled straight from a story book.
Though, we felt a bit iffy about certain sets, it never stopped us from having an absolute blast with friends and strangers alike. Through 35 degree weather we raged and danced our a$$es off and celebrated the new year like true headliners, just as we do at every Insomniac Event. It's a celebration for us, for you.
:bonus:
#CountdownNYE MVP Nominees:
1 – DJ/Producer Frankie Sanchez.
2 – Random Ginger with Pizza.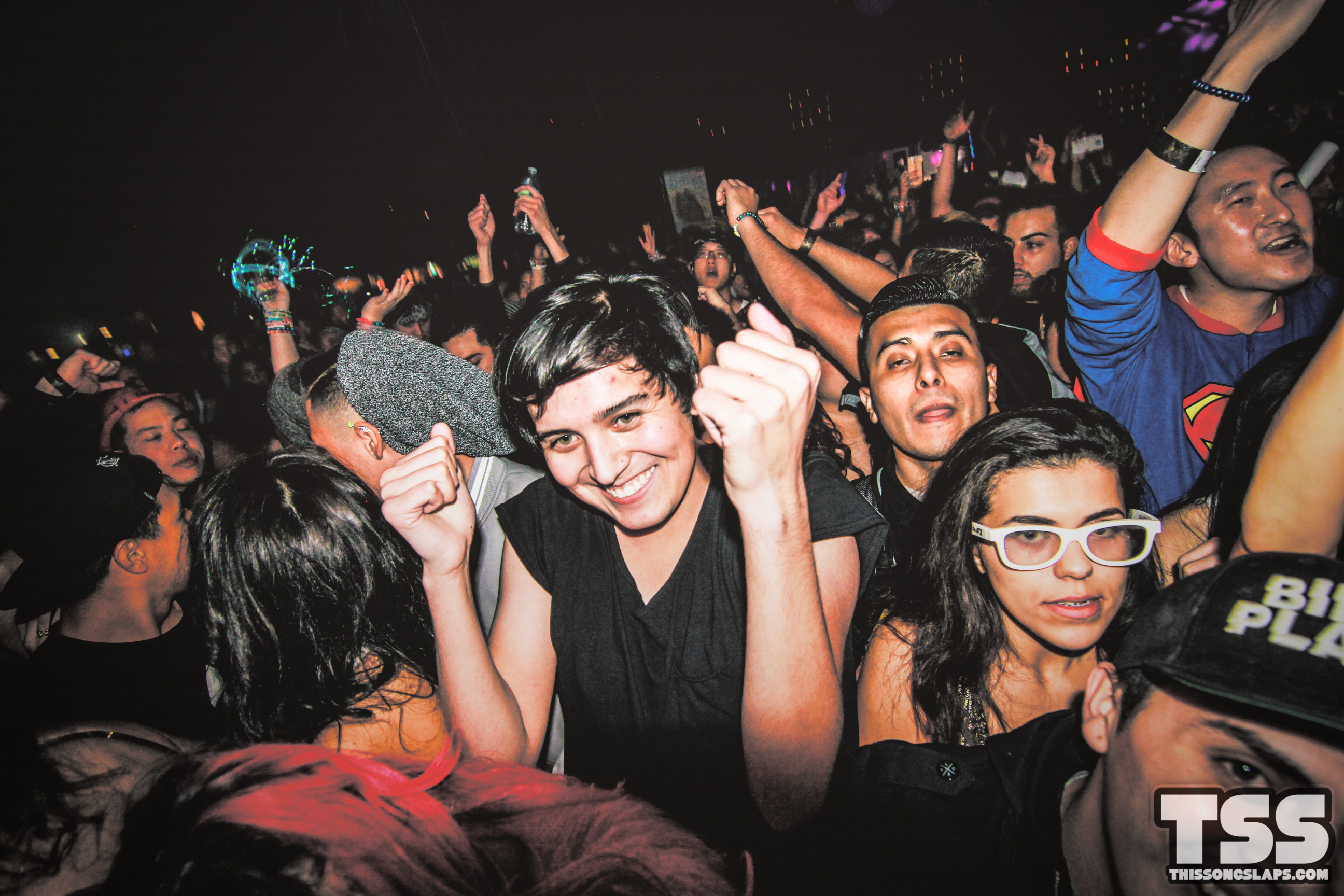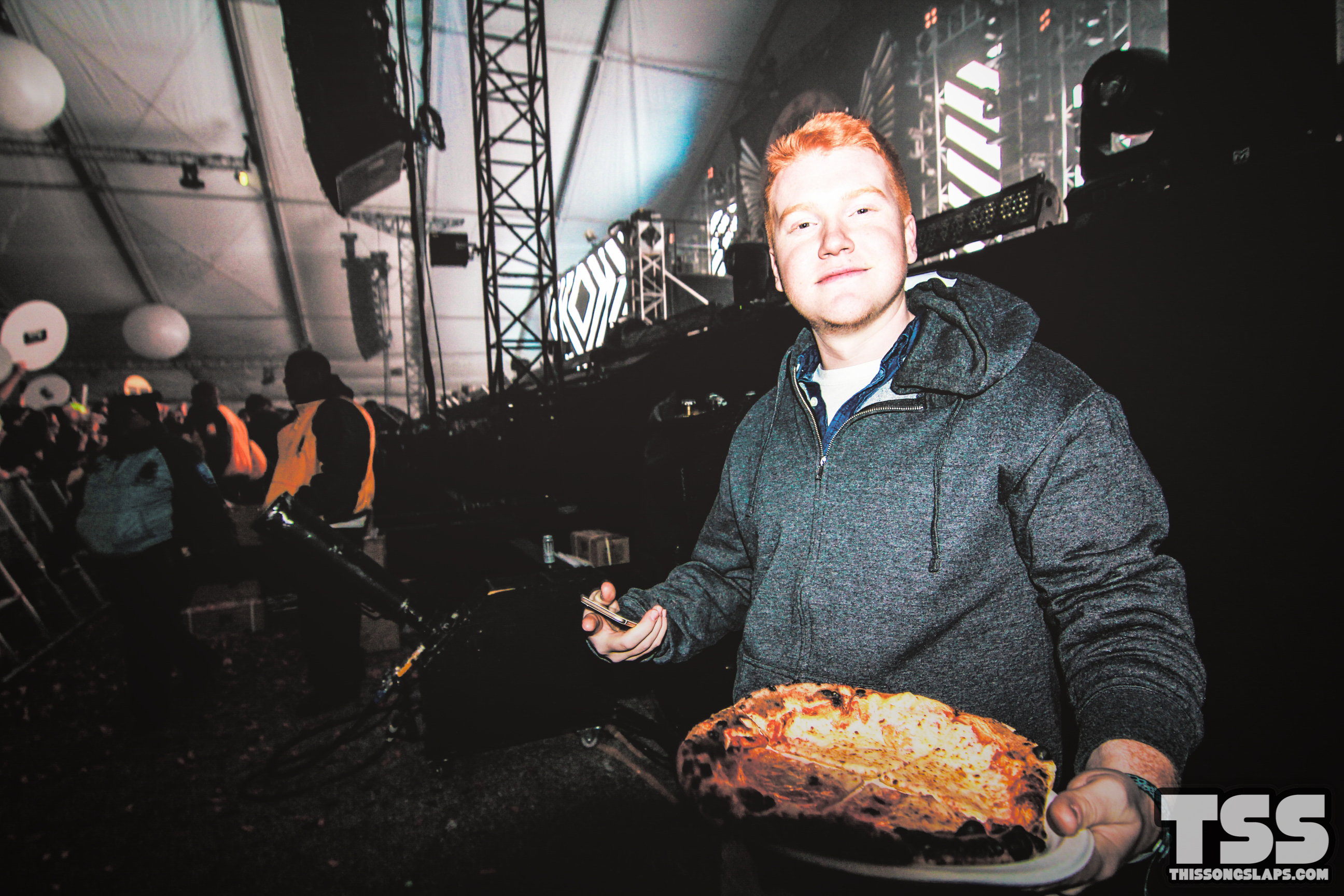 "Follow" Insomniac: | Facebook | Twitter | SoundCloud |
Comments
comments