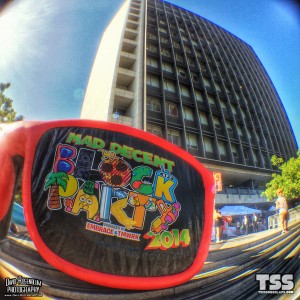 As the Mad Decent Block Parties finally winded down this past weekend with an insane Boat Party in the Caribbean, Team ThisSongSlaps take a look back at the incredible, yet controversial run that MDBP had in 2014.
With the Mad Decent Block Party expanding to 22 cities across the country in 2014, Diplo and his Mad Decent imprint have proven to be on top of their game. Having increased from 13 tour stops in 2013, and just 8 in 2012, MDBP seemed like the place to be. There was even a block party in South Africa and a boat party that concluded the whole shebang. Mad Decent Block Party was blowing up and seemed unstoppable.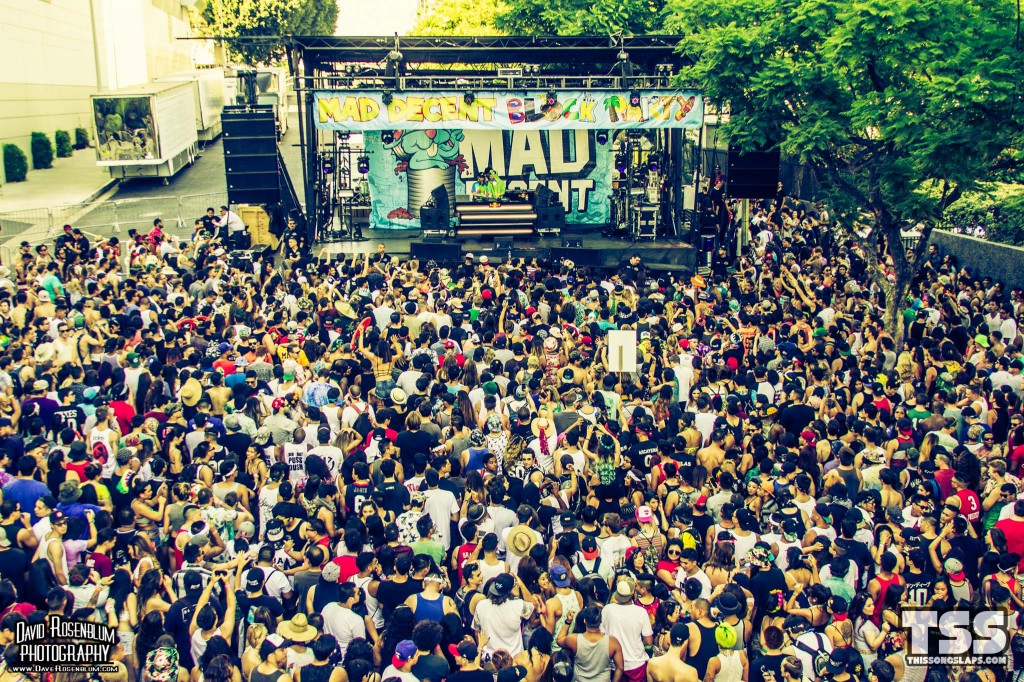 But then, tragedy struck. In Washington, D.C. during just the third stop of the tour this summer, two attendees died and 20 other fans were hospitalized. Suddenly, everything changed and what had been set to be an amazing, eclectic EDM tour throughout the summer became more fodder for the mainstream media. It didn't take long for Diplo and Mad Decent to react and start making changes that they felt would produce a safer and healthier concert for all attendees. Yet, when one of these changes was revealed to the banning of kandi from all future tour dates, the backlash started. Diplo defended his team's decision to ban the rave culture staple, but many were still left unhappy.
Unlike a festival that plays over a weekend, the show must go on for MDBP. So when a tragedy strikes, such as in Washington, the organizers of MDBP, don't have a full year to learn and react, they have just a few days. So, after a few tumultuous summer days for the Mad Decent Block Party and its founder, This Song Slaps decided to cover the festival at a few stops across the country, and see how the drama and controversy affected the party, or not. Was the lack of a kandi presence going to detract from the party? Would attendance go down? Would there be animosity toward Diplo or other performers? We hit up shows in Boston, Dallas, Los Angeles and Berkeley, CA.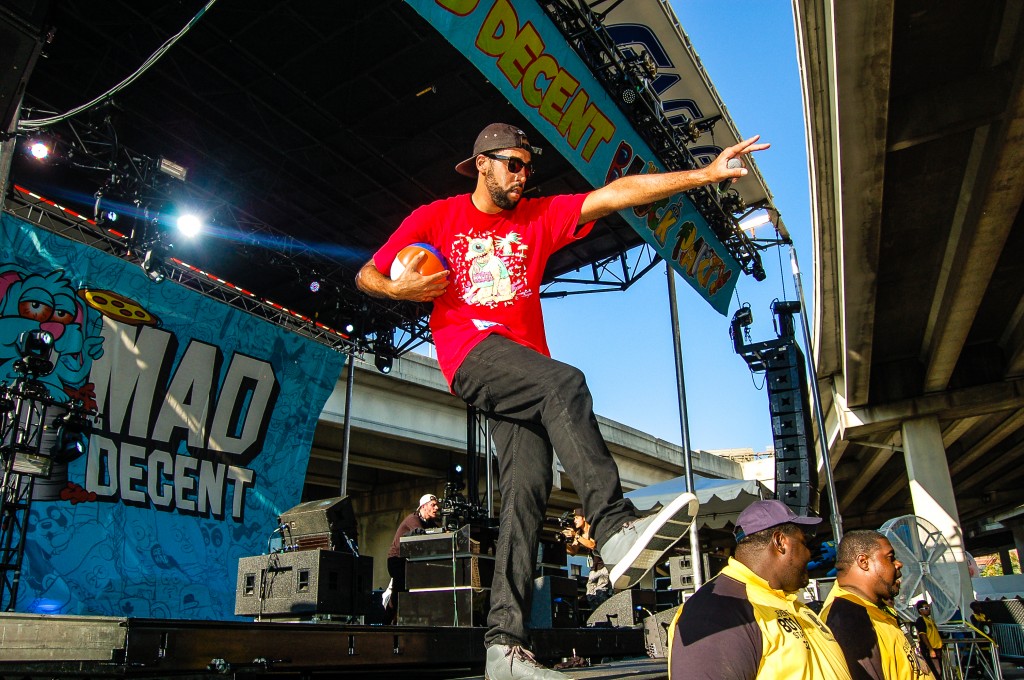 Boston, MA – August 10, 2014 – Blue Hills Bank Pavilion
Review by Nina Travers & Josh Duhamel
Seasoned Boston ravers know that quite a few venues in Boston have banned kandi, so unlike other cities no one complained about Diplo's choice to ban the bracelets from his MDBP shows. But that doesn't mean MDBP attendees had nothing to complain about. The venue, Boston's Blue Hills Pavilion, had only held two electronic music shows all summer, Skrillex's Mothership Tour, and then MDBP. With only the knowledge of the scene that mainstream media provides, the venue was armed and ready with heightened security, drug sniffing dogs and a ban on things like chapstick and sunscreen. Because of this, attendees had to wait in VERY long lines. I'm talking VERY long…some guests complained of waiting for up to three hours. Guess that's what happens when you have to take off your shoes before entering a venue.
Knowing that security would be like this, the TSS Boston team head to the event early af to make sure we avoided the chaotic lines and could catch the early artists. Walshy Fire was the first act we caught, and thank god we did because his set was full of dancehall anthems and he even dropped an unreleased Major Lazer and Collie Budz collab, which if memory serves us right was called Terrorize. He also mentioned not to tell Diplo that he dropped that, so Diplo if you read this, sorry for spilling the beans.
Boston's lineup was standard for a MDBP show, including performances from GTA, Wave Racer, DJ Snake, Flosstradamus and Diplo. All of the sets were awesome, and the crowd was going wild all day that Sunday. The only complaints about the show were around the venue, being that The Blue Hills Pavilion left the seats in, so that MDBP go-ers had to dance between rows of plastic chairs. Do you know how hard it is to twerk for Diplo with chairs in the way?? Even Diplo called out the venue, but he was right – the crowd went off regardless of the damn chairs bruising our legs.
Bonus: Check out Diplo calling out the venue for being "crappy" – http://instagram.com/p/rj-5YwqMpi/?modal=true
Dallas, TX – August 31, 2014 – Club Zouk
Review by John Cranston
This past Labor Day weekend the people on the Dallas/Fort-Worth metroplex all swarmed to downtown Dallas in the scorching sun to attend a one-of-a-kind event, showcasing top acts in electronic music. This year's MDBP was in the same location as last the year before, but improved significantly in how the set-up was re-arranged. Located outside one of Dallas' premiere clubs, ZOUK, across parking lots with plenty of shade provided for the highway overpasses above the site.
The year before (2013), I noticed an influx of kandi being worn by many people, some just completely decked out, up and down their bodies. I don't know if it was because it's during the hot month of August in Texas, so presumably there's more room for them all the way up your arm and what not. Or if it's because it's outside during the day, so I just noticed it more, rather than it being a show at night in a dark club or attending a festival at night. Looking back, it just seemed like an excess amount for the size of the event. I understand the culture behind kandi and have nothing against it. BUT Diplo does make a great point, in my opinion, shedding light on the correlation that comes with kandi and drugs. He also does a great job emphasizing that we are here for the MUSIC and that's it. I respect him and the Mad Decent team so much for that. This year's MDBP stop in Dallas was different regarding that issue and it worked out all for the better.
As far as Dallas' lineup, it was a pretty killer one. After only playing a few big festival stops earlier in the year and during the summer, Dallas was blessed with an official Jack U performance. TYBG. But before Jack U was a DJ set from The Wrestlers who also play with a live band on various show/festival performances. The Wrestlers provided some very chill garage vibes as attendees poured into the crowd to get ready for an early performance by Jack U, since both Diplo & Skrillex had to dip out early to made their way to Electric Zoo in NY to play that night, but instead was cancelled. Their set at MDBP Dallas was full of crazy energy and packed with exclusives and VIP edits of all the hottest jams. Everyone was going absolutely nuts. There was so much anticipation building up for them and they delivered like none other. Bonkers.
Next was a little bit of a change of pace with sets from Bunji Garlin and then Toy Selectah, which served as a nice little 'break-time' for some people before more fire performers took the stage. People were for sure pumped to see a solo set from Major Lazer member, Jillionaire. Of course he's going to play a good amount of Major Lazer material, so you know Walshy Fire had to come out to accompany him of stage. The two of them brought up a couple guys and gals from the crowd onto the stage to dance around and turn up with them (who happened to be a couple of my good friends who are die hard Major Lazer fans). So that was cool. But that wasn't even the climax of Jillionaire's set. Fortunately, Diplo & Skrillex stuck around a little longer than I had initially expected and jumped on the decks with Jillionaire & Walshy Fire for some all out JackU x Major Lazer madness. The rarity of that was special for all us to witness.
Following that completely diverse set from Jillionaire & friends, was Bro Safari. The dude came out hot, showing no mercy. With Bro Safari and his hard-hitting trap style accompanied with his MC, was a fun one nonetheless. But their performance was "1-upped" by Flosstradamus.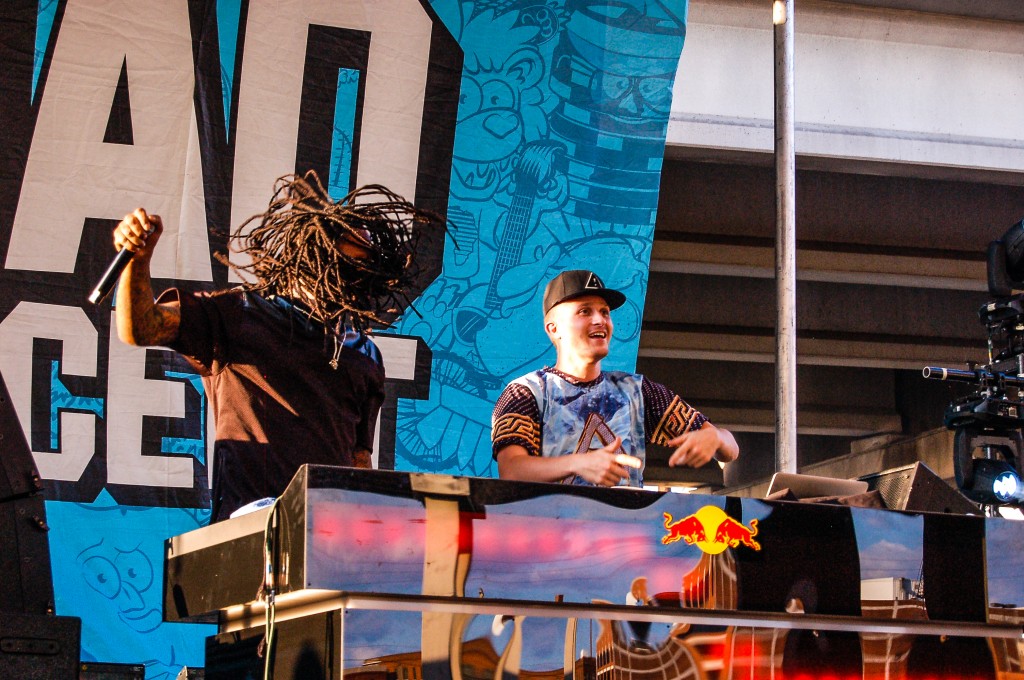 Flosstradamus' set the year before was one of my favorites. But I don't know if the latter could have been beat. Even with Josh not being with Curt (due to having a child of his own and spending time with his family), it was to turnt. How could it have been just as hype? Well, "WAKA FLOCKA FLAME ONE HOOD ASS.." DUDE. An entire set with the ultimate MC of the day. Curt threw down a classic hip-hop infused trap set, as normal, but with the addition of various edits of originals and collaborations from Waka Flocka tracks. The prominent rapper really knows how to get a crowd's attention and totally gets them involved. This 'Wakadamus' was unreal, and truly another fantastic treat for Dallas.
As the sun was setting, it was time for Dom & Jeremy of Big Gigantic to get up there and do there thang with their funky melodies. If you have yet to see Big Gigantic perform live, there's something wrong. They have been a standout group in this scene for a good bit, and now have been getting the credit they serve especially since their milestone performance at Coachella this year. Since then, they've been headliners just about everywhere they go. Dom's skill with his Sax are bar-none and Jeremy got us to completely jam out with him on the drums. It's such a nice mix between samples, synths, sax and drums that everyone can groove to their set. I've seen Big G more times than I can count, so for me the highlight of their set was their saxy remix of Flux Pavilion's "I Can't Stop". And once that sun was finally set, the lights came out and added much more personality to the event as they shined on the overpasses above the crowd. The underground.
After Big Gigantic went all out for us, it was time for the headliner of the night. The man, the myth, THE Dillon Francis. Last year's MDBP was the first time Dillon had been to Dallas to play and he absolutely loved it, saying it was his favorite MDBP stop of the year. So he knew we were going to be live again this time around, we had to live up to those expectations and vice-versa. Diving straight into the mix, opening up with a crazy loop of Twista saying "IM DILLON FRANCIS, IM DILLON FRANCIS" over and over again and then letting loose into the collaboration track, "All That", off his new album, "Money Sucks Friends Rule". Dillon played all his classics along with a good amount of new material including tracks off the album, and his later remixes like his twist on Deadmau5' "Some Chords", Daft Punk's "Harder, Better, Faster, Stronger", AND an edit of Porter Robinson's "Lionhearted" which completely blew me away. Dillon Francis is just on a whole different level now, than before and simply just doesn't disappoint.
This year's Mad Decent Block Party in Dallas was even better than before. Crazy talented producers and performers, and a wild sea of fans really did prove that Dallas remained a highlight stop on tour and according to Dillon Francis, "Dallas took the cake once again". And for that, we thank you.
These block parties that are put on by Mad Decent are special. They are different from most other events. No doubt, the best single day event in the electronic music scene. There's no question about that. I could go on and on, but you just need to experience a MDBP for yourself. So come out next year to a city near you!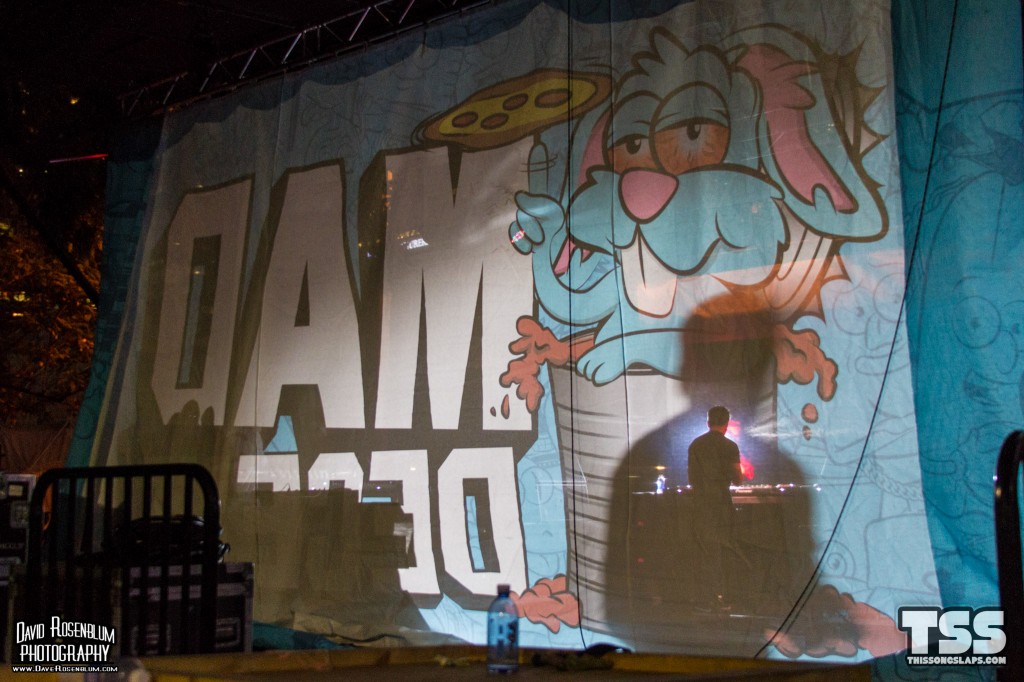 Los Angeles, CA – September 13, 2014 – L.A. Center Studios
Review by Dave Rosenblum
On a super hot day in Los Angeles, thousands of music lovers crowded into a movie studio backlot (its Los Angeles, of course it was at a movie studio!) for the latest stop of the Mad Decent Block Party. With the ban on kandi now over a month old, there wasn't much talk in the air about it. Instead, we had a beautiful day for block party, fit with people dancing in the streets (well, movie studio streets), food, beer and many other random things you might expect at a typical block party.
All in all, the party was a lot of fun and enjoyed by all. The sets were mostly all amazing. Local rapper Thurz opened things up to a mostly small crowd (due to long lines of people waiting to get in – which should have been expected by those attending due to what happened at earlier stops). Liz, Elliphant and Djemba Djemba warmed the growing crowd up, before Cashmere Cat and Trippy Turtle went b2b for an hour. It was a highlight for most of the fans as the two DJs kept the crowd rocking in the hot sun.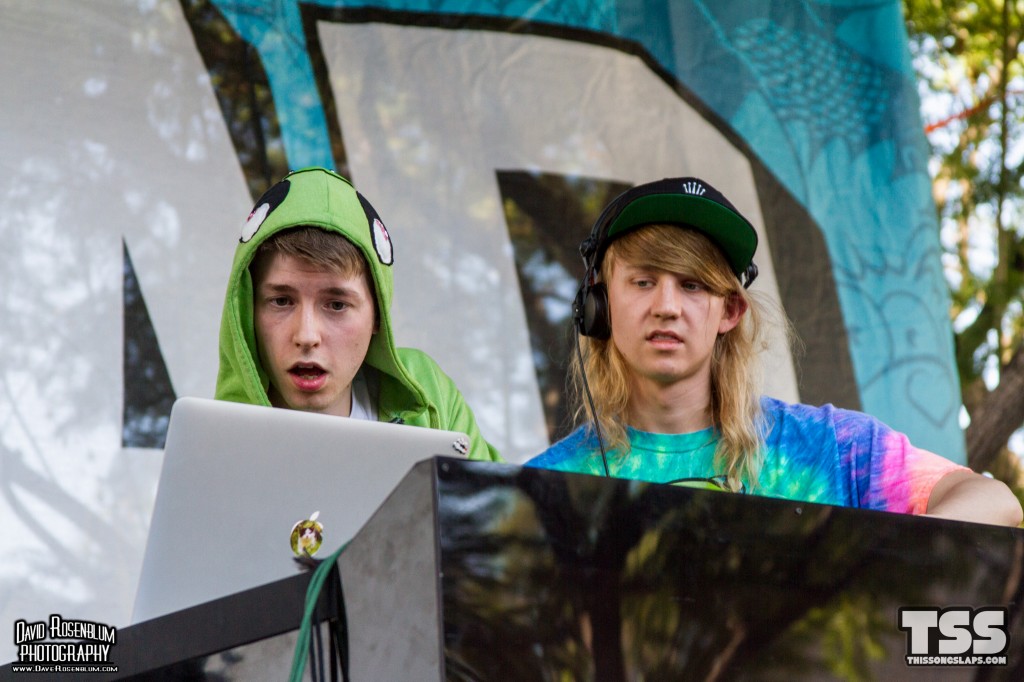 Following the b2b set was a surprise guest set by A-Trak. Showing off his trademark skills on the decks and wow'ing the crowd, A-Trak was an awesome addition. Up next was much less favorable artist, however, STRFKR. Playing in the middle of a mostly DJ bill would have been hard enough for this live band, but when they had people come on stage in weird animal costumes and half naked and sweaty guys with long hair just prancing around stage, they completely lost the audiences. The boo's were loud and the discontent were palpable. It was an odd sight: Not only this band out there, but a crowd actually boo'ing.
Luckily, up next was TJR and Laidback Luke. The party really started when TJR took the stage and played bangers as the sun went down. All was forgiven from the previous act. People rushed in from the beer gardens and food areas in the back to get closers. Then Laidback Luke played crowd pleaser after crowd pleaser.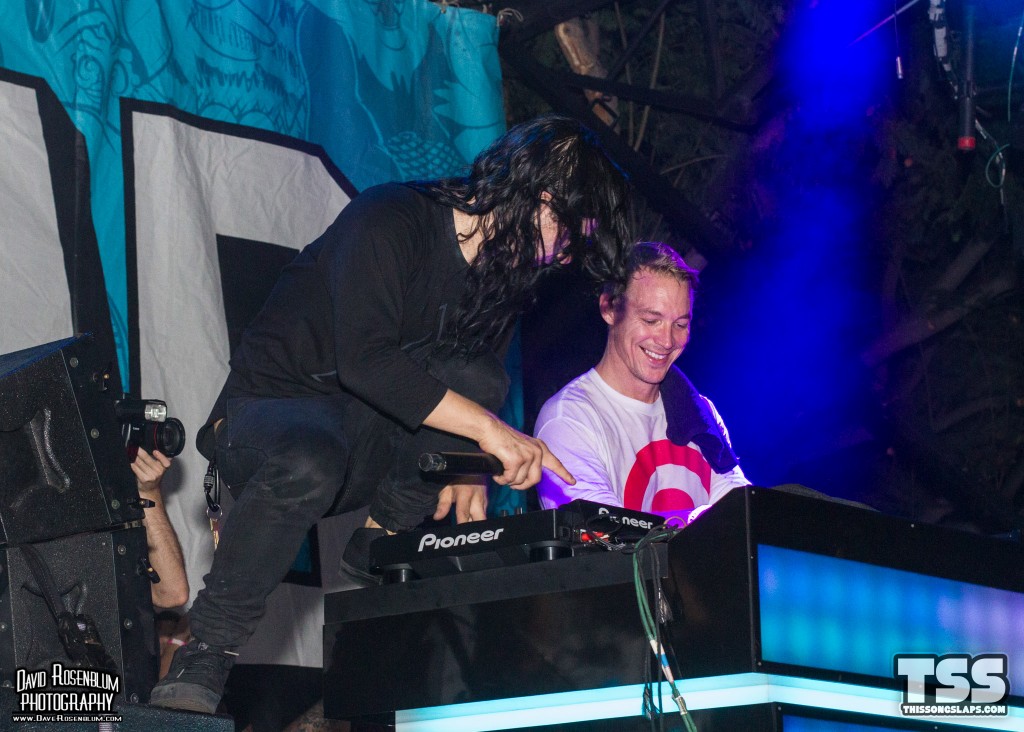 The biggest highlight of the day was undoubtedly Diplo's set, as he brought out his Jack U partner, Skrillex, halfway through the set. The energy was at a maximum by this point. The unlikely super duo just killed it with their high energy pace.
There were some venue issues in LA, as well. Because of the small and tight layout of the grounds and placement of stage, it made it really difficult to go through the crowd. And the beer gardens were so far from the stage that the 21+ crowd had to pick either beer or music, but not really both at the same time. Overall, however, the Los Angeles stop was a really great time. It seemed like all those questions we had about earlier controversies were far from everyone's mind. It was just good music on a beautiful day.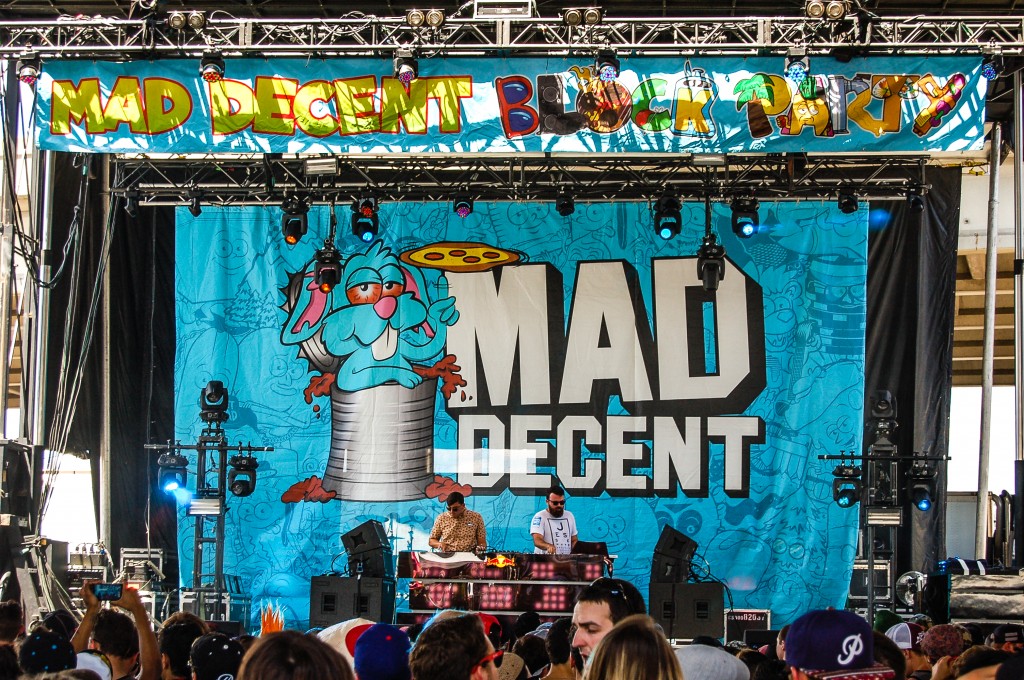 Berkeley, CA – September 19, 2014 – Greek Theater, UC Berkeley
Review by Wyatt Tucker
When the MDBP squad rolled into Northern California, their host was UC Berkeley's famous Greek Theater. The theater, which has hosted thousands of live music acts in its history, is not the typical venue for electronic events, so I was quite surprised to learn that this is the venue Diplo's team had chosen. On an early September evening, thousands of eager fans poured into the venue for a supremely early dose of evening goodness.
STRFKR kicked off the festivities with a groovy live electronic set, and really set a brilliant mood for the rest of the evening. Cashmere Cat followed them up with a unique and emotional set which featured all of his fan favorites ranging from his remix of Miguel's 'Do You' to 'Aurora' and everywhere in between. If you haven't seen this musical magician play a live set before, you need to get out to one ASAP so you can finally hear what you've been missing out on.
Following Cashmere Cat was the one and only Dillon Francis…or so it was supposed to be. Dillon was scheduled to come on following Cashmere, but for whatever reason (we heard rumors that he missed his flight) he ended up swapping spots with Flosstradamus who were slated to play immediately after him.
So, 180 degree turnaround and now Flosstradamus are taking the stage with a storm of heavy 808's, crushing synths and hyped up vocals. The crowd, many of which were rocking HDYBYZ and HDYGRLZ gear went absolutely insane. The boys certainly knew how to control the crowd with just the right amount of MC work paired with the biggest trap and rap tunes in the game. As if the crowd wasn't hyped enough, about halfway through their set, Waka Flocka Flame joined Josh and Kurt on stage to perform hits such as Too Turnt Up, Techno & Grove Street Party.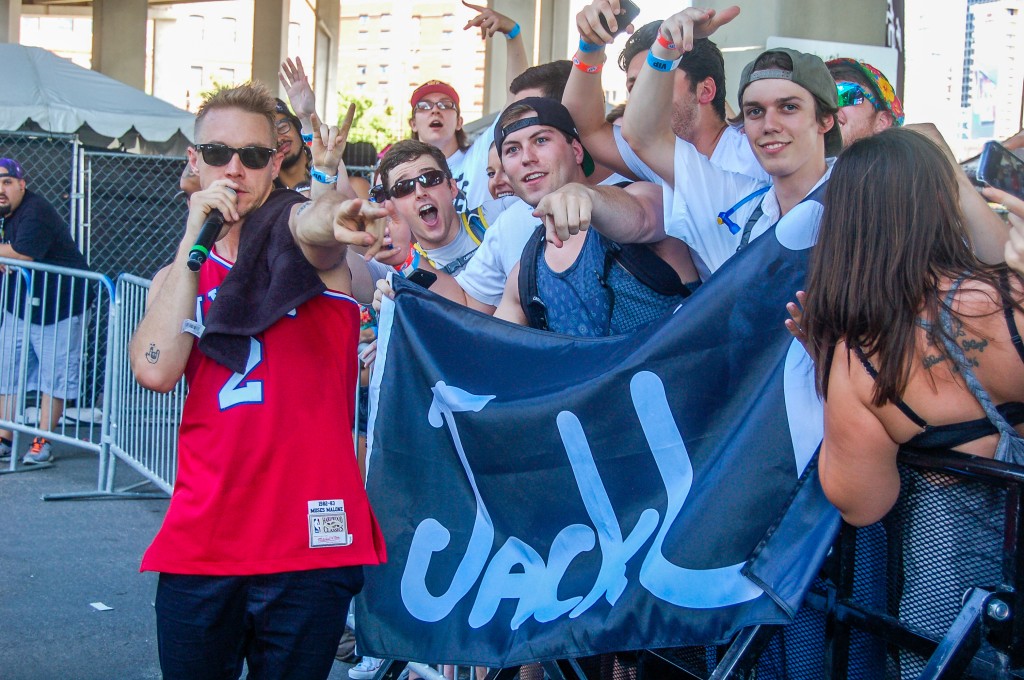 Eventually Dillon Francis showed up and kicked things off with his incredible remix of Deadmau5's 'Some Chords'. The track was a perfect way to transition out of Flosstradamus's style into his own, and it laid the foundation for the rest of his set. Dillon absolutely killed it playing hits of old and new such as IDGAFOS, Masta Blasta, Get Low & Set Me Free. Dillon made the crowd go absolutley bonkers when he even managed to sprinkle in some Bay Area hip-hop.
Following Dillon, Fatboy Slim took the stage. Many of the younger kids at the show were completely turned off by Fatboy's style and musical selections, but I absolutely loved his set. The assortment of classics from the past decade along with his emaculate mixing made Fatboy's set my favorite of the evening, especially since it wasn't litered full of top 10 beatport songs that everyone is playing out.
To close out the night (all be it at 10pm), Mad Decent boss hog Diplo took the stage. There isn't much to really say here – it was awesome, there was twerking, and everyone lost their shit. Diplo always has a lot of exclusives in his sets and those are what make him so special to see live. His ability to tease the crowd with intro melodies from top 40 tracks before dropping into hectic trap bangers is unparalleled and always keeps me on the edge of my seat.
Overall, the night was a complete success. All of the acts were phenomenal, the crowd had a great vibe, and the music was groovy from start to finish. The venue layout ended up being perfect too since the circular dancefloor was perfect for everyone who wanted to go crazy, but those less inclined to turn up could enjoy the show from the surrounding theater style seating. Great show!
In the end, it seemed like it didn't matter what Diplo said or what his team had banned from the show. In each city we attended, it was a legit party. It was not just a festival. It was not just a rave. It was a different vibe. It was always a true block party on a nice summer day. We are definitely looking forward to more fun and good music with Mad Decent next summer!
Comments
comments