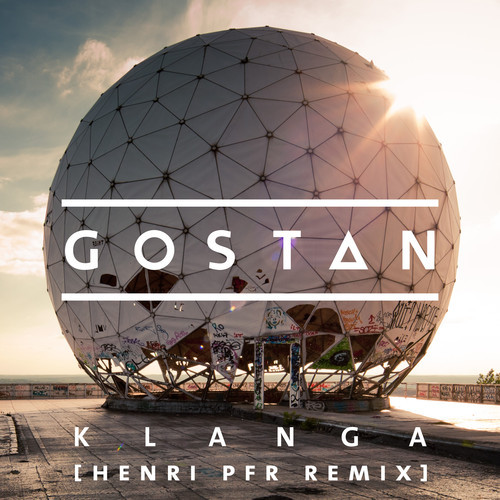 Our latest premiere is a massive remix that comes from Henri Pfr who hails from Belgium. Henri Pfr has put is signature "Chill House" touch on Gostan's break through original "Klanga". We even have the opportunity to get to know the French producer in an exclusive interview. Check out the remix below and be sure to keep an eye out for the official remix package for the track set to be released on November 28th.
TSS: For those who aren't familiar with Gostan, tell us a little about yourself.
Gostan: Sure! Nice to meet you first. My real name is Thibaut. I'm a 23-year-old French "Deep/Chill-house" music producer. I have been making electronic music since I'm 16, and I use Logic Pro as unique software. I live in Paris, and I create all my tracks in my Home-Studio. I don't like using prefabricated loops. I prefer to spend a lot of time looking for catchy melodies, as it's much more rewarding to me. Making my own melodies is my favorite part of the music creation process, it's just amazing. At the beginning you start from nothing and after several days, you've found an incredibly catchy loop that has the potential to be a hit.
TSS: Have you always been into this genre of music?
Gostan: No, began with a more classical background, playing the Violin from age 6 to 13. I really like this instrument for its sound and also because you need a lot of precision to play in time and in tune of course. I think it developed my musical sense, and made me addicted to music. Then, when I started making electronic music, I was more producing progressive-house stuff. When I discovered chill-house style I directly switched to it because I could develop my melodies more easily in this style, especially in the main parts (the drops).
TSS: How would you describe your music to someone who had never heard it before?
Gostan: My style is a mix between chill-house and progressive-house. In my tracks you can find dynamic drops with catchy melodies and very calm breaks. It's important to make people travel through my tracks, so I try to add lot of variations within them. I love to create a summer mood with my music.
TSS: What was your influence behind "Klanga"?
Gostan: When I produced 'Klanga', I was listening lot of saxophone tracks of artists like Klingande, Bakermat, DIMMI. I really liked their stuff, because it was very simple yet very catchy. This inspired me a lot for 'Klanga'. I tried to make my own track in the same mood, and it worked. After I had produced the instrumental I looked for a singer but I didn't find one, because I didn't know anyone in music industry. I decided to use a speech instead. I was in Germany for my studies at that time, I thought about this incredible speech of JFK "Ich bin Ein Berliner" which spreads an amazing, universal and timeless message of peace and freedom.
TSS: How does it feel have your track receive so much attention, especially with these awesome "Klanga" remixes?
Gostan: Yes it's just crazy what's happening with this track. It's the first original track I shared on SoundCloud and it immediately worked. Some YouTube channels like Get The Sound, Music Bouncer, Mr. Revillz shared 'Klanga' and people loved it. I think people love the summer mood in this track, especially thanks to the saxophone melody. The powerful "Ich Bin Ein Berliner" speech brings a nice and very meaningful atmosphere to the track. I think 'Klanga' contains all the right elements for people to like it. And about the remixes, I am so happy with them. They are all incredible and in very different styles (Club, Tropical, Deep, Chill). I hope people like them all, as much as I do.
TSS: What can your fans expect from Gostan in 2015?
Gostan: People can expect new original tracks for sure. I already have a bunch of original tracks ready; I am just waiting to see how 'Klanga' goes. The next single release will depend on its success. I also plan to make an album full of original tracks. And about live performances – I plan to gig as much as possible in the next weeks, so stay tuned!
TSS: ThisSongSlaps signature question…would you rather fight 100 duck sized horses or 1 horse sized duck?
Gostan: Hahaha! I love that "ThisSongSlaps" touch. I guess I would ride 1 horse-sized duck, I wouldn't fight this thing… Riding 100 ducks is more difficult at the same time you know. Ask Chuck Norris maybe he can do that!
"Follow" Gostan: | Facebook | Twitter | Soundcloud |
Comments
comments