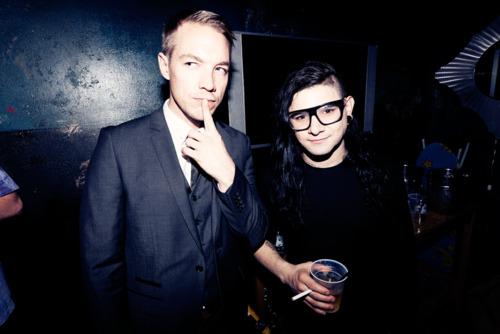 Skrillex and Diplo were running all around NYC Monday for a couple reasons. First off, it was Diplo's birthday, so shout out to the Mad Decent Godfather on a happy belated. Also, these two were running rampant doing big time interviews. From BET to Hot 97, Howard Stern and others, the team conducted at least 4 interviews Monday. For artists of their caliber, that's a lot. It's not everyday you get to sit down with just Sonny or Diplo, never mind both of them. They talk about everything from personal upbringings to future records and more. Sonny clears up the TMZ bullshit with Paris Hilton as well. So let's check out what else unraveled, shall we?
Let's start with Sonny's solo interview on Howard Stern's show. If you're unfamiliar with Howard Stern, he's a bit racy. He doesn't really have any boundaries or filter and no question is off limits with him. Sonny is more of a laid back kind of dude so coming on Howard's show was a bit of an unexpected move. However, the two are more alike than you think. Sonny impressed Stern with his extensive musical palette and resume of artists he's worked with. While Stern tried to throw Sonny off guard with uncomfortable sex related questions, Skrillex kept his cool and played it off but still answered some other personal questions. Check out the interesting and revealing interview below!
On top of this, Sonny joined Diplo for a Jack Ü interview on Hot 97! This sit down was a little more based on music and hit on key facts as well as upcoming records for the duo. They got a piece with Usher coming out and some others they can't discuss yet. Nonetheless, we get some good insight on 909's from Sonny, Diplo's DJ'ing background and lots of other Jack Ü info. Hip Hop heads are really going to love this one too.
These two are showing NYC a lot of love right now! And it's not even close to being over.
"Follow" Jack Ü : | Facebook | Soundcloud |
Comments
comments