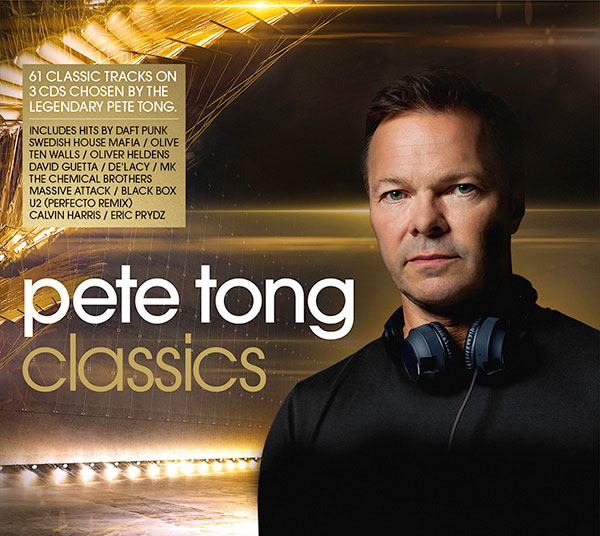 The legendary Pete Tong, the man behind the world renowned and highly successful BBC1 Essential Selection and undoubtedly one of the greatest minds in the music industry has put together 61 of the best dance tracks of all time.
With timeless hits from the likes of Daft Punk, Eric Prydz and The Chemical Brothers to the new age anthems by Oliver Heldens, Route 64 and The Magician; "Pete Tong Classic" has everything a dance lover could dream of including one of our all time favourites "Lola's Theme" by none other than the Shapeshifters.
"Pete Tong Classics" is out tomorrow. Pre-Order it nowon iTunes & Amazon.
Check out the mind-blowing tracklist below and for your listening pleasure enjoy a few of our favourite tracks.

Tracklist:
1. Daft Punk – Around The World
2. Calvin Harris – Feel So Close
3. David Guetta feat. Sia – Titanium
4. Swedish House Mafia feat. John Martin – Don't You Worry Child
5. Eric Prydz – Call On Me
6. The Shapeshifters – Lola's Theme
7. U2 – Even Better Than The Real Thing (The Perfecto Remix)
8. Black Box – Ride On Time
9. Ultra Nate – Free
10. Tim Deluxe feat. Sam Obernik – It Just Won't Do
11. 11. CeCe Rogers – Someday
12. Frankie Knuckles – Your Love (feat. Jamie Principle)
13. Mark Knight & Funkagenda – Man With the Red Face (Club Mix)
14. Jaydee – Plastic Dreams (Radio Edit)
15. Rhythim Is Rhythim – Strings of Life

16. Zombie Nation – Kernkraft 400
17. Cassius – Feeling for You
18. Double 99 – RIP Groove
19. Azzido Da Bass – Dooms Night [Timo Maas Radio Edit]
20. The Chemical Brothers – Block Rockin' Beats (Radio Edit)
21. Air – Sexy Boy (Radio Edit)
22. Everything But the Girl – Missing (Todd Terry Remix)
23. Olive – You're Not Alone (Oakenfold & Osborne Remix Edit)
24. De'Lacy – Hideaway (Deep Dish Radio Edit)
25. Juliet Roberts – Caught In the Middle (Def Classic 12?)
26. K-Klass – Rhythm Is a Mystery
27. Rhythm On the Loose – Break of Dawn
28. Kym Sims – Too Blind To See It (Hurley's House Mix)
29. MK – Burning (Vibe Mix)
30. Clivilles And Cole – A Deeper Love (A Deeper Love Mix)

31. Sandy B – Make the World Go Round (Deep Dish Radio Edit)
32. Grace – Not Over Yet (Perfecto Edit)
33. Livin' Joy – Dreamer
34. George Morel – Let's Groove
35. David Morales & The Face – Needin' U (I Needed U) [Mistake Mix Edit]
36. The Original – I Luv U Baby (Dancing Divaz Remix)
37. Sneaker Pimps – Spin Spin Sugar (Armands Dark Garage Mix)
38. X-Press 2 – Muzik X-Press (Edit)
39. Kosheen – Hide U (John Creamer & Stephane K Remix Radio Edit)
40. Massive Attack – Teardrop (Edit)
41. Moby – Go (Woodtick Mix)
42. The Todd Terry Project – Weekend (feat. Class Action) [Radio Version]
43. Nitro Deluxe – Let's Get Brutal (Brutal House Mix)
44. Richie Rich – Salsa House (Edit)
45. Turntable Orchestra – You're Gonna Miss Me

46. Sueno Latino – Sueno Latino (Radio Edit)
47. FPI Project – Everybody (All Over the World) [Radio Version]
48. Kariya – Let Me Love You for Tonight (House Radio Version)
49. Robert Owens – I'll Be Your Friend (Def Mix)
50. Shades of Rhythm – The Sound of Eden
51. A Guy Called Gerald – Voodoo Ray
52. Golden Girls – Kinetic (Orbital Remix)
53. Slam – Positive Education
54. Pete Tong & Chris Cox – More Intensity
55. Oliver Heldens – Gecko (Radio Edit)
56. The Magician – Sunlight (feat. Years and Years) [Radio Edit]
57. Route 94 – My Love (feat. Jess Glynne)
58. MK – Always (feat. Alana) [Route 94 Radio Edit]
59. Hot Natured – Benediction (Radio Edit)
60. Ten Walls – Walking With Elephants (Video Edit)
61. La Roux – In For the Kill (Skream's Let's Get Ravey Remix)
Follow & Support
Pete Tong: | Facebook | Twitter |
Comments
comments