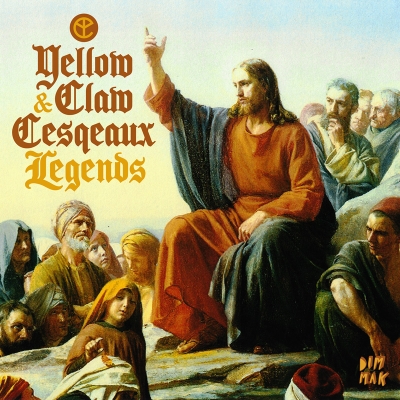 While the Amsterdam bred boys of Yellow Claw might not have realized just how far their music would travel initially; it's with their high energy and creative sound that they would soon break boundaries and blow minds. From the Amsterdam Trap Volumes released on Mad Decent to the powerful messages of their music videos, Yellow Claw has been steadily leaving their mark in the EDM scene. Today they dropped their collab EPLegends with friend and producer, Cesqeaux cementing only further why all these talented gents are here to stay and not just for the time being.
This four track EP compiles all the hard hitting sounds of Hip Hop, Dutch House, and Moombahton, while creating a fierce energy that only gets progressively stronger with each and every tune. Kalibwoy highlights "Legends," with his raspy, reggae vocals helping usher what is sure to be an anthem built for the masses. "IBETCHU" might sound familiar as this big bass tune has been spotted at dozens of shows and festivals. The two unfamiliar tunes "In My Head" featuring Marlishh and "Preacher" featuring Roëndy Rosanjo continue to follow the theme of legendary energy with it's jungle of bass, snare, and devilish vibrations.
In celebration of this release, we thought an interview would be necessary. Because behind all Legends- there is a story. Without further adieu, Yellow Claw.
Where does the story of Yellow Claw begin?
With our very first single, really. It's a dutch one: Allermooiste Feestje. It means "best party ever." Behold!

As someone who has never left the country, how would you describe the local music scene in Amsterdam?
The club scene in Amsterdam is really not all that fresh. It has the same old clubs and venues throwing parties. There's the big urban scene, the pretty big techno underground scene and of coursethe mainstream EDM raves. There isn't really much in between to be honest.
When Yellow Claw first started what was the initial sound you guys hoped to emulate to the world? Who are your biggest musical influences?

The Rusko remix of Kid Sister's "Pro Nails" opened our eyes. When we heard it we said to each other"WE HAVE TO DO THIS"
From Tomorrowland to TomorrowWorld to EDC Las Vegas, you guys have traveled all over for your music. Did you ever think it would become so popular and do so well in other countries, continents, e.t.c?
Never of course. It still is, (and we mean that) super weird and unreal.We just got back from a beautiful 8 show run in the United States and Mexico. We met so many fans and people all over the world who sing along to our tracks. It's a beautiful,beautiful thing and we're really humbled.
Amsterdam Trap Music Volumes 1 & 2 off Mad Decent showed off Yellow Claw's ability to create an atmosphere with high energy and big sound. What can listeners can expect off your newest EP with Cesqeaux titled "Legends" coming out October 13th via Dim Mak?
Yes, absolutely. Everything about ATM was about the adrenaline and Pop mixed with the hardest trap sounds the genre has to offer.The Legends EP is a collaboration EP with Cesqeaux and therefore has influences of both artists.It's a much more natural sound really-worldly,maybe. But they are still songs, and still for the clubs It's something different and that's why we like it.
Where did the initial idea to collab with Cesqeaux originate from?
He's a good friend of ours and a very talented producer. We often meet up for food or at the studio. It's all around good vibes.
Walk me through the creative process of a tune off the new EP from simply a thought to a final mastered track. Is it difficult to work with so many minds and different tastes?
It can start with anything really. Legends started off with a couple awesome sounding samples, sounds and a talented artist called Kalibwoy. As for the vocals from Kalibwoy; A while ago a friend emailed us "Dude, you have to do something with this guy.His voice is insane!"He was right so we checked him out and immediately invited him over to the studio.He didn't write the song, but just freestyled. It was so dope. We just helped him out a bit with the harmonies.
Lastly, why the name "Legends?"
Because we will be- Or at least try to be.
Yellow Claw & Cesqeaux- Legends EP | Purchase |
"Follow" Yellow Claw: | Facebook | Twitter | Soundcloud |
"Follow" Cesqeaux: | Facebook | Twitter | Soundcloud |
Comments
comments