As the Disciple Alliance tour nears, everyone has been hungry for a collab from the two well known duos in dubstep. Dodge & Fuski and Barely Alive have finally released a brand new collab. More like a showdown. This insane track couples both duo's sounds and styles & sounds. While many can distinguish the two styles, it can be safe to say that the fresh sounds from this track are some of the best released by the two them.
We got the chance to sit down with Dodge & Fuski along with Barely Alive to discuss their upcoming US tour & more:
TSS: How are you guys doing?! We've been waiting for a collab and it's finally here! We absolutely love it. Can tell us what the theme is about and how you came up with it?
D&F (Rob): Thanks! I should imagine the theme is fairly self-explanatory, although to explain it's origin, the sample was taken from an old rave tape from the early 90's where somebody drunk some smoke machine fluid – the sample has barely been touched from its original form as it was such a gem. It was actually Skism who linked me to the sample over 2 years ago when I originally started the tune, and it remained a sort of forgotten idea since 2012 which I ended up finishing with our boys Barely Alive. They definitely brought the fresh rethink needed to make the track relevant and releasable in 2014, and I think both our characters come across well in the final track.
BA (Willie): Glad you liked the track! Making a tune with DnF has been a goal of ours for a while, since we joined up with our first EP last year. Instead of rushing to get it done, we waited until we had the right idea to work with. When Rob sent us a clip of a British dude making an emergency announcement in the middle of the rave, we knew it would turn out well!
TSS: The Alliance tour is really close now! How do you guys feel about touring across the US? Are you nervous?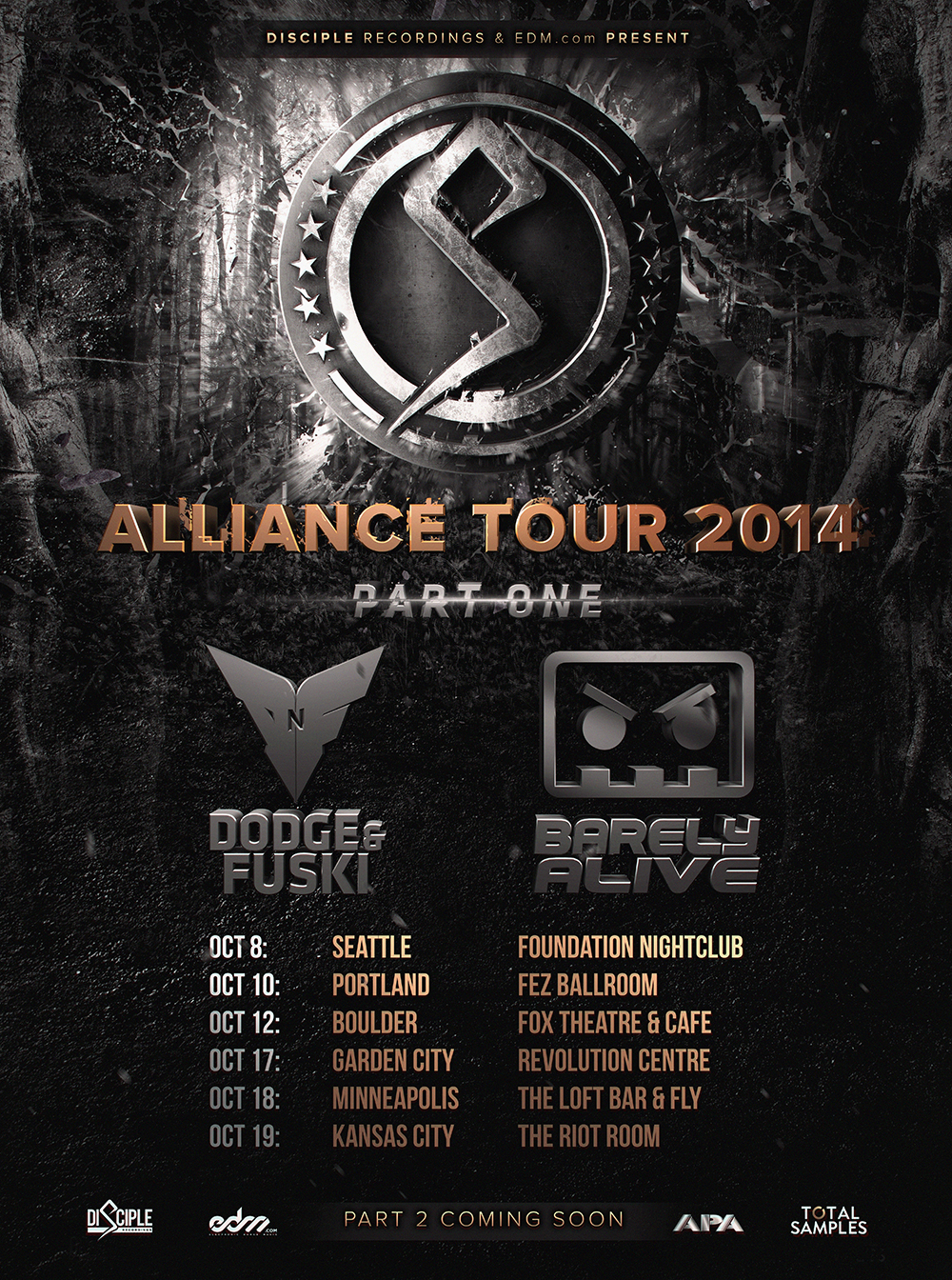 D&F (Rob): I've been doing regular US tours for several years so I wouldn't say I'm particularly nervous to be honest. It's always great fun though!
BA (Willie): It feels awesome to finally have our first US tour. We've already played a handful of gigs in our home nation, but the Alliance tour brings something new and special to the table, and it feels both nerve-wracking and incredibly exciting at the same time. Ultimately it's going to be really fun!
TSS: You've been getting a lot of heat for not playing at various places (antarctica, iceland, etc.) Are you guy's planning to tour again in the near future? If so do you think you'll cover more states and or countries?
D&F (Rob): Everyone gets that – people in the internet have this weird notion that acts decide where they get booked. If we had control over that we'd be on nonstop tours around the Caribbean, so that is entirely in the hands of the promoters who decide to book us!
BA (Willie): Our goal is to play a show on every continent by the year 2035, by which point we might even be getting bookings on the Moon. Until then, fans will have to just sit tight and wait for us to get booked in their city.
TSS: Of course we all want to hear how you guys met. Was it initially through Disciple Recordings or does your friendship date further back?
D&F (Rob): Willie & Matt (Barely Alive) sent us a demo around 1-2 years ago when Disciple was in its infancy and the relationship has blossomed ever since. I've even stayed in Matt's parents' garden shed.
BA (Willie): The shed sounds much worse than it is. It's actually very nice and homey.
TSS: What has been your biggest learning experience this past year?
D&F (Rob): Probably not to try and keep up with constantly changing trends at the expense of quality. That's not really a past-year specific experience but it's a lesson often forgotten in this industry.
BA (Willie): If you're traveling with a cold, be careful of changes in air pressure. When a plane lands and your ears don't equalize it can be incredibly painful. I learned that the hard way!
TSS: I just HAVE to ask, can you hint us toward any future collaborations soon?
D&F (Rob): I've done a couple bits with some of the early NSD guys, but I can't say who yet sorry!
BA (Willy): We're working with a lot of cool vocalists at the moment, as well as some very big names in American dubstep. 2015 is going to huge!
TSS: Its clear lately that the EDM scene is changing rapidly along with the styles and tastes of electronic music lovers. What are you guys doing to keep up? Do you ever see yourselves (god forbid) parting from dubstep?
D&F (Rob): I made music under a few different aliases which gives me a lot of room to experiment without having to break away from the scene each act is associated with. In terms of D&F, in my mind it's always going to be at its core a bass music act of some description.
BA (Willie): It's entertaining to see the trends in dance music shift over time, but the music we make is above all else a product of what we enjoy writing and listening to the most. A lot of people have expressed concern that artists are abandoning dubstep. We have no plans of doing this any time soon.
TSS: How do you guys start a track. I've heard that it's the hardest part. Any rituals or tricks that help get the ball rolling?
D&F (Rob): I tend to start out with drums and then mess around with bass sounds, and a groove or bassline idea will often come into my head in the process.
BA (Willie): Having a cool vocal to work with always helps me come up with ideas for intros and drops. Matt is more focused on sound design and will jump right into making bass loops, so together there is always a source of inspiration when it's time for studio mode.
TSS: Dodge & Fuski, you guys stated that you are back to bringing the fans more dubstep , what prompted you to switch back from primarily glitch hop? Are you guys primarily focusing on dubstep or is it going to be a mix of both?
D&F (Rob): It actually feels quite fresh to come back to Dubstep after a break from it which is great! The Glitch Hop thing was a fun experiment but I just ended up risking marginalising D&F into being a bit of a niche act which wouldn't have been a good move, so I'm now fully focused back on Dubstep, which is the reason we built our fan-base in the first place. I have the next 2 releases pretty much finished so you should see plenty more soon!
Thank you guys for your time! Good luck during the tour!
"Follow" Dodge & Fuski: | Facebook | Twitter | Soundcloud |
"Follow" Barely Alive: | Facebook | Twitter | Soundcloud |
"Follow" Disciple Records: | Facebook | Twitter | Soundcloud |
Comments
comments