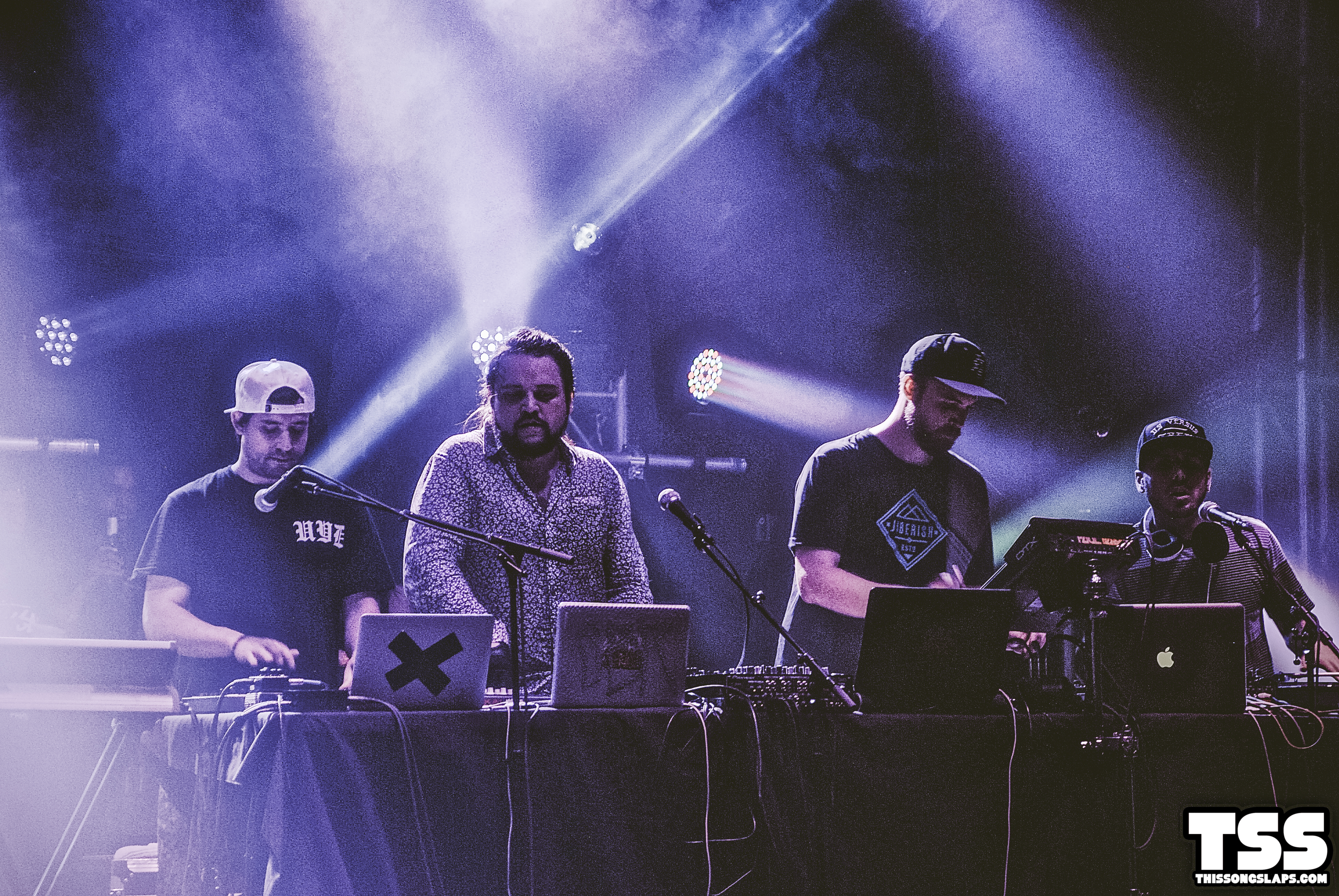 Derek Vincent Smith aka Pretty Lights has reached the level he is at today through long hard-work, many musical talents, and pure love for sound. Through his successes he's been able to create his own label, Pretty Lights Music, and add his own prodigies who have taken after that same PL-esque soul sound. In the building of PLM, Pretty Lights has signed Michal Menert, Supervision, Eliot Lipp, Paul Basic, Break Science, and even helped bring up Gramatik before creating his own record label, Lowtemp.
In case of the unfortunate scenario where you might have been out of the loop lately on the electro-soul/funk side of this lovely music scene, some shits been goin' down. The PLM Keepin' It Crew Tour consisted of everyone on the current PLM squad except Break Science (since they have been on their own tour with Manic Focus). So the team out on road for the 2-month long tour was Paul Basic, Eliot Lipp, Supervision and Michal Menert.
These shows that the PLM Crew played on tour were no 'normal' or traditional performances. There were no 'solo sets', one PLM signee wasn't opening up for the next, it was a collaborative performance that took a deal of planning and rehearsing to put together.
When it became showtime, all four producers shared the stage as they started the night up, straight into some vibey melodies. The four of them would all play together, each artist in control of a breakdown of parts for whatever track on the set list.
Throughout the set the artists would swap on and off the stage, giving the particular solo artist his time for the spotlight to play some tracks of his own. But it wouldn't be too long until someone else would come back out and accompany the other on stage as they performed their own parts of certain collaborative tracks with one another. Then before you know it, transition occurs once again and all four Paul Basic, Supervision, Eliot Lipp & Michal Menert are back to performing together. It was truly special and loved this way of performing.
No doubt, each played their own remixes from Pretty Lights' Color Map of The Sun Remixes which was soo rad. Not only that, we got to hear many different released and unreleased collaborations between the group.
Highlights of the set:
– Michal Menert goin' in on some freestyle raps that he tends to throw in his sets.
– Michal Menert and his heart-felt "Your Ghost" is always a high for me.

– All their respected Pretty Lights Remixes
– Eliot Lipp getting to play some track off his new album, Watch Your Shadows , including my personal favorite, "Future Forest". Such funky guitar riffs.

– New unreleased Paul Basic & Michal Menert collab which threw down and got a little "trappy" with Paul's drums.
– Gettin' way down and glitchy with Supervision's "Super Like Vision".

Sure, it has it's pros and cons. You don't get to hear a plethora of one artist's tunes, but this isn't a regular tour. This is PLM. Together. Squad up. An effort to give something new and genuine to the loyal Pretty Lights Music fans.
TSS: Whats up Eliot how you doing? This is the last stop on the PLM Keepin' It Crew Tour, how has all this been for you and the rest of the guys?
EL: Doing good man. Tour has been great! Really a great one.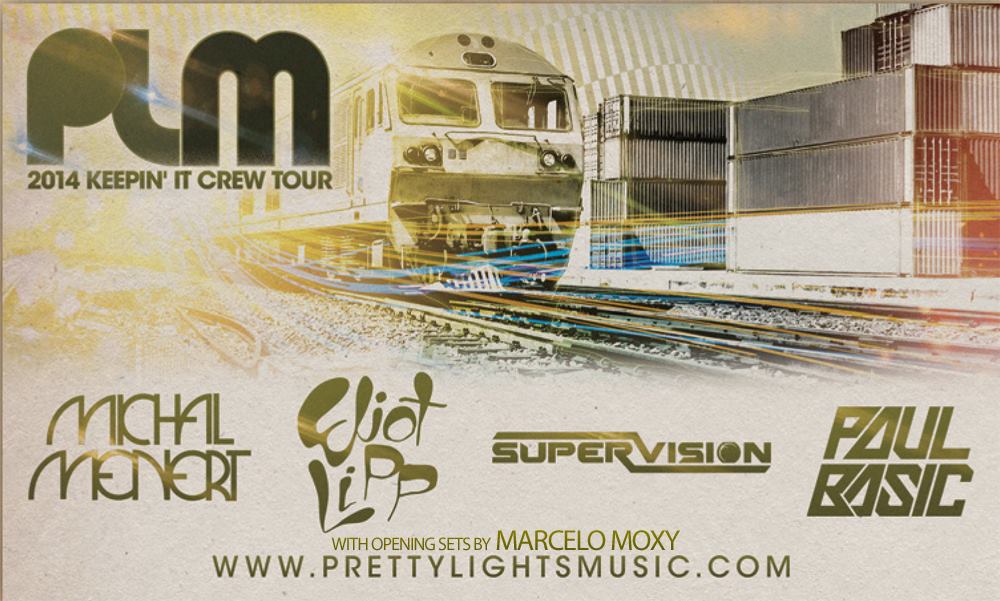 TSS: For this Keepin' It Crew Tour, all of you guys are playing together and sharing the stage for the show/set. How is that and what was the preparation for that like? EL: – We all rehearsed together in Denver for like a week. We all kinda traded parts then rehearsed it for a few days before our first show in Lawrence. Having that week ahead of time to work on our bringing our set together and rehearsing & stuff was crucial.
TSS: What were some of your favorite spots on tour? I heard last night was sick in Austin, as well as the New Orleans show with Derek (Pretty Lights) being there and what not.
EL: Austin was sick. New Orleans was AWEsome cause Derek came up there, man.
TSS: I bet that was really cool to have him there with all you guys. Any others?
EL: New York. That was probably my personal favorite though.
TSS: Really, why's that?
EL: I just love New York city, I lived there for a long time and there was just really like good energy and a great crowd. We had a lot of fun afterwards too just wylin' out running around Manhattan.
TSS: I'm sure you guys have gotten a good amount of time to work on new material on tour? How is it with everyone being present while that happens? Feeding off eachother and giving input on different things, and im positive many collaborations are the works?
EL: Yeah, well we have some monitors on the bus so we can work on tracks and we've been trading back-and-forth a lot so we do have a bunch of collaborations in the works. Atleats one of them I know will be released fairly soon
TSS: Hell yeah, we will definitely be on the look-out for those! So, you just released your brand new album Watch the Shadows, congrats on that! Tell us a little about it. How long was the process? And how does it differ from the rest of your work?
EL: Thank you. Well, the process was pretty much the same in how I make most of my stuff, you know? Like aside from the fact that I took a lot of the samples I took out and replayed them like live piano, live guitar, drums and vocalists. So that was a big change in process that was new to me, but it was fun. It gave me a little more control over the composition but it also gave it a little bit of a different sound that I usually have.
TSS: Yeah, I mean there's tracks on there that have sounds that are totally different from most of the things we hear. The sound design is great. And it differs a lot from track to track, there's a lot of diversity in there.
EL: For sure, thanks man.
TSS: When going up, where did you get your musical inspiration from?
EL: Mostly hip-hop. I got way into rap when I was in like 5th & 6th grade. So then I started playing piano and keyboards and stuff because I became interested in learning how to make beats. So yeah, that was definitely the first style I really got into when growing up.
TSS: When did you decide that you wanted to pursue a career in music?
EL: It just kinda happened for me, honestly. I never thought it was going to pay the bills, but once I started dedicating and sort of treating it like a full-time gig I started finding ways to make ends-meet by starting to do some shows and just putting out music. Once that started to go for me, I really had no other backup plan and I've just been moving forward ever since. So yeah, there was no real definitive moment where I was like 'this is what I want to do with my life'.
TSS: Just kinda kept keeping at it and then it turned into something for you. That's whats up. How would you describe your music or sound?
EL: I like saying electro-funk because it covers a wide enough base of genres to take from. It's dance music, it's electronic. I love the funk as the core, you know, but at the same time I still make a lot of hip-hop tracks and still make a lot of club tracks. But I think at its core I think funk is the one thing in all my songs that I strive to have a presence of.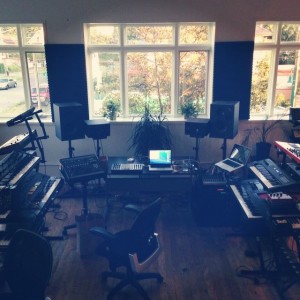 TSS: Tell us a bit about your production style and recording.
EL: Yeah I used to be real analog heavy, using tape machines, analog synthsyzers and old-school gear. Like a lot of old vintage 70's – early 80's stuff, and I still use quite a bit of that stuff. But, recently I've been getting a lot more software based. I've been sampling a lot more so I'm kinda less on the keyboards, more on the sampling.
TSS: Right on, yeah I've noticed some of that.
EL: But it just shifts around, I do a lot of VSTs and plugins too so it's a pretty wide variety of components that I'm using to produce the tracks.
TSS: Your live stage presence is one that is not necessarily easy to come by nowadays. You're not just up there on a mixer like some artists perform. You're doing a whole lot more than just that. What exactly is your set up on stage?
EL: Personally, I just get bored if I don't have anything to do. Like I've tried to do sets with just a controller and no synthesizer or with just some triggers and a mixer, but if I don't have enough going on for me, then I start getting real bored. Like I have to be doing some sort of a live remix of my track.
TSS: Absolutely. I love that.
EL: It's also a way to feed off the crowd. If I jump into a track that I feel like is losing my energy with the crowd, I can remix a shorter version of the track on the fly and get into something else. My sets are real flexible to me, like I can switch around a lot of the tracks so even though I'm not DJing, technically, I'm playing all my own tracks but I still can shape the set based on what I think the crowd is feeling.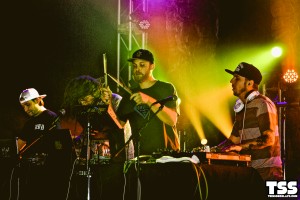 TSS: How does PLM and the Colorado music scene differ from the rest of dance music?
EL: Well, obviously Pretty Lights had a huge effect on Colorado (and us) the last few years and now we are seeing a lot of producers coming up with style that's like a reflection of his you know? So it's created its own scene. I think PLM represents a lot of artists that have similar styles to Derek but we're kinda covering different ground.But in the scene of it as a whole, in Denver and Colorado, I think its more of a scene of how much people have been inspired by Pretty Lights' sound.
TSS: Most definitely! And, compared to the rest of the music scene?
EL: I think compared to the rest of the country – I don't know, I think Denver is also a hub for electronic music too, you know? People come from over seas a lot of times and they'll play in Denver even if they don't really go anywhere else.
TSS: Right, very true.
EL: There's a lot of artists that come through, especially electronic stuff. So yeah I don't know, in a way I think it's definitely a capital of electronic music
TSS: If you could have added another artist to this Keepin' It Crew Tour, who would you have liked to be on the road with you guys? (besides Pretty Lights)
EL: Break Science. Right!? (leans to Paul Basic for approval). Get Deitch playing drums the whole set for like 3 hours.
TSS: Oh my gosh, for real. He's beastly. So, What artists do you find yourself listening to nowadays? And is there anyone TSS should know about?
EL: I like Gladkill, I'm sure you guys already know bout that though. I've been listening to lots of him and ODESZA.
TSS: Oh yeah, big fan of ODESZA.
EL: Oh, the new Apex Twin is pretty dope too.
TSS: So I've heard you are good friends with Curt from Flosstradamus…how did that relationship come about?
EL: Yeah, yeah. Probably like 10 or 11 years ago I met him. I was playing a warehouse party in southside of Chicago, he was there and he was playing like booty-house. Real fast house with just like some DJ Assault and all this Detroit shit. I think he was still doing by Dj Autobot at that time but they didn't have Flosstradamus yet. He was just a wiz. Every piece of gear he had he would read the whole manual back-to-front. He knew the MPC really well and I had one, so Curt would help me with all these tips on my MPC 2000. He was and still is just like the computer wiz. Whenever I go over to his house he's got all these plugins I've never heard about and showing me how to do all this crazy shit. He's definitely like the techy brains of Flosstradmus, whereas Josh is like the stylish marketing guy, you know?
TSS: For sure for sure, I see that.
EL: Yeah, but Curt actually mixed my Shark Wolf Rabbit Snake record.
TSS: Oh really?
EL: Yeah once I finished that off, I brought it over to Curt's studio. We pulled it apart, ran it through his summon mixer he's got and all his processors and shit. So yeah, me and Curt just have been friends ever since.
TSS: That's awesome, yeah he's one of the nicest dudes I've met so far like he's super down to earth.
EL: Oh yeah man, he's so down to earth.
TSS: Would you rather fight 100 duck-sized horses or 1 horse-sized duck?
EL: (laughs) Definitely a horse-sized duck cause you don't know how vicious those duck-sized horses are going to be and 100 of them could really fuck you up.
"Follow" Eliot Lipp : | Facebook | Twitter | Soundcloud |
Comments
comments