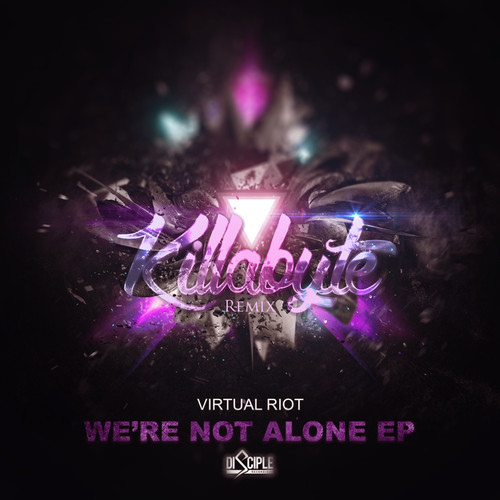 This may be the best remix I have ever heard.
Outshining the kagillion other remixes of Virtual Riot's "We're Not Alone", Killabyte effortlessly impresses with a distinctly structured and methodically melodic mix of the given samples used and strategically placed thus capturing the true raw emotion you would initially expect from the original.
A perfect remix to say the least, and not enough words to emphasize and digress the beauty and art all behind it.
As most of us have our off-days, I was having a unpleasantly filled one until this mix came up on my feed. Quickly after hitting play and hearing the ascending chip-tune arp I knew I was in for a euphoric musical trip.
Flawlessly followed by a stellar breakdown of continuous short melodic riffs and an established atmosphere of suspense energetically leading up to an aggressive drop of uplifting synths brimming with life, I had felt like my world had changed and was filled with color giving me the exact rejuvenation I needed.
What appeased me the most were how well suited the lyrics fitted within the second breakdown, theming an envision of a silhouette isolated near a flume.
"So Keep Your Head High, Looking At The Night Sky – And Now We're Not Alone – At All"
Now, most of time when it comes to dance music and it's lyrics, they are usually incomprehensible or we fail to care enough what they actually mean. Given that my mind was hooked on the song the lyrics made complete sense to me and ironically related to a current issue I was dealing with.
It made me think to myself that the only thing worse than being alone is being surround by people who make you feel alone – no matter what the situation may be, whether you feel alone or lost within yourself with no direction to turn to – always keep a positive mindset that things will work out one way or another as self empowerment can be simply found by looking up to the sky and thinking about all the other individuals in this world doing the same thing and are facing the same battle or even greater – and now, we certainly aren't alone – at all.
Virtual Riot – We're Not Alone (Killabyte Remix) | Stream Only |
"I just wanted to thank everyone for the support they showed me. I got 3rd place, which is pretty good in a contest with 464 entries. What a lot of people don't understand is that I am the kind of person that only wants the best. PhaseOne's remix was great, and I congratulate him for winning. There was a misunderstanding in which I thought the top 3 entries were "winners", but it turns out it was only one. I wouldn't have been so upset if I knew this from the start, but I guess things happen. As I said, 3rd place is great, but in my eyes it's not good enough. I guess the only thing I can do at this point is hope for something better for the next contest. I think I'm gonna focus more on original work though." – Killabyte
"Follow" Killabyte: | Facebook | Twitter | SoundCloud |
Comments
comments