Photos courtesy of Shane McCauley
Money sucks, friends rule.
2014 has seen the release of several impressive artist albums. The return of Skrillex with Recess, Porter Robinson's awe-inspiring Worlds, and now it's Dillon's turn. Over the past few years, the LA producer has quickly risen to become one of dance music's most sought-after producers, not to mention his outrageously entertaining social media feeds.
Dillon Francis & Sultan & Ned Shepard feat. The Chain Gang of 1974 (Music Video)
Money Sucks, Friends Rule itself is an incredibly versatile collection, but still has a very Dillon Francis feel to it. Collaborations with artists ranging from Brendon Urie of Panic! At The Disco all the way to Martin Garrix make for an album that we feel is comprehensive of Dillon's talents and proves just how fucking awesome his music is. We also caught up with Dillon to talk a little bit about the album.
So you almost burned down my apartment.
DF: Damn, when?
TSS: When I got home last night I started making dinner and I threw the album on for a first listen. 15 minutes go by and I look over and there's a billowing cloud of smoke coming out of the kitchen, the pan's on fire, and as I'm trying to put it out that Brandon Urie track comes on-
DF:Love in the Middle of a Firefight?
TSS: Yea, it comes on as I'm fanning the flames.
DF: Wow. That's amazing. That's so cool. That's a cool story because recently I was playing blackjack with Steve Duda and Deadmau5, and when I was up really happy songs would come up and when I was down really depressing tracks came on. Right as I lost all my money that song that goes "Na na na na, Hey, hey, goodbye" comes on. I swear on my life. It was so fucking crazy.
TSS: Our conversations have spanned a series of evolutions in your career: from leading the Moombahton wave, to your Trap crossover, to a bittersweet dip with "Without You" and "Flight 4555." This new album dabbles in all of those styles and some new ones which is exciting. Are you trying on a lot of shoes to see which fits with your fan base in order to set out in one direction or do you plan on maintaining an eclectic taste? Do you worry about being pigeon-holed or alternatively becoming so diverse you alienate some of your audience?
DF: That's a good question. I never really thought about the other part where I could be making so much stuff that some people won't listen anymore because they won't know what they're gonna get. I'm always making new records that the fans are going to like. I definitely do think that with this album its a 'Show me which songs you like the best, and then I'm gonna go back in the studio and make those songs some more.' I'm hoping that everyone likes "Love in the Middle of a Firefight" the most.
TSS: Because you were a little indie hipster kid.
DF: I was. "Drunk All the Time" and "Love in the Middle of a Firefight" are two of my favorite songs from the album. And "Hurricane." That ones super poppy. I don't know if that one gonna be so well receive by people but I don't give a shit. I wanted to make a song like that so badly.
TSS: Those are the three pop songs off the album.
DF: Yeah. All my music has pretty much been pop, it just hasn't had vocals in it. like "IDGAFOS" is such a little poppy piece of shit song. The way that I made that song was I was remixing "Stereo Hearts" and I came up with the lead line. That song is so hot.
TSS: Horrible, horrible pop that gets stuck in your head for months.
DF: There you go!!
TSS: A lot of the EDM audience would say they hate radio pop, but then these producers they love: Madeon, Calvin Harris, Zedd, have all said they aspire to creating it. You told me last year you wanted to make Calvin Harris tracks. And I guess the reason that his music sounds like everything else on the radio is not because he's derivative but because everyone is trying to imitate him. Every now and then there is new and innovative pop. Is this where you want to go after the album?
DF: I don't want to reveal too much stuff because I don't want people to think right after my album I'm going to put out a bunch of new music because I want them to sit down and appreciate it.

"I know I want to make a Moombahton EP. I already have one song that I premiered at EDC, and another song with Skrillex, and I probably want to make two more solo songs."

I want to make that to give thanks to my core audience who love Moombahton so much since there's not much of it on the album. I think my fans are gonna appreciate that track "Not Butter" even though its a bit techno. I think that will be the best song for my fans, and as far as opening up new doors for me I think Hurricane and "Love in the Middle," I love that style. I've already started making the next album and it's mostly "Love in the Middle"-ish.
TSS: They're definitely more radio-friendly. Is that an intentional decision or a happy byproduct?
DF: I was talking so much to Porter while we were both making our albums and he was the one that was saying he was going full-force, not making club songs anymore. He got over club music way faster than anyone else did. I want to do that too but I still love playing that type of music and I'm not sure my fans would be happy with me. Moombahton is such a far off place from standard EDM that you can make it forever and people will appreciate it because it's never been put in the limelight like trap or big-room. I feel like I'm the only one who actually still makes it.
TSS: Start a posse of Moombahton kids. Give us some music.
DF:I know, no ones doing it. I'm trying to make more records. Skrillex is the one who loves doing it too. I talked to GTA, I want to make a Moombahton record with them. It's only Skrillex and GTA who still appreciate it. I know the other guys do, but not enough because nobody's fucking making it. And that's what sucks for me too, because I'm plaining the same records I've had forever and maybe a couple of my new ones. I feel bad because there's no variety in that part of the set because there's no new music. So I guess I'll just have to keep making edits. And keep making new songs.
TSS: Remix, Rebirth, Afterbirth.
DF: (giggles uncontrollably)
TSS: Alright let's go through the album. The Twista track was a surprise, and I haven't heard of The Rejectz since "Cat Daddy." What was it like producing a hip-hop track?
DF: I love doing hip-hop stuff, it's so easy. It's so much easier than doing pop stuff because with pop you have to find the happy medium. You can add too many melodies where it just becomes convoluted, or not enough and it's not interesting because there's only one piano playing and it's not thick enough. With hip-hop you can have it very, very bare and throw in a vocal and you're done. It's all about the hook.
TSS: Let the others infuse some dopeness.
DF: Exactly. The Rejectz killed the hook. So good.
TSS: Twista too, plus he gave you a shout out.
DF: I actually use it, check out this edit I made for live shows:

Dillon pulls up Serato and Twista comes over the speakers, rapping "I'm Dillon Francis" in a continuous loop, which is a sample from the second verse off "All That."

All the kids will go crazy.
TSS: "Get Low" and "When We Were Young" have been released… Let's talk about making the Garrix collab. What was it like going to Amsterdam and hanging out with his parents?
DF: So awesome. His parents are just like my parents, the sweetest people ever. He has a really good support system at home and that's really important for him, especially since he's so young. I feel like his big brother or something. He's such a great kid, he's like a ball of light.
TSS: I imagine it's not bad being 17 and super famous, probably helps out in high school.
DF: Yea, definitely.
TSS: OK, let's put on "Drunk All the Time."
DF: So let me play you the old one first:

A wavering melody repeats in a loop until he switches decks and it transforms into a catchy, sun-drenched hook as Simon Lord croons:

"I've lost it, sometimes crazy,
I really love my baby…"

I started this so long ago. I was living downtown at my first place ever. Now when people ask me to play at pool parties, I have a song to play.
TSS: "Love in the Middle of a Firefight." You have Brandon Urie from Panic! at the Disco and It's in the low 90s (bpm), it feels very indie-pop. It's totally a throwback to when you used to be a little indie hipster kid.
DF: Yup. I was trying to do M83 style. I'll play you the original on that too.

Robotic vocals come over a synth-pop lead line:

You've got the chills, I've go the shakes,
last night could do last night's mistakes,
Just roll with me, we'll take a trip,
Girl this is me and this is it,"

I did that with my friend Emoh. It's bitspeak, where you write in the notes. We made this and it just fucking sucks. He's doing this new project – it's not out yet – where he sings on a lot of his stuff and it sounds really good but he just couldn't do it on this one. I sent Brandon this and he immediately sent back the lyrics the same day because he liked it so much. I was so blown away.
TSS: How are you gonna mix it into your sets? Are you just gonna do a massive tempo shift and drop down into the 90s?
DF: I'll probably figure out a way to make an edit that goes into the beginning part so I can play the original and then of course do a remix of it.
TSS: "Not Butter." We've been hearing this in your sets all summer.
DF: This one was actually "Hurricane" at one point. I sat in the studio with the drop then pulled it down to 112…

**Dillon's phone rings, he picks it up and without looking at the caller ID and yells Don't fucking call here anymore Bob.

Anyway, I got in the shower and came up with "I Can't Believe it's Not Butter" because it makes no fucking sense. I needed something for the breaks and I thought 'Oh, let's do things that you can dip in butter that's not butter (laughs). The true artistic process for me is taking a shower and coming up with ideas.
TSS: Next track, "I Can Not Take It." Going back to your Moombahton roots. So the melody line is similar to "Reload." It's unique, but it's very similar (Dillon throws up the two tracks back to back).
DF: Oh yeah, you're right. Shit. That's the first I've heard that. When I made IDGAFOS I had never heard of Hudson Mohawke and people were telling me to listen to "Flute" and I had no idea what it was. I listened to it and I thought 'Holy shit did I hear it and copy it in my subconscious?'

I just saw that dude play this club in Berlin where you could take your finger and wipe a layer of grime off your face and it was wonderful.

Dillon pulls them up and mixes between them.
TSS: Yours is more complex I guess.
DF: Yeah but it sounds like it (laughs). Sometimes you hear songs your friends playing and you subconsciously absorb them.
TSS: How much of your production process is sampling versus from scratch? Do you construct them horizontally by building up lots of clips and then once it's full expanding it or do you make a messy spread and build from there?
DF: I work in session mode in Ableton and I push it out to 16 bars, do some stuff there, then go into the breakdown, do stuff there, then the drop. I listen to it over and over again to listen to what I want to keep in, taking out the stuff that I hate and refining it. That's how I mix-down too, take the levels down, re-mix it, over and over.
TSS: Ok let's listen to "We are Impossible."
Julian Hamilton croons:
"Tried to walk away from this,
I question every chance we've taken,
But something keeps dragging me back
(A drum roll builds) To the stars, to the stars…."
The drop strips the track to vocals and melody as a new lead line come in under the hook:
"Hey! We left on the light, we are Im – poss – ible."
TSS: I know you had to pull some songs. What happened to the other track with Niles?
DF: Yeah I had to pull out one called "Clouds." But he's on The Rejectz one. Here's "Clouds."
A fusion between The Cataracs hyphy-synthpop and heavy Moombahton drops in.
DF: We just couldn't get the mix right. I also had to take out "History." It's this girls vocals and I pitched her down six and it sounded like shit.
The first verse comes through the speakers:
"You, how bout you come home with me…"
The verse ends and builds to a vocal roll as "My hist-, My hist-," repeats on a loop, then the beat cuts out, the song hangs in for a moment, and the clean "My history" vocal drops us into a jagged synth that feels like his newer Trap-influenced Moombahton.
DF: This song I made with Orlando (TEED), we couldn't find a vocalist for:
A cloud of ethereal voices fades through chimes into a melancholy chorus missing its vocalist. It likens to ODESZA's "Kusanagi."
TSS: Emoh told me you guys have a What So Not collab going on.
DF: I wish I could put it out but it would clash with the album so I have to wait 'til later. I'm bummed about that.
TSS: Let's talk "What's that Spell."
DF: TJ sent me a video with Country Joe saying 'Give me an F, U, C, K," What's that Spell?' We tried to use his vocals but it wasn't working. So we dropped it during Ultra and get all the kids to do it.
TSS: I was there! So you're saying I'm in one of your songs Dillon?
DF: Yeah. You're in it. I gotta give you a writer credit on it. You already signed all the rights over to me, you were really wasted, I have all the paperwork.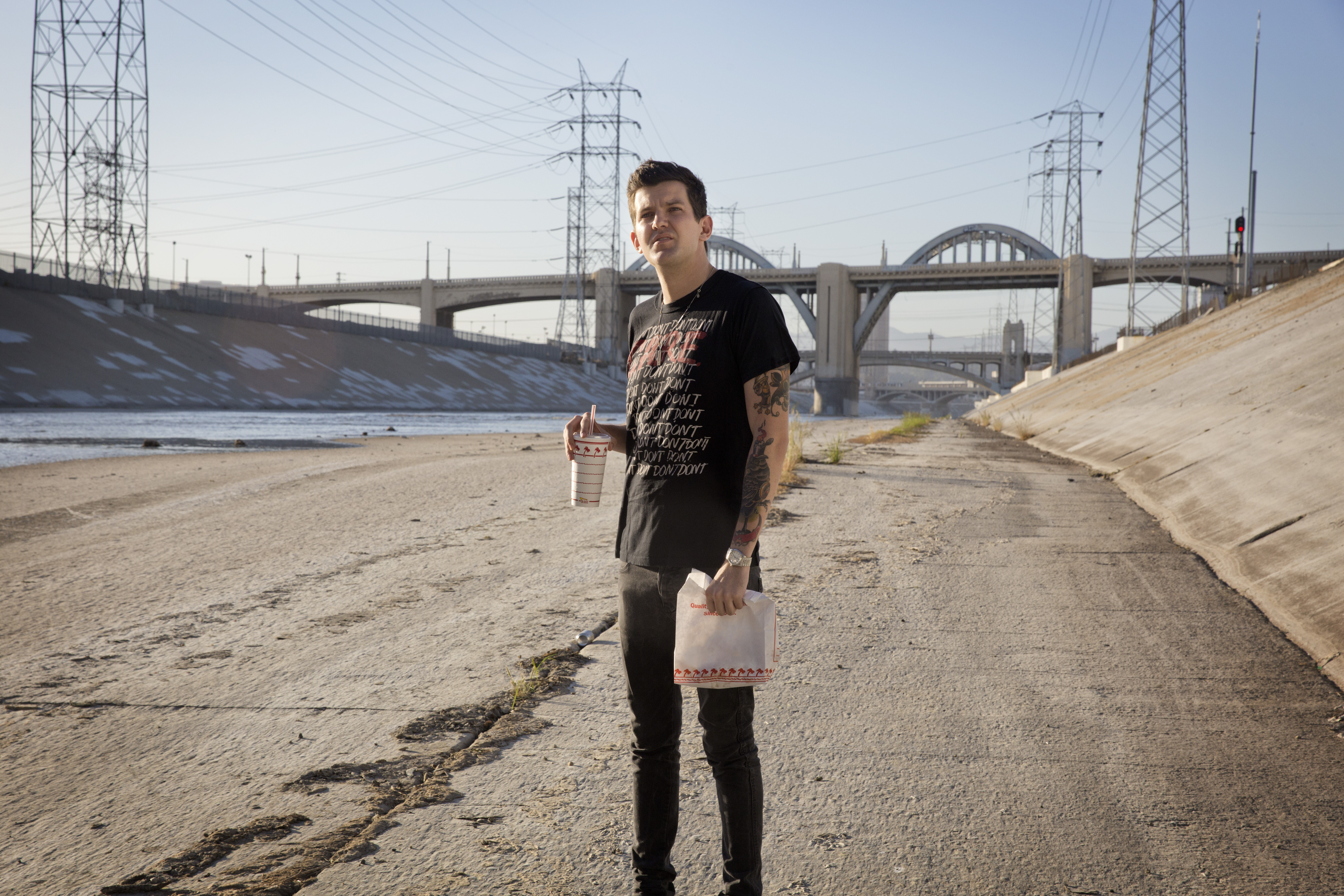 TSS: Let's look forward. You're working with Kygo. How many claps and pan flutes did you guys use?
DF: (laughs) I don't think we have a pan flute. Let's see.
3:26
A paced melody plays for two bars, akin to the plucking of a hand-muted guitar riff. It repeats over the next two bars as light percussion hits on 1/16th notes, then the vocals come in:
"If I stay here, would you come back,
If I stay cool, would you be back?
All I can think about is,
coming over, coming over, coming over"
It pitches upwards into a slowed down, melodic Moombahton drop. It's catchy and light and summery without becoming saccharine.
TSS: Holy shit. This is going to be huge. This is a new direction.
DF: Thank you. It's pretty much done, I'm really excited.
TSS: Tell me you're working with Calvin on something.
DF: Yea, we're doing another song for his album, all I have are these two chords. I'm gonna slow it down and make a cool Moombahton song.
TSS: Have you beaten him at Snooker yet?
DF: Fuck no, he's too good.
TSS: With all these influences and directions, what's a new sound you want to help bring forward?
DF: Definitely what Porter's doing. I'm going to start doing that as well. I love that slow tempo stuff. I definitely want to see more producers stray from big room. I want to hear Nicky Romero at 110. The people that I resonate with are Madeon, Porter, Zedd. I know Zedd doesn't stray from 128, but he really does his own thing. Madeon makes stuff at 110, 128, everything. I love that kid, we talk all the time. I'm doing a remix for him for Imperium, and we're doing a joint remix with him for his next single. That song is fucking amazing. Oh my god. Oh my god.
In terms of albums, Money Sucks, Friends Rule is certainly one of the best that 2014 will see. Throughout the entire thing, Dillon manages to keep his fun sounds and catchy hooks but it doesn't feel like he's swayed far from his roots at all. The moombahton jams like "I Cant Take It" and "Not Butter" as well as the more uplifting tracks with sing-along vocals like 'When We Were Young' keep the album interesting. All in all, Dillon has absolutely nailed his debut artist album, and it comes out next week. If you haven't already, pre-order it on iTunes.
Interview by Jesse Wheaton
"Follow" Dillon Francis: | Facebook | Twitter | SoundCloud |
Comments
comments