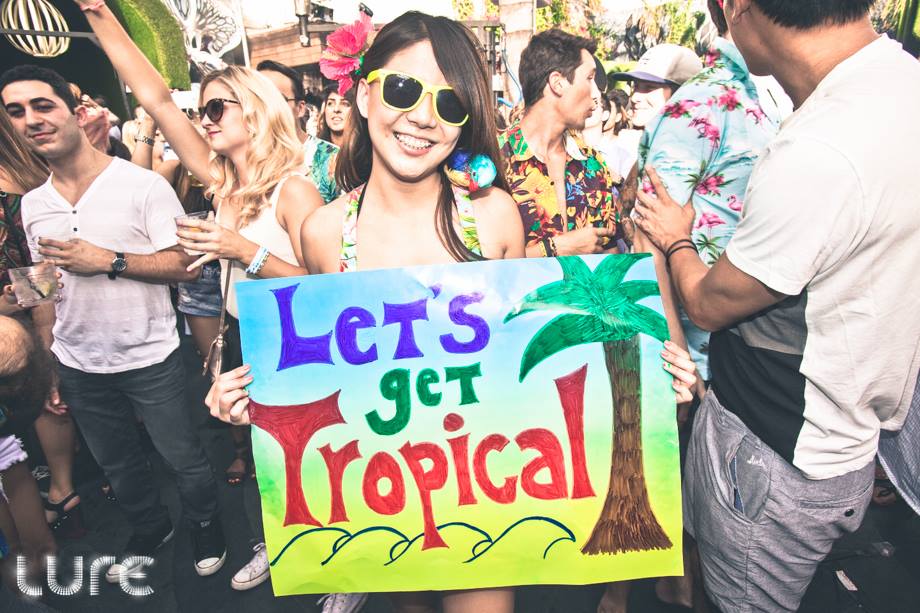 Before word of Kygo's North American Tour with Thomas Jack and Anna Lunoe, I had never stepped foot on Lure's premises. I had heard many great things of this notorious night club, but had never realized that behind the scenes there was also a day club. In my mind there was no better setting to see Kygo and Thomas Jack than at an outdoor club soaking up some sun and Tropical House Vibes. There was no way I was going to miss this perfect set up and the opportunity to see Kygo.
When I first got to the venue, the place was absolutely packed. While I knew Tropical House had slowly been emerging in the electronic music scene, I hadn't realized just how incredibly well known these popular producers had become. From Hawaiian tees to blow up flamingos to even a fake pet parrot, Lure Patio was set for some tropical bliss.
By the time I arrived, Thomas Jack was putting the crowd into a hypnotic trance of musical paradise. The beautiful guitar medleys and electric zeal of the saxophone had put the audience into the perfect Summer mindset right at the beginning of Fall. Thomas Jack had brought his own little island of paradise right into the heart of Hollywood.
After Thomas Jack, was the one and only Kygo. When his remix of Ed Sheeran's "I See Fire," echoed over the speakers, every single person in the club began singing. With lyrics dancing across the visuals behind him and the wave of voices competing with the speakers, it was like karaoke had taken over Lure. From start to finish, Kygo showcased his tropical flare and love to get laid back with the crowd. With the sun over our heads and the stunning tunes of Kygo in our ears, it took all I had to not be sad when the set was over.
Kygo and Thomas Jack had done the impossible and changed a random Saturday in October into a dreamy, tropical escape with the elements of Summer.
"Follow" Kygo: | Facebook | Twitter | Soundcloud |
"Follow" Thomas Jack: | Facebook | Twitter | Soundcloud |
Comments
comments