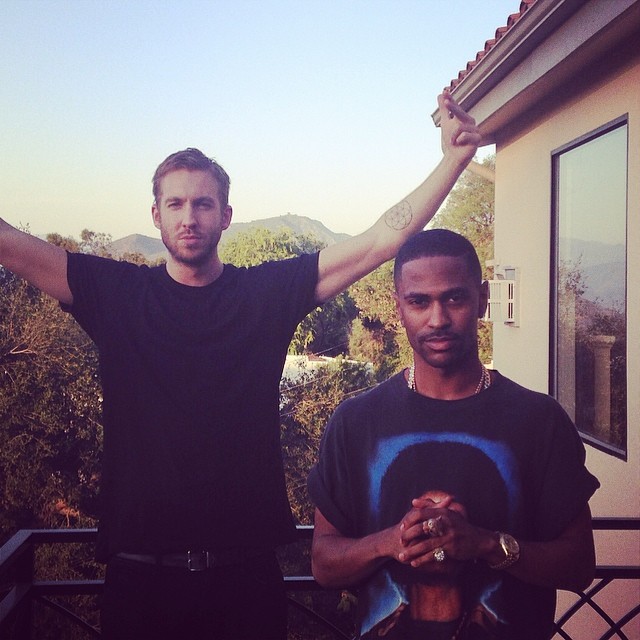 In consumer motivated fashion, 30 year-old Scottish DJ – Calvin Harris, recruits top don Big Sean to throw on some signature one-liners over the energetically outstanding big room original – "C.U.B.A." now a re-branded single as "Open Wide".
If you're a fan of the original, then no seriousness should be taken part of this radio explicit version or the music video itself. The music featuring Calvin Harris himself, Big Sean, and a ballet dancer that looks just like the mau5′ ex-Playboy girlfriend – Lindsey, who prances around in a middle of a cliché-ly 'Fast 5' modern Mexican cartel stand-off setting.
Calvin Harris – Motion (Album) | Pre-Order via iTunes |
Big Sean starts off as he usually does with some blasphemous words then goes on a wrecking-ball tangent about, you guessed, – h*es.
A lot more impressive and more complex lyrics compared to his recent song – "IDFWU". Though, at the end of it all Big Sean could of course be referring to his 21 year-old catwoman girlfriend, Ariana Grande.
Dance music does have love for Big Sean of course, as RL Grime brought him out as special guest during his Coachella set as well as being billed along with many electronic acts throughout a number of festivals these past 2 years.
Either way, whether you think big room is the cancer pertaining to what is all righteous within electronic music or you just like to hate whatever is popular – "Open Wide" will be played out through clubs, radio, and gyms until the next cross-over EDM-rap hit comes out.
"Follow" Calvin Harris: | Facebook | Twitter | SoundCloud |
"Follow" Big Sean: | Facebook | Twitter | SoundCloud |
Comments
comments