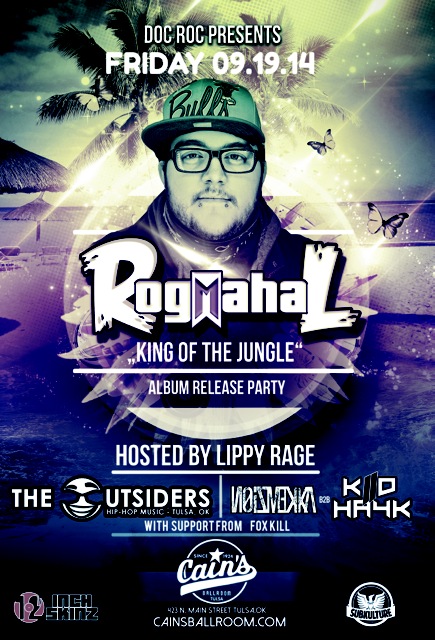 Time to get familiar! RogMahal. You may not have heard of him before, but that is all about to change. The Midwest based DJ/Producer has now finished his forthcoming debut album entitled, "King of The Jungle", which will bring sweet nectar to our ears very soon on September 22. Having shared the stage with big acts across music such as Adventure Club, Zomboy, Zed's Dead, Macy Gray, Juicy J, Wynter Gordon, Figure, Bare, Skism, DJ Klever, this proves RogMahal is up to par on the level of play with his colleagues.
Since signing his upcoming album away with Song BMG, RogMahal has stepped away from being solely a touring DJ and now has established himself with the title of a signed music producer. That being said, this is going to be a big breakout year for RogMahal as a producer signing a major record deal, festival stops, city show dates and album release party at the legendary Cain's Ballroom in his hometown of Tulsa, OK. You're gonna want to keep your ears peeled for him!
We are excited to premiere his first single off the album for you guys. The production and sound design in "Power" is true quality. It starts off with some nice piano chords that are then blended with kick drums and funky background riffs, which I really enjoy. Then, suddenly drops into a breakdown full of personality and energy. What I love about "Power" the most, is how RogMahal brings it back to the songs roots with those piano chords and funky riffs. I hate when a producer makes a track where the 2nd half if entirely the same as the first. I love the switch ups and, RogMahal makes an incredible filthy switch up which I think truly sets this track apart from other traditional songs.
So, to tide us over until the "King of The Jungle" album drop, stream RogMahal's highly energetic track "Power" from this forthcoming debut album as it premieres here exclusively on TSS!
RogMahal – Power
"Follow" RogMahal: | Facebook | Twitter | Soundcloud |
Comments
comments