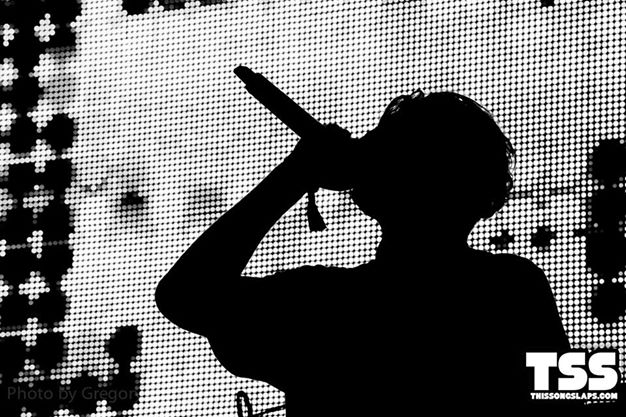 Ookay has been everywhere throwing down sets all over the country this summer. Recently we had a chance to sit down with Ookay for a few minutes at North Coast Music Festival before he tore it up on stage. We got a chance to talk about our favorite music, food, and more. Also for those who weren't able to catch his set, he graciously uploaded it to Soundcloud for everyone to enjoy!
TSS: Did you start your career off as a DJ or Producer and how did you come about that?
Ookay:  I started off as a producer. I always had an interest in DJing but it signaled to me earlier that all of the big guys started making their own music. So I figured I would start making my own music and then maybe would pick up DJing along the way. I got into it from a buddy of mine who was DJing at his house which was the first time I heard dance music, around 2010. Before that I was a metal kid. My buddy was playing some more aggressive, dubstep, type music which caught my attention because of the similarities with metal music. After that I took the "House" route in production before I became Ookay.
TSS: You have another project besides Ookay?
Ookay: Yeah, I started off under the name Leisure working with Deorro who at the time was known as Ton!c(Tonic) and I got a chance to release under his label under the name Leisure. The other project is Coaster which happened the same time as Ookay. I wanted to do more of a mellow electronic casual vibe, like a "Disclosure" type deal for example. I wanted to push my talent and see what I could do as an artist as far as creativity.
TSS: You mentioned that you loved metal music growing up. What were some of your musical influences growing up and did they have any affect on the type of music you make now?
Ookay: I grew up with a lot of jazz and gospel just growing up in church. I got into metal during high school. Metal grew on me. So I ended up listening to soul, metal, and jazz all at the same time. The one genre I never really got into, the one that I kind of skipped, was hip hop. I was never really a hip hop kid. It was funny when I went to trap because I really had no prior knowledge of too much hip hop other then the really popular tracks.
TSS: Do you ever find yourself at other types of shows besides electronic music?
Ookay:  My first show was actually a Terror show out in San Diego. Recently I was able to be at Warped Tour. I have buddies in a few bands. I'm close with this band called Volumes and another called Veil Of Maya. Veil Of Maya actually came out to Spring Awakening to catch my set which was really cool. I'm sure they like to get away from metal too, the same way I like to explore beyond dance music.
TSS: You've worked with a lot of artists. Who were some of your favorite artists to work with and If you could work with anyone right now who would it be?
Ookay: The Showtek guys are phenomenal. They were such nice guys and they were incredible to work with. Same with Borgore. He's such a creative guy. Getting to sit in the studio with him and watch him do his thing, its awesome to see how talented he really is. As for who I would want to work with, I'd love to do a song with Lykke Li. I love her voice and I feel like I could do a down-tempo electronic track with her. Maybe a progressive house track or even heaven trap which is getting super popular, who knows?
TSS: You used to wear your bandana over your face for the past few years when you performed but recently decided to take it off. What's behind that?
Ookay: I mean, would you want to be at a festival this hot wearing a bandanna on your face trying to play a show? It's tough, I did a couple shows where I had to take it off immediately because it was too hard to breathe. That was too much of a risk already. I guess I took it off for health reasons. It was still an awesome cool look, but as far as doing it all the time, I just wanted to play it safe and try to take it easy on the road.
TSS: Along with playing it safe, didn't you recently play a set with a broken wrist?
Ookay: Yeah, I played an entire set. I put ice on it wresting next to the CDJ's and could't move it. It was tough because I was mixing with one hand and constantly reaching to search through the songs. Doing that while having to make sure my arm was still resting made it tougher, but It was "fun" to say the least.
TSS: You've played tons of festivals. Which one is your favorite.
Ookay: Off the top of my head, Sun City was ridiculous and I've never seen so many people on the same page like that before. EDC obviously is up there and Electric Zoo as well. I recently played in Chicago for Spring Awakening and that crowd was nuts. But as a favorite, it's tough. It's kind of like trying to pick your favorite kid, everyone is just there to have a good time and that's what it's about.
TSS: Many festivals are cracking down on security and drug prevention. Electric Zoo banned Camelbak products at their festival. What is your take on that?
Ookay: I think banning Camelbak's is a bad idea. Yeah, I can see people bringing liquor in through them. But honestly, who wants a backpack full of hot liquor? I'm glad that these festivals give out free water, but the lines for it are ridiculous. It's sad that they are banning those types of things. Whether we like to admit it or not people do illegal things, and it's beyond our control. The best we can do is warn people about the dangers and what can happen if you don't take yourself responsibly. In any scene too. People drown themselves in alcohol almost dying of alcohol poisoning at rock shows. Too much of anything is bad, and to see something that could possibly save someones life get taken away is a bummer.
TSS: What is your number one touring essential?
Ookay: Right now I'd have to say my tour manager. I'm so confused half the time, I've been running on like three hours of sleep all day. So he's been taking care of everything and I've just been following him as we go. That and my laptop. I like to make edits and  quick mashups on the road or if I hear a song that I want I can get it really quick.. Those two are what keep me sane while touring.
TSS: What is your favorite pizza and what is your favorite pizza spot?
Ookay: My favorite pizza is probably Margherita, with olives. I love olives. My favorite pizza spot is this place back home called La Bellas. It's walking distance from where I used to live. It's like this small neighborhood pizza place that everyone mobs to on Sundays to watch football and there's always great vibes. Shoutout La Bellas back home.
TSS: Lastly, you're a young artist. What is one piece of advice that you would give to aspiring DJ's and Producers.
Ookay:  Be true to yourself. Make music that you want to hear live. Be the DJ/Producer that you want to geek out over. I love my music. If someone was making the music I made, I'd probably be their biggest fan. That's the fun part. Make stuff you want to hear live and excites you. Do it for yourself first and then the fans will come. Please yourself first and then the fans will come.
Comments
comments