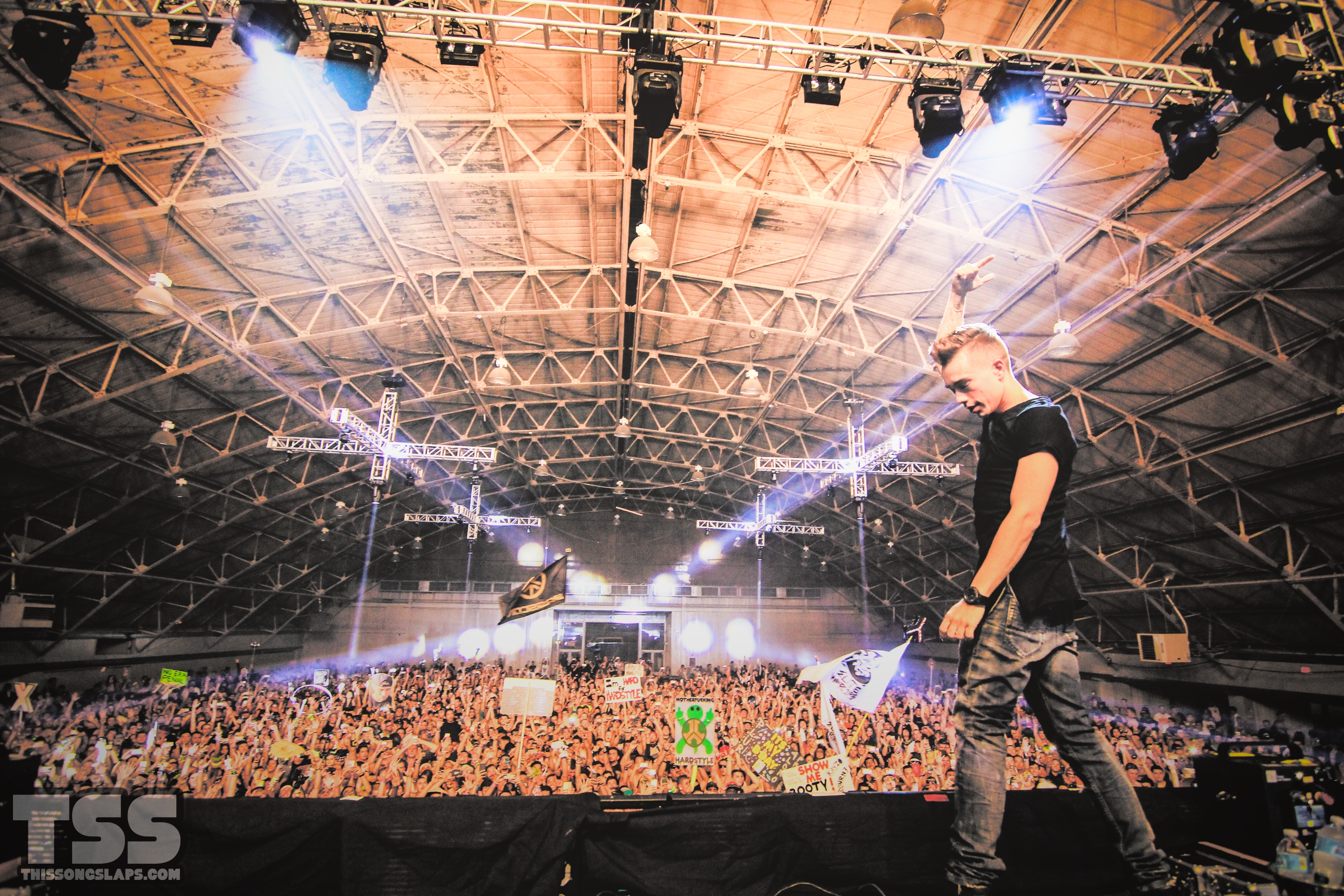 Just a few weeks ago Insomniac Events' Basscon Massive as well as Headhunterz along side Wildstylez, Kayzo, Adrenalize, and Rebourne completed the first ever 'HARD with STYLE' event in the United States taking place at the NoS Center, San Bernardino.
A slow but steady rise into the new generation of electronic music for the matured genre of the harder styles of dance. Whether it's the elitists integrating themselves within major labels, different BPMs, or even hosting their very own stages in North America's biggest festivals, this chaotic style of hard techno has been able to keep relevancy throughout it's darkest years and come out blazing like a bat out of hell re-inventing and solidifying itself within this ever-evolving market.
During the 'HARD with Style' ask panel I was able to grab a quick word with Heady before his performance – check out what he had to say.
Headhunterz
Would you agree that you would rather prefer playing in the United States considering the American crowd reacts to hardstlye as if it was a new thing?
"Yea, absolutely… but I don't want to sound like I don't appreciate playing in Europe, it's just a different experience. Let's say that Europe is also good in a sense that you grow while playing because they don't let you get away with playing a bad set. You know, it keeps you informed and by playing for this American crowd is very rewarding because they are just very enthusiastic, kind of like how Europe was back in the day. They are also spoiled."
Would you say that merging to the American market is a perfect opportunity to expand your musical horizons to different genres considering we are more accept-ant towards it?
"Absolutely. My way of producing and also the way of looking at music has completely change since playing in the States. My whole idea of how to make this music, the BPM, and everything has changed for me just by playing here. Yea, because with the Dutch crowd really wants one thing and it's very easy to get caught up in that when you're playing only for them."
Has there ever been a moment when you were starting out listening to hardstyle and at one point being able to play with someone you looked up to from the start?
"Absolutely. When I started it was the elite of the hardstyle scene like Technoboy who production wise was my example at the time."
If you could hear your music in a movie what would it be?
"Avatar."
Short, casual, and enthralling.
It still baffles me that as a very young teenager Headhunterz was one of the main artists that made me fall in love with hard dance, and to be part of his own event in the U.S.A thrown by the biggest electronic event promotional company, Insomniac Events, humbled me deeply.
No, not just because of the fact that I got to hang around back and on-stage but moreover the fact that in highschool I was the only one listening to this type of music (deada$$) just because I thought it was weird and other-worldly music that I knew that only people outside of America would listen to and to see a filled crowd react like animals and go absolutely bezerk for every-single-f*cking-drop put a smile on my face I simply couldn't wipe off.
Hardstyle is certainly here to stay, grow, blow up, and then some in the states. Artists such as Flosstradamus, Yellowclaw, LNY TNZ, and many many more are doing their part to ease the comfort for the general electronic audience. Not to mention the presence it has begot at EDC Las Vegas this past year in which at least one hardstlye track was dropped throughout the majority of sets that weekend.
If you're still uncertain whether you're fit for 150 and up, download this podcast, go for a run or an intensive workout at the gym and behold, a new level of thrilling energy awaits.
HARD with STYLE – Episode #36 | Download |
Tracklist:
1. Hard Driver – #WUT
2. Frontliner – Feels Good Right Here
3. Omegatypez – Take Me High
4. Crisis Era – Loud
5. Yellow Claw, Diplo & LNY TNZ – Techno ft. Waka Flocka Flame (Original & Coone Remix Mash Up)
6. Dillytek – Alive (2014 Edit)
7. Havana Brown – Better not said (Toneshifterz Remix)
8. Wasted Penguinz & Omyqron – Reflection
9. Dozer – Church of the Dark Side
10. Showtek – Dominate (Melbourne Mix)
11. The Pitcher – I Just Can't Stop
12. Audiofreq – Desire
13. Audiofreq – Guardians of Time
14. Audiofreq – Volition
15. Audiofreq – Time Machine
16. TNT & Audiofreq – Screwdriver
17. Tatanka – Your Wake Up Call
18. Max Enforcer – Creatures (Extended mix)
19. D-Block & S-Te-Fan – Anger (Crypsis Remix)
20. Outbreak – #Bassface
"Follow" Headhunterz: | Facebook | Twitter | SoundCloud |
Comments
comments