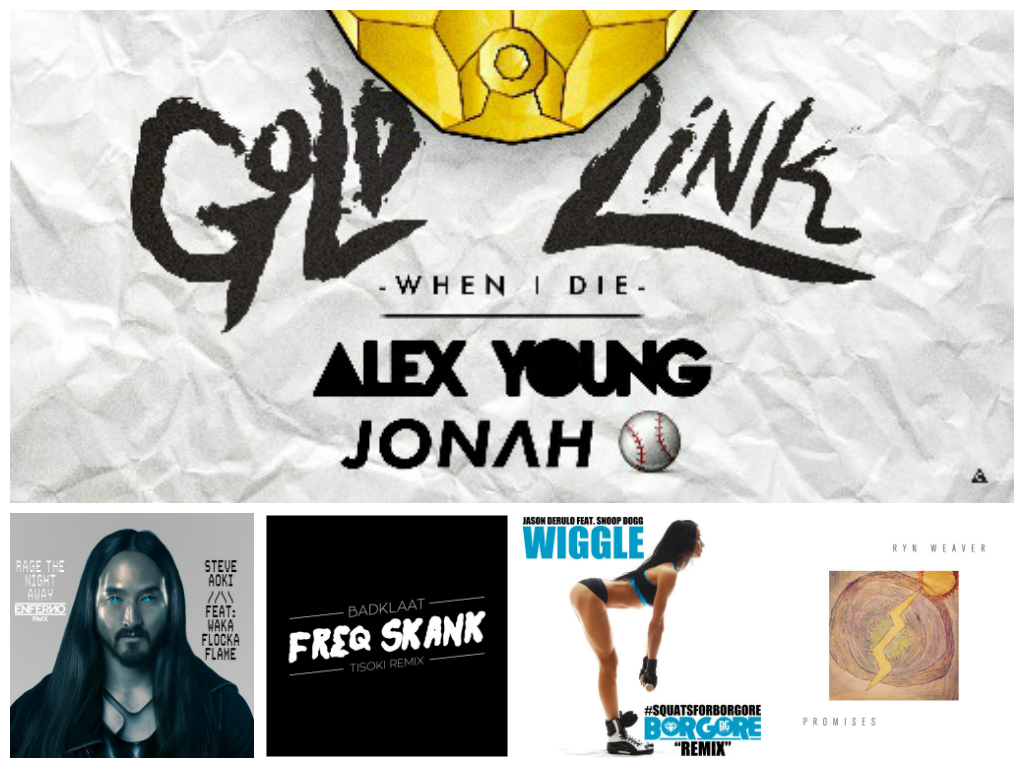 Well here we go again…It's been another amazing week of music filled with all sorts of releases and like I always say we can only blog so much during the week so I try and pop up on Saturday's and deliver some of the tunes that we didn't get to or some of them that you didn't get to hear in general. This week we have another wide variety of some of my favorite artists and some that have just recently caught my attention. From dubstep to indie, to Tisoki and Enferno and beyond, here are the top 5 songs that you need to hear now from TSS!
GoldLink – When I Die (Alex Young + Jonah Baseball Version) | Download |
I always have to bring you guys the latest and greatest Alex Young tunes. This is one of dance music's most promising future stars and with each new release he continues to prove how versatile he is. This new remix is just another gem to add to his already stacked soundcloud so check it out and grab the free download below.
Steve Aoki ft. Waka Flocka Flame – Rage the Night Away (ENFERNO RMX)
If you don't know who ENFERNO is I sincerely feel bad for you. This DMC champ is one of the most talented mixers and musicians I have ever come across and his live remixes will blow you away. There really isn't quite anyone like this guy. His newest remix for Aoki & Waka FLocka is packed with energy and yes it was remixed live and recorded. Check this shit out, you will not be disappointed.
BadKlaat – Freq Skank (Tisoki Remix) | Download |
There really is no comparing the sounds of UK Bass music to anything else. They are just on a whole other level when it comes to delivering the filth. One of my favorite up and comers over there is Tisoki. I've posted many of his tunes before but his remix of "Freq Skank" is one of my favorites from him. Pure filthy, grimy dubstep and all for free.
Jason Derulo – Wiggle (Borgore Remix) | Download |
This next man needs no introduction. As much as I loved #NEWGOREORDER, I'm also a huge fan of when Borgore remixes top 40 songs and just destroys the fuck out of them with his bass heavy style. Everyone and their grandmother has heard "Wiggle" but not like this. Free download on this masterpiece.
Ryn Weaver Promises EP | iTunes |
Ok, for our final song(s) I proudly bring the TSS Fam, Ryn Weaver. My newest musical obsession is this beautifully talented artist out of NYC. She hit us with "OcaHate" a few weeks back and everyone fell head over heals for it. And rightfully so, it was produced by Cashmere Cat and featured amazing lyrics and vocals. Earlier this week we got "Promises" from Ryn and the rest of her 4-track EP now available on iTunes. This girl continues to impress me and I'm very excited to be able to share this on the site.
That wraps up another week! Now go enjoy the rest of your weekend. I'll be mentally preparing for MDBP in Boston tomorrow…oh boy.
"Follow" Alex Young: | Facebook | Twitter | Soundcloud |
"Follow" ENFERNO: | Facebook | Twitter |
Soundcloud |
"Follow" Tisoki: | Facebook | Twitter | Soundcloud |
Follow Borgore: | Facebook | Twitter | Soundcloud
"Follow" Ryn Weaver: | Facebook | Twitter |
Soundcloud |
Comments
comments