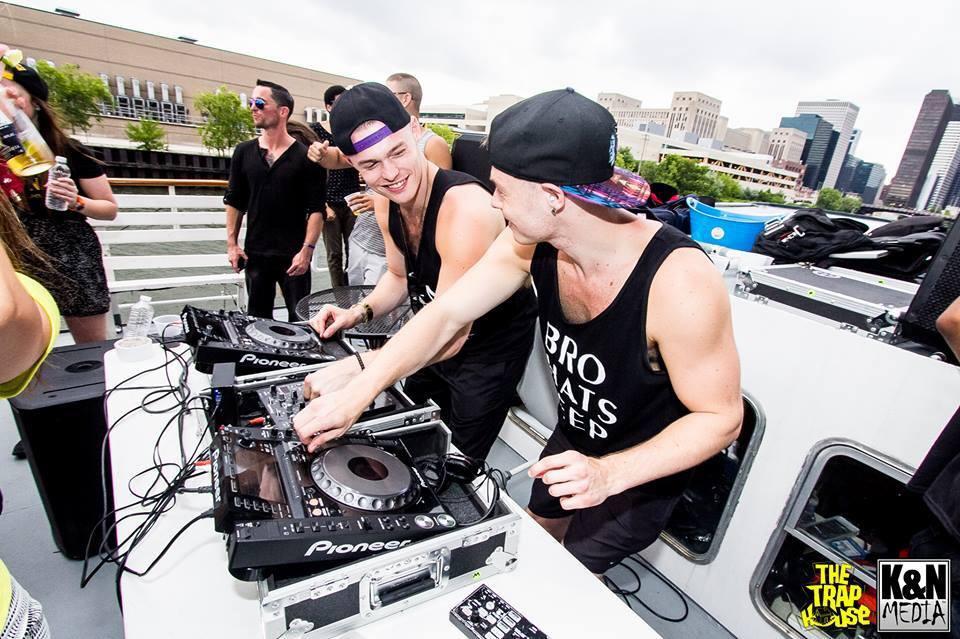 NCMF is THIS WEEKEND! And we have a special artist spotlight and ticket giveaway for the TSS Fam. We've been supporting the Milk N Cookies movement all Summer but the best has yet to come from these two. We got to do a hilariously insightful interview with them as well. Get the full scoop below and learn how you can win two tickets to NCMF!
1. TSS: You recently released the first video in your Chicago Hustle video series, there is one important question on everyone's minds. How many bottles of tequila were butt chugged through the duration?

MnC: The real question is how many baby Scorpions that were fermenting at the bottom of the tequila bottles also got funneled into people's cram holes.

2. TSS: Your last remix of Sum 41 wasn't the style we're used to seeing from, were you nervous about releasing the track? And after the positive response do you see yourself putting out more of that style or was this sort of a one off?

MnC: I think we will continue to do whatever the hell we want as long as we like it but at the same time hone in on more structured and targeted marketing/business models regarding our music, branding, and it's distribution.

3. TSS: Back to the Chicago Hustle video, what makes the "Chicago Hustle" different from everywhere else?

MnC: Lol its different than everywhere else because we are from Chicago.

4. TSS: In the past two years your careers have significantly grown. Right now what is the most challenging thing you face in your careers? And how do you work your through it?

MnC: The most challenging thing we face is learning how to work together and not bitch at each other constantly as well as attempting to refrain from eating shit loads of Chinese food every night after we get drunk as shit.

5. TSS: What city is your favorite to play in besides Chicago and what city has the best looking girls?

MnC: Indiana university is fuckin' epic every time, Scottsdale Arizona is dope…chicks in Orlando are straight up hot as shit.

6. TSS: Outside of your producer group that you work with on a constant basis, who could you see yourselves collaborating with in the coming year?

MnC: Steve James, elephante, sound remedy, Mutrix, 40 yr old mothers at their daughters grad parties when we go inside to "get more wings"

7. TSS: Where did the whole "Butt Chugging" thing come from? Seems like it would be quite painful.

MnC: It's a figure of speech essentially encapsulating the feeling of attempting to have a good time

8. TSS: Who are your major inspirations when it comes to your music?

MnC: Eric clapton is probably number 1.

9. TSS: Would you ever consider asking riff raff to join you on a track? Or is would the three of your personalities put together on one track break the internet?

MnC: I would do a track with him as long as the girls twerking in the music video didn't exclusively look like boarder line overweight ratchet hoes from Atlanta lol.

10. TSS: With Northcoast Music Festival coming up, we're extremely curious about whether you're going to be premiering anything new on the stage?

MnC: I might play piano on stage, play the leads from our tracks live, def premiering new unreleased tunes, might take a shit on stage, or conceive a child on stage.
Don't forget their Fall Tour!
Ok…I bet you want to find out how to win tickets now huh? Look no further! Enter below and get ready to hear if you won on Wednesday!
"Follow" Milk N Cookies: | Facebook | Twitter | Soundcloud |
Comments
comments