Somewhere in Yosemite Forest is a silly old bear with a flare for mad beats and an appetite for dirty wobbles, (and marmots too of course.) Besides sharing his love for music with his friend the duck, Bear Grillz has also managed to make some solid friendships with some incredible DJs. So why not make some music with them? Well, earlier this week Bear Grillz released his Volume One of Bear Grillz & Friends featuring four solid collabs with Datsik, The Frim, Protohype, and 12th Planet. From the unique electronic, dubstep, trap blend of "Drop That Low," to the melodic sounds of "It's Fucking Dubstep," to the head banging closer "Big Room," Bear Grillz has all your genres covered and for one insane Forest Party. You can also read a little more in depth on his collab with Protohype "Uh-Oh," as we premiered it earlier this week!
Be sure to also catch Bear Grillz as he leaves the forest to go on tour with some other pals MitiS, Crywolf, & Skrux!
Check out the poster below to see if he's coming to a city near you!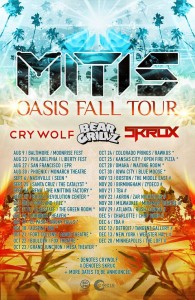 Bear Grillz & Friends (Volume 1)| Stream Only |
"Follow" Bear Grillz: | Facebook | Twitter | Soundcloud |
Comments
comments