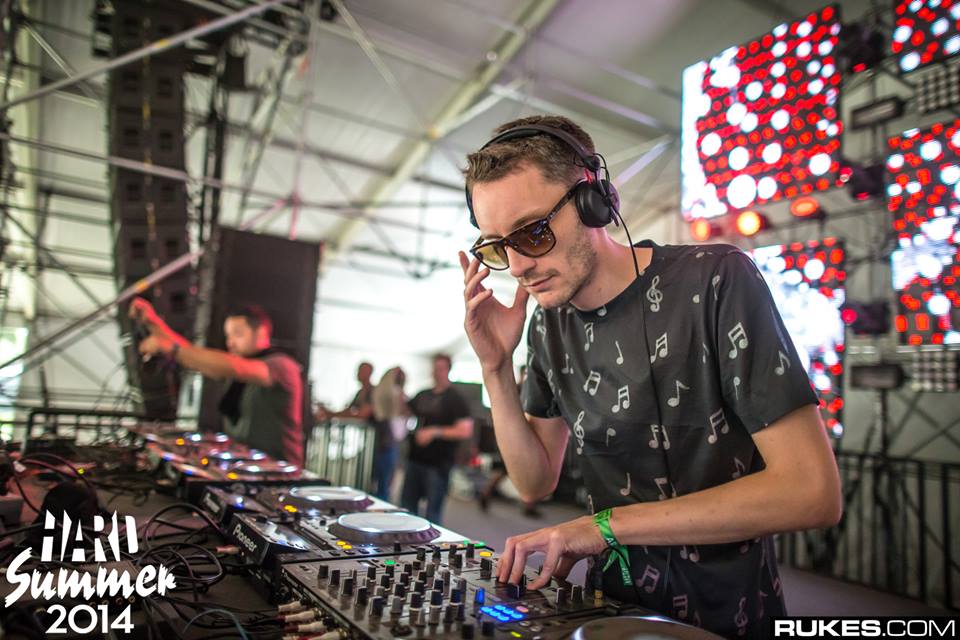 While the month of August usually marks the end of Summer, this year it marked the dates of the epic two day festival, HARD Summer on August 2nd & 3rd. HARD is notorious for bringing out some of the best acts with incredible talent and a knack for giving audiences some of the best performances they've seen. OWSLA artist and London born producer, Alex Metric knows how to rock a HARD Stage as he has graced this festival for two years in a row. From his massively addictive tune, "Hope," to the single everyone knows and love, "Rave Weapon," Alex Metric has been producing some of EDMs most prized house tunes.
I was lucky enough to catch up with Alex after his set at HARD and discuss tunes, troubles, and taking chances. Without further adieu meet Alex Metric
Jessika: How does it feel to be back for another year of HARD Summer and what were you most looking forward to playing earlier today?
Alex: I was most looking forward to playing some new stuff. I had set myself a goal a couple months ago. HARD Summer was a point in time that I told myself, "I have to have a couple of brand new tracks to play at HARD Summer." It was great. I did it and it went down pretty good! You know you've got to set yourself little goals. It's not like this at other festivals. To me HARD is a special festival. The crowd is always really good. I played the new tracks and it went down fucking well, so I'm happy.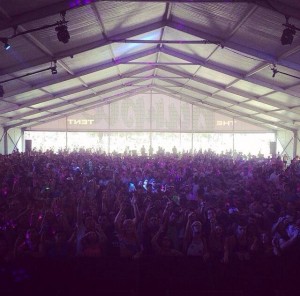 Jessika: How do you like the new location. I know you played HARD Summer last year.
Alex: If the crowd is anything to go by then it is no different to the other HARD in terms of the people and the atmosphere. It's on point.
Jessika: Let's talk a little about you. Where do your musical roots derive from and how do you go from being a fan to actually creating your own music?
Alex: I was an Indie kid. I like bands, like 90's Brit pop shit and then I discovered Fat Boy Slim and Daft Punk. So, my dance music roots lie in a combination of Big Beat which is a big scene in the UK (and kind of around the world in the late 90's), and French House. My musical roots lie firmly in those two camps. That's where I came from and that's what educated me in dance music. I hope that there are still elements of that in what I do.
Jessika: I have to ask, as I just watched this movie with my friend Christina, but have you seen "Human Traffic?"
Alex: Of course, I'm an English guy.
Jessika: Would you say this is an accurate depiction on what the club scene was like for you growing up in London vs the club scene here in the States?
Alex: They are very different and it's not to say one is better than the other, but it is a very different scene over here to when I was growing up. In a way I feel at the moment there is a very big change going on in the music that people are listening to and the music people are being receptive to in pubs and at festivals. I mean I hope it ends up the way it used to be when I was going pubbing in my youth. It's a different vibe. I think people are more open and receptive to things that aren't EDM and isn't a sort of EDM format of doing things. I think that's kind of why I've been doing so well over the past couple of years over here. I'm trying to offer something different and do my own thing. I'm really pleased that doing my own thing is translating over here and I think people know when they come to see my show it's going to be different. I'm in a very lucky position to where people can see me as an alternative to the Main Stage stuff.I'm really happy to be in that position.
Jessika: I read in a previous interview that you had to choose between staying in school or attending Glastonbury Festival. How do you think this decision has helped shaped your life into what it is today?
Alex: It MASSIVELY shaped my life into what it is. I've been for 16 years since I was a kid. This was the first year I didn't go. I had finished school and there was the pressure from the parents that you have to go the College and study something. I didn't really know what I wanted to do and I kind just went along with it because that's what I felt I had to do. I got to College, started hanging around with a bunch of musicians and realized that actually what I was studying was nothing with what I wanted to do. My friends and I started writing songs and hanging out instead of going to lessons. I started thinking, "Okay lessons aren't for me and school isn't for me, but music is what I wanted to do." That really taught me that that was the path I wanted to follow. I hadn't been going to classes. I  was like the worst student ever. When I had asked my college, "Can I have time off to go to Glastonbury?" they were like, "Nah, if you go to Glastonbury Festival you are done." The pull of Glastonbury Festival and the education I got in music and the power of music was so strong thatI knew that that was what I wanted to do. I don't regret that at all. Getting kicked out of College really set me on the path I am on today and if I had finished College and gone to University, arguably I wouldn't be doing what I'm doing. Every year I've been to Glastonbury since. It's always been a benchmark of this is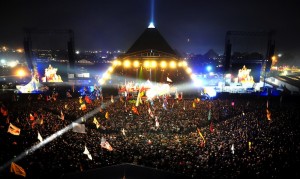 what I want to do and where I'm happy and comfortable. To anyone reading this, I cannot explain the magic of Glastonbury Festival and the power it has to change your perception of things,show you the power of music and the unification of music. I could go on forever. It's a really important part of my upbringing and where my music is today. I made the right decision going to Glastonbury for sure. Every year at Glastonbury since I was a kid, there is a river that runs through the side, (this is the first time I've told anyone this,) and every year when I left, I'd throw a stone into the river and make a wish. I mean I can't tell you the wishes because it won't come true, but I'd use that moment to reflect and hope for what would come. I'm very lucky most of the things I wanted to happen have happened.
Jessika: What is the story behind getting in touch with OWSLA?
Alex: I met Sonny in Ibiza about three or four years ago. I was supporting Swedish House Mafia and Sonny was there in the crowd. We got to chatting and he said he was a big fan of what I did. I had put out my tune "Rave Weapon," for free a few months afterwards. I'm not exactly sure how it went from meeting him to releasing the track for free, but he was playing the track at the time and somehow we connected. He had told me he wanted to sign me to the label and I feel like that was part two of my career really (siging to OWSLA.) It's been an amazing journey than what I expected, but fucking amazing. It all comes from just meeting him.
Jessika: So, how is it being on OWSLA. I read from in a previous interview that after signing with Adam Freeland's Marine Parade Label you weren't really happy with the music you were making. Was there any hesitance to join OWSLA in fear of being pressured into creating a certain kind of music?
Alex: No, but I think that's a really good question. You know I think I stick out in terms of my DJ sets and what I play in my sets. I feel like I'm quite different to a lot of the guys on OWSLA, especially at the moment. You can only follow your heart or instincts. I never play a record I don't like or not feeling. I sort of imagine, "If I was in the crowd would I enjoy what I was playing?" So, on the stage today the guy before me, Henry Fong, was playing very high energy stuff. I was kind of nervous. I was like "Shit, at the moment I really enjoy playing melodic, tracky music and stuff that makes people smile and dance instead  of jumping up and down and rage." So before I went on I was kind of nervous. I wasn't sure if it was going to go down that well. To a credit to HARD, OWSLA, and the fan base they have and I have, they totally went with it. It was an amazing set and I got to play exactly what I wanted to play. So no, there has been no nervousness about entering the OWSLA family. I feel it's a very open format to what people want to do and they support me creatively in whatever I want to do.
Jessika: How did you decide to have "Ammunition" be a three part release instead of one full album?
Alex: "Ammunition," is not a three part release. It's an on going thing. It was released right after I had done a track with Steve Angello, titled "Open Your Eyes," and it was a hit record in Europe. It was almost a year since I had done anything else and I just didn't know what direction I wanted to go in or what I wanted to say to the world. So, I thought I could  package it up as the "Ammunition," series  which is like club tracks for me or DJs to play. So, that's how the "Ammunition" series started. "Hope" was a separate EP. "Heart Weighs A Ton," which is my next single is a separate EP, but I'm working on "Ammunition" part four now and I think I'll keep doing "Ammunition." To me it feels like it's a good way of saying, "Here is what I play in DJ sets and here are some club records."
Jessika: How Important are lyrics to you on a track vs the solid foundation of one great melody? Which would you say is more important?
Alex: If I do a vocal track the lyrics are very important to me. It's definitely the defining thing about a vocal track. "Heart Weighs A Ton," which is my next single, I wrote. It's very personal. Lyrics are very important to me, but I differentiate. For a club track, it's a different from the vibe when I do a vocal track. Because I come from a band background and it's my first love, lyrics and the emotional content of a song when it's a "song" is very important to me.
Jessika: Last, but not least. Tell us a little bit about your new single, "Heart Weighs A Ton."
Alex: "Heart Weighs A Ton," is  a track that is actually in song form. It has been hanging around for a few years now. It's something we wrote and never quite knew what to do with it. OWSLA heard it and wanted to put it out. I'm super proud of the single. It's a song I wrote with Stefan who sung on it and a friend of mine we cowrote it with. It's a very universal, unifying song. It's been years since we wrote the record and the fact that people still react to it now like OWSLA, the label, and the public now that they've heard it- enjoy it and are affected by it in a way is awesome. I feel like it's a very pop moment for me, but I love making pop records.
"Follow" Alex Metric: | Facebook | Twitter | Soundcloud |
Comments
comments