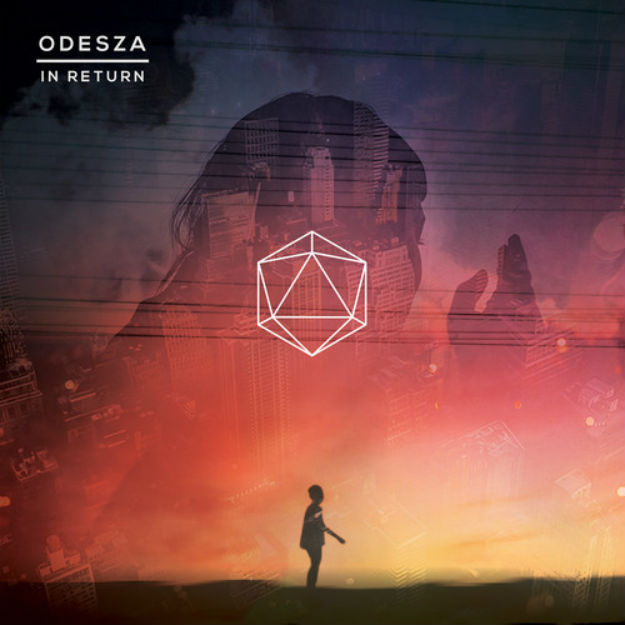 The production duo of Harrison Mills (Catacombkid) and Clayton Knight (BeachesBeaches) from Seattle who together make up ODESZA, have really been making a name for themselves. Over the past year and a half, Odesza has been emerging into the limelight of many stages and festivals stops all across the nation, one of which included highly renowned Coachella Valley Music & Arts Festival this past year. This just proves that their signature sound has landed home to a huge audience and has catapulted them into a top tier act amongst their peers. Selling out shows, attracting seas of crowds at big-time festivals and having huge success on the charts, Odesza has left just about everyone who has caught their sound, wondering when another large project would be coming of these two musical geniuses.
Proudly announced just today, ODESZA reveals their new upcoming full-length album, In Return which is set to release September 9th on Counter Records. The new album well-accompanies the previous work from ODESZA. All 13 tracks, from beginning to end, exemplifies stunning production work from the duo in pop and hip-hop infused beats and drums, blended with sweet atmospheric melody that becomes moody, soulful and uplifting. The new In Return album will feature more vocal performances that we all love on ODESZA's tracks. Performances from Zyra, Py, Shy Girlsm and also Madelyn Grant who was previously featured on Odesza's hit song "Sun Models".
ODESZA – Memories That You Call (feat. Monsoonsiren) | Download |
With the new album announcement, Odesza has dropped their first single off of In Return, this new piece we get to hear from the duo prior to the album release is called "Memories That You Call". This track features a mesmerizing vocal appearance from Monsoonsiren that ties together yet another very chill, melodic and vibey song from Odesza. I just can't wait to hear the rest of In Return, Sept. 9th can't come soon enough! You can grab your copy of "Memories That You Call" as a free download along with "Sun Models", both from the upcoming album if you pre-order your copy through either Vinyl or CD.
In Return TRACKLIST:
1. Always This Late
2. Say My Name (feat. Zyra)
3. Bloom
4. All We Need (feat. Shy Girls)
5. Sundara
6. White Lies (feat. Jenni Potts)
7. Kusanagi
8. Echoes (feat. Py)
9. It's Only (feat. Zyra)
10. Koto
11. Memories That You Call (feat. Monsoonsiren)
12. Sun Models (feat. Madelyn Grant)
13. For Us (feat. Briana Marela)
If you get a chance to see ODESZA live, you DON'T want to miss them. Their stage presence and live performance as a whole is one that is hard to come by.
Here's the Dates for ODESZA's new In Return North American Tour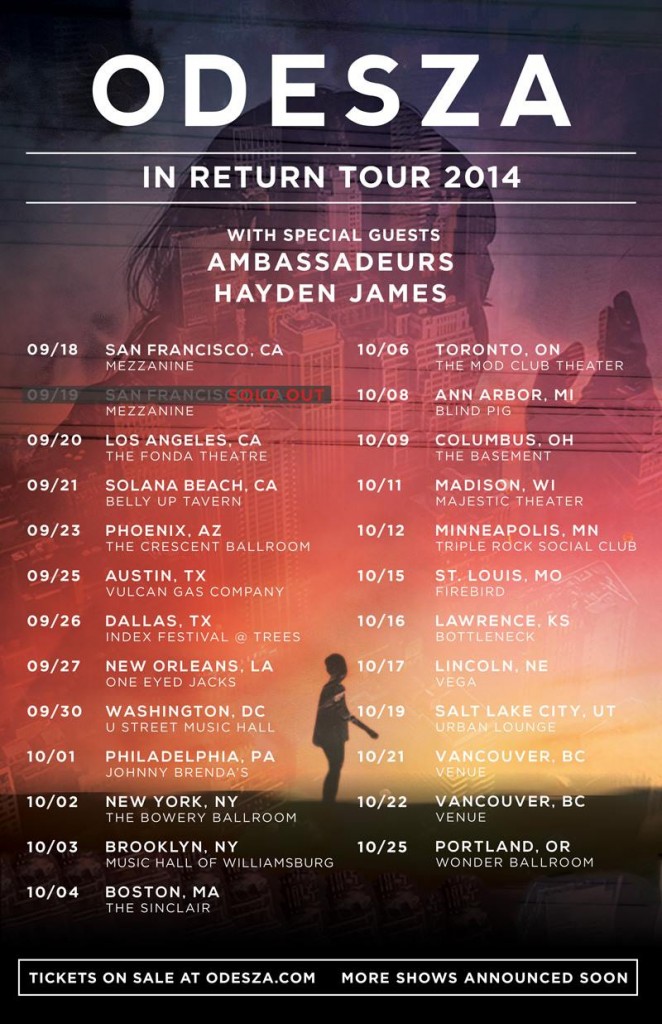 "Follow & Support" ODESZA: | Facebook | Twitter | Soundcloud |
Comments
comments