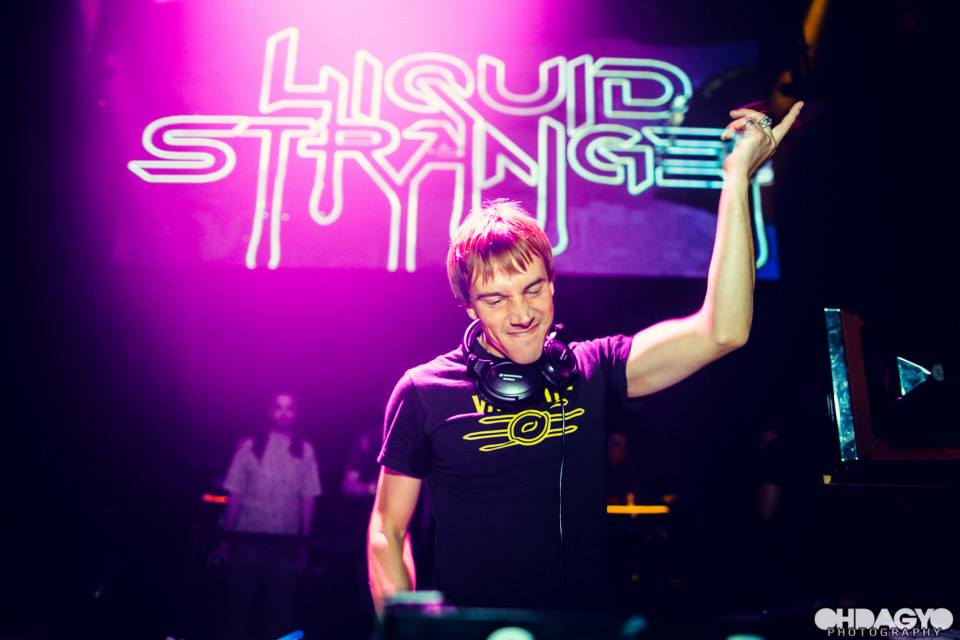 I can think back to the first time I heard Liquid Stranger like it was yesterday. I was on my way back home from a road trip after seeing Bassnectar back to back nights at Montbleu and had Pandora Djing the ride home for me. Little did I know that "Bully," would come on- instantly waking me up and revealing an artist I would grow to love. After hearing "Bully," Liquid Stranger became a favorite DJ on my radar, creating the dark, underground tunes that provided an outlet for my wild side.
Fast forward about four years later and Liquid Stranger still continues to top the charts on my most played list, except now his tunes and remixes are always like reaching into a goodie bag never knowing what to expect, but always pleasantly surprised. His most recent "Birthday Cake" remix had me feeling outrageously excited and the latest "Anamoly" series opened up the door to a new sound of dub reggae.
When I heard that Liquid Stranger was playing in my hometown for CONTROL Fridays at Avalon, I knew I had to attend no matter what obstacles came my way. Even though I rode solo and anticipated being alone, it was with other Liquid Stranger fans I found a common thread to enjoy the night-good music. What made this night even better was the opportunity to meet Liquid Stranger and get to know the face behind the music, the brain behind the beats, and the creative spirit that is Martin Staaf.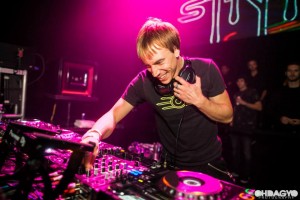 Jessika: Was there a specific song you wanted to play to get the crowd's reaction?
Martin: Yeah, all of them because I only play my own music. I think I am one of the few people in EDM who exclusively play what I write. I don't really consider myself a DJ and I've never really owned a pair of decks. I'm more a musician who have gotten used to the DJ-equipment by playing numerous shows. I make new edits and tweaks of my tunes for every performance. Tonight, for example, I premiered 4 new tunes.
Jessika: How do you prepare for a set? Do you have any rituals or traditions you do beforehand?
Martin: I tend to work on material for shows all the time. When DJing, beat matching has to become second nature. As a performer I need to go beyond the interface in order to build a seamless journey for the crowd. I do a bunch of prep to find out which tunes fit together and make sure I have multiple options for transitions. I can do much more elaborate things if I'm prepared.
Jessika: You've winged it before?
Martin: Yeah, I've had to do a lot of stuff like that. Sometimes the person after me doesn't show up on time and I play a longer set, sometimes equipment fails, other times the crowd wants something different than I had planned.
Jessika:I want to talk a little more about you, Liquid Stranger. Where did the name Liquid Stranger come from?
Martin:The name came from my desire to remain anyonymous. Nowadays there is a lot of focus on the artist, wheras back in the early days it was all about the art. The duty of the performer was to educate the crowd by playing music that no one knew. I wanted to be that 'educator' and ensure that my ego did not overshadow my creativity. My plan was to have several different people going out to play as the Liquid Stranger – that way noone would know who was the 'right' one. It ended up being a dumb idea because I could never really vouch for how well another person would perform or behave.
Jessika:So you decided to play on your own once you weren't sure about others?
Martin: Yeah, I kinda had to, to ensure quality to be honest. But then I found out that I really liked it too…that I wasn't as shy as I originally thought. I didn't really want to be up front.I wanted to be in the background doing the stuff, but now it's changed a little bit.
If I can let go of my ego I make better music.
Jessika: What was the initial thought on where you wanted your sound to go and how it would feel to others?
Martin: Liquid Stranger is meant to be an outlet for any type of art I make. So, I kind of blend all genres together. If I overanalyze what I'm doing it tends to get too predictable. If I can let go of my ego I make better music.
Jessika: How have you grown as an artist since your first album "The Private Riot" to the "Anamonly" series.
Martin: Oh a lot. Music is like a bottomless well. I can never reach the bottom, explore the fullness of it, or learn to do everything flawlessly. It's essential for any artist to develop and to grow. Everything that is stagnant will eventually die.
Jessika: Was there a reason to separate the "Anamoly" EPs into 1,2,3?
Martin: Yeah, but it's not what you think.I made 18 tunes for a full-lenght album, but then the project became too big. There were so many collaborators and other people involved that the record label wouldn't take on the full project. Therefore, I decided to space the material out over 7 EPs.
Jessika: What was the inspiration for the sound behind the "Anamoly" series?
Martin: I feel like I've been stamped as a 'underground producer', but I actually really enjoy everything from pop music to hip hop. So, I wanted to do something that was more accessible. My puritan dubstep fans might feel a bit alienated, but hopefully it will attract some new listeners too. It's all about growing and expanding as an artist.
Jessika: So why the name Anamoly? I know there are a couple definitions.
Martin: Because it symbolizes the unknown. The tunes were made first and the name was chosen later. I can't really plan how my art is going to turn out, but I do need to think about what I'm going to do with it.
Jessika: So while I was doing my little background on you and preparing for our interview I noticed that Beatport has a little chart on what they think is the most popular tunes from you like you're top 10- but I wanna know what's your favorite?
Martin: My album "Cryogenic Encounters" has a very special place in my heart, since I made it for the woman I love. It's not matieral I tend to play at shows since it's too soft and subtle. My favorite dance tunes tend to be collabs – I really like the ones I've done with Ajapai, Messinian, Excision, and Bare.
Jessika: Besides music what other outlets do you participate in?
Martin: I train a lot of Martial Arts. I've done that for about 30 years now. The main reason I moved to America was to further my studies in Jiu Jitsu, and I ended up running a Jiu Jitsu / Karate school for about 5 years. However, I had to let the school go since I got too busy with my music.
Jessika: Is that how you got into yoga?
Martin: Yeah, I'm actually a yoga instructor. I'm a firearms instructor too. I guess I like to do intense and extreme things! I used to do a lot of urban climbing / parkour too. I think I have a pretty frustrated personality type. I want constant stimulation, I hate waiting. I've never been driven by money or fame. I just want to do exciting stuff and try to make the world a little bit better if possible – the key word again is 'growth'.
Jessika:Last, but not least what can fans expect from you within the next year?
Martin: That's funny. I have no clue. I think I am going to do more heavy dance music. I've had this little break from it now and it's been really refreshing. I also have new ideas on how to merge Pop, R&B, Soul, Hip Hop, and EDM. Being underground and having cred is not important to me anymore – that's where I come from but not necessarily where I'm going :)
"Follow" Liquid Stranger: | Facebook | Twitter | Soundcloud |
Comments
comments