This years EDC Las Vegas was insane for us with many great experiences and music, here is some of our favorite moments of the event.
1. Party Goat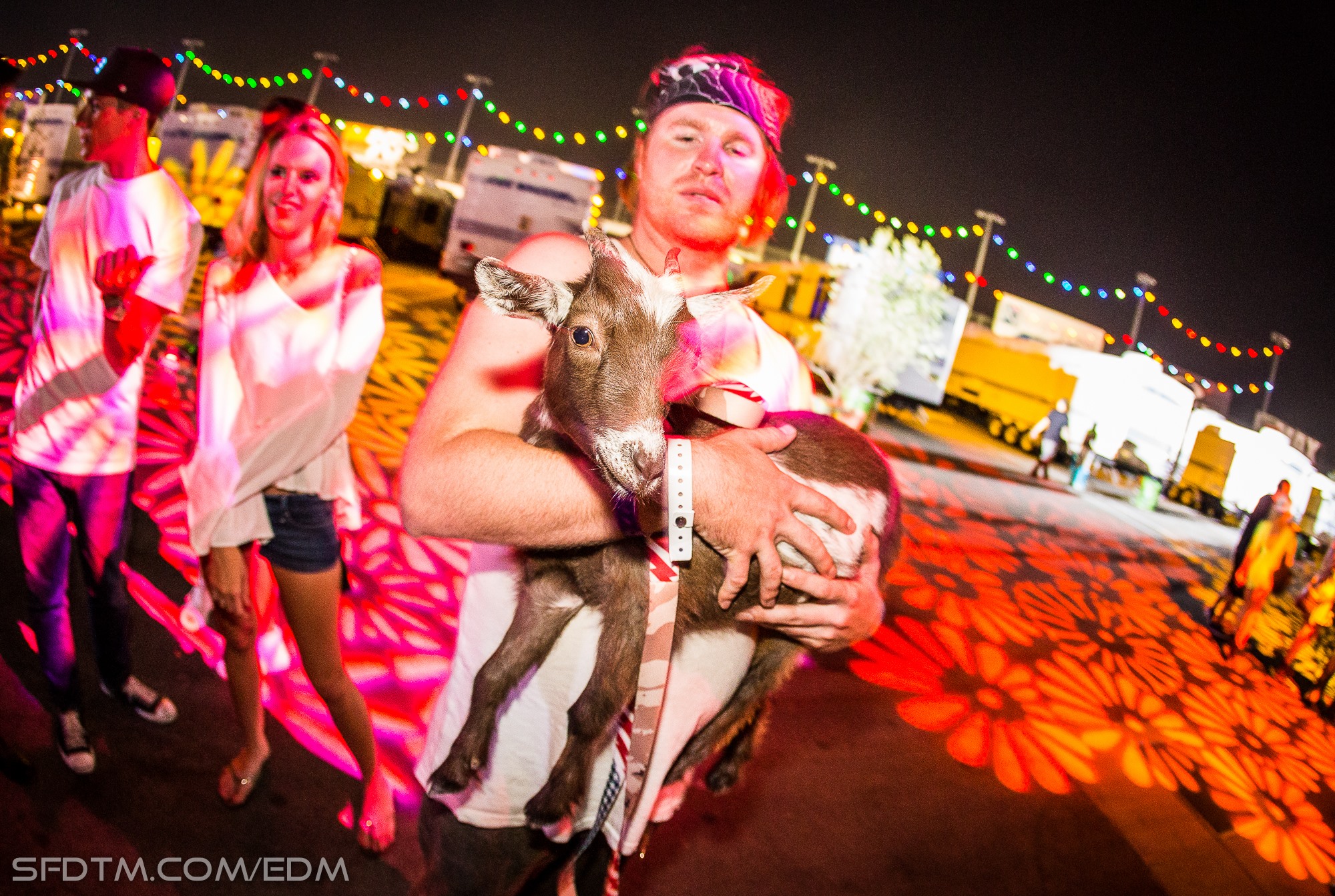 So as we stood in line for the open bar over at the artist compound with our friends from the TheDJList.com , we hear a commotion behind us with people yelling in excitement. We assume it to be just a big artist who just arrived with fans and friends welcoming them but to our surprise as we turn around, it's actually a goat standing above everyone in the lounge. Party Goat is a real goat who belongs to team over at Peerless Entertainment and is known by many artists as he has made many special appearances at multiple events but this was the first time we saw him. Don't you animal lovers worry though, Party Goat was well taken care of wearing special ear plugs to protect his hearing and no where near any of the actual stages where music was blaring.
2. Kaskade's Redux Set

No long description is needed for this one. Kaskade, some deep beats, and fireworks. What else does one need in this world? Kaskade announced a last minute Redux set aside from his main stage set at the Mayan Art Car that brought in a large crowd wanting to go one deeper with him as fireworks went off under the electric sky.
3. Arty Playing His 'Lionhearted' Remix with Porter Robinson

During all the festivities at EDC, we spotted Porter backstage with some friends and weren't too sure if he just came to hang or was doing anything special which then large we found out that he was. During Arty's performance at circuitGROUNDS, he premiered his new remix for Porter Robinson's 'Lionhearted' and brought out Porter Robinson himself to play the track with him. We are huge fans of both and love the track as well so of course we had to add this moment to our list. Listen to the remix below.

4. Proposal at Above & Beyond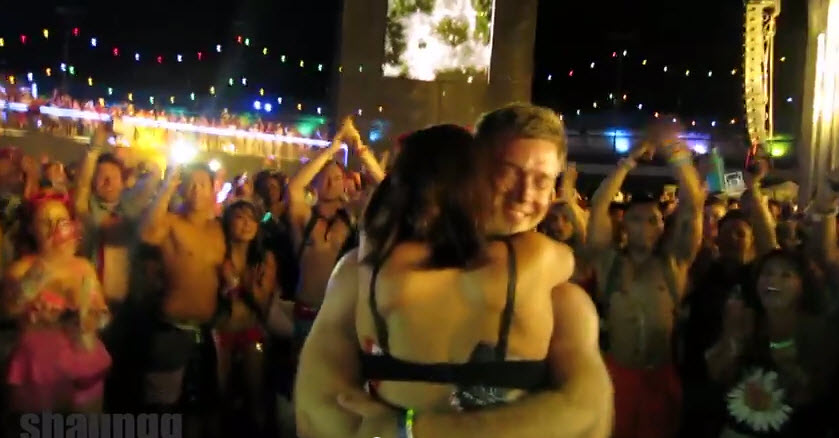 Event proposals are starting to become a common thing, your surrounded by your partner, friends, and good music so why not take the big step during it all? This guy decided to take it a step higher by proposing at EDC this year. The moment seemed right as it took place during Above & Beyond's closing track which was the acoustic version of "Sun & Moon, surrounded my friends, strangers, cameras, and lights. When the moment came, she seemed very happy and for those who want to know, she said yes. We wish we could share the YouTube video but can't do it to the user making the video private. We wish them luck and a bright future with their marriage.
5. Krewella's Suprise Drum N Bass Set
Our friends over at Krewella caught us off guard with this as it wasn't announced by them. Over at the bassPod late into the evening, Yasmine and Jahan played an announce special all DNB set. We loved it as we are huge fans of the genre and don't get much of it too often in the states so the sisters had us dancing the night away with the sounds they played full of bass and energy. The crowd responded positively to the song selection as they danced throughout the entire set and screamed as they heard tracks they are familiar with. You check out the set below.
6. Isaac Playing His 'Till The Sky Falls Down Remix' with Dash Berlin

As Hardstyle seems to grow more and more popular as the months go by in the states with many big names playing it in their sets and more Hardstyle acts appearing on festival lineups, we weren't too surprised of this moment but love it as well. We caught Isaac's set which included a special appearance from highly popular Dash Berlin to drop together Isaac's remix of 'Till The Sky Falls Down'. The mix of fast beats, great vocals, and a classic along with the special appearance made it a fun moment for us.
7. DVBBS Playing over 10 Minutes of Hardstyle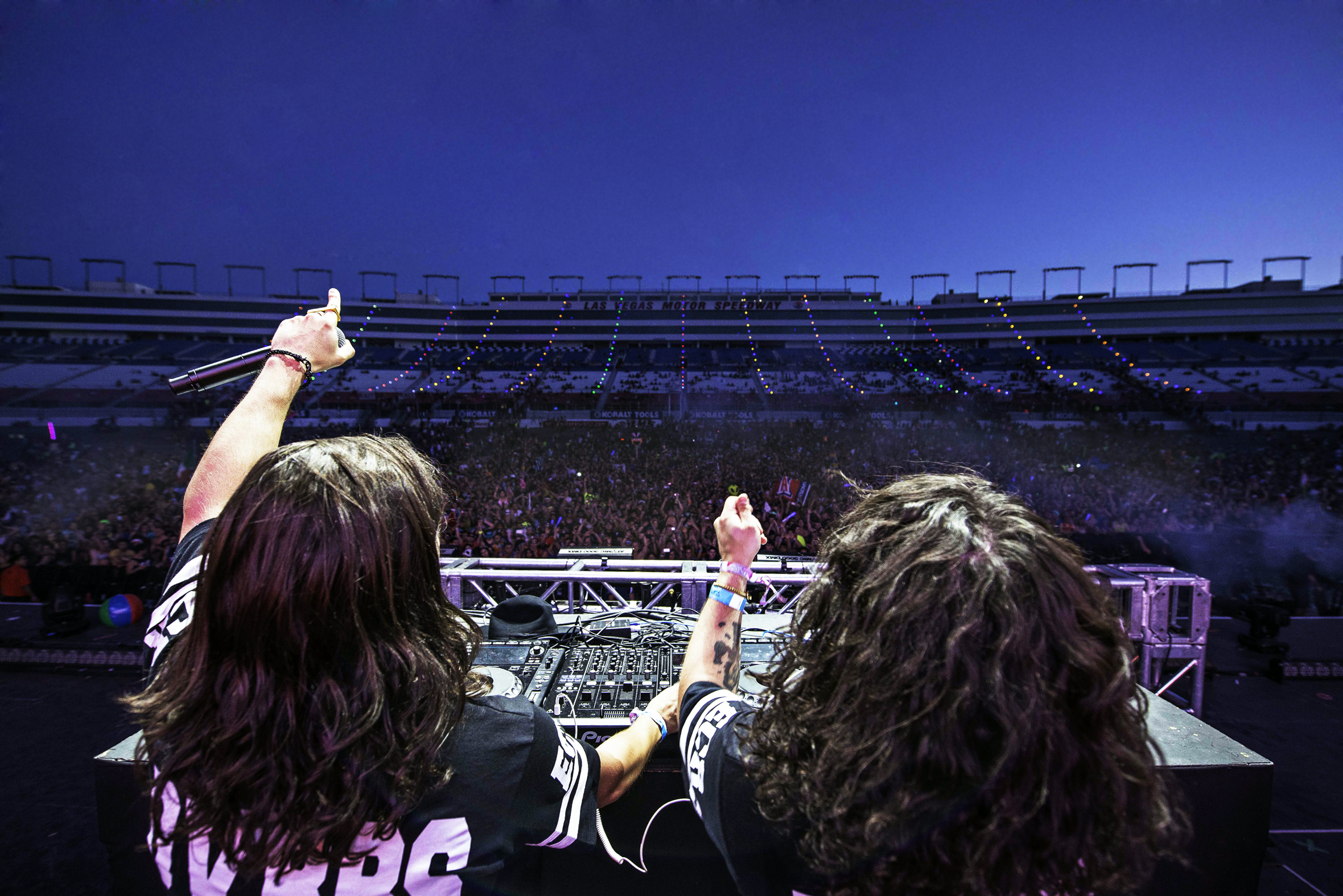 As well as Krewella, our good Canadian friends DVBBS killed their set to close off EDC on Sunday at the CosmicMeadow. Playing of course their hits along with a variety of different genres which we love to see with artist, diversity. Within the mix of the genres was Hardstyle, which they played for over 10 minutes at 5am leading up to their last track which we thought was insane but loved every moment of it and so did the rest of the crowd.
8. Festival Totems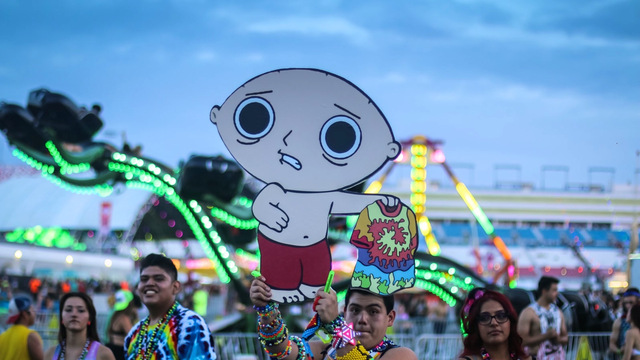 Recently getting popular within festivals, totems are getting very popular to have with you at one. o exception at EDC as we saw many, many being creatvive and funny. Being a great way to be found easier when separated from friends and to have in the crowd raging with you to you favorite artist, totems have become an essential thing to see now. Many got a good laugh out of including one of Stewie, Kim Kardashian, Grumpy Cat, Channing Tatum, and even Pasquale Rotella's daughter, Rainbow. They get even more creative and crazy as each event goes by so who knows what will be on ones totem in the future.
9. Fireworks Display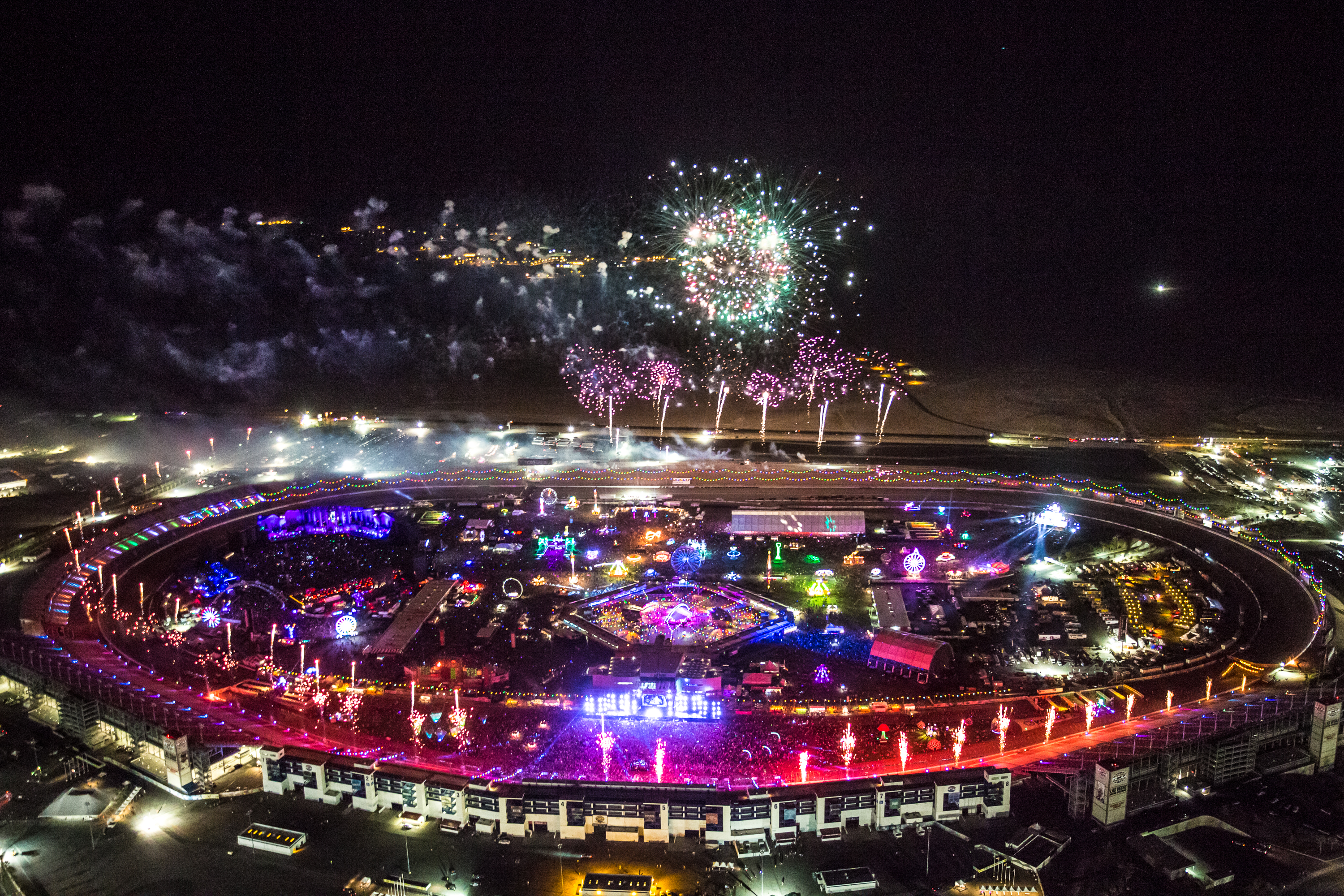 One thing that separates Insomniac Events with EDC to the rest of the festivals is the amount of fireworks and their size that is used during the event. It makes the event extra special and a unique experience as you watch each shoot up and explode above your head that we can't seem to get the image of them out of our head. It beats many other fireworks displays we have seen even outside of music festivals and can be a reason why you should not miss EDC.
10. Sunrise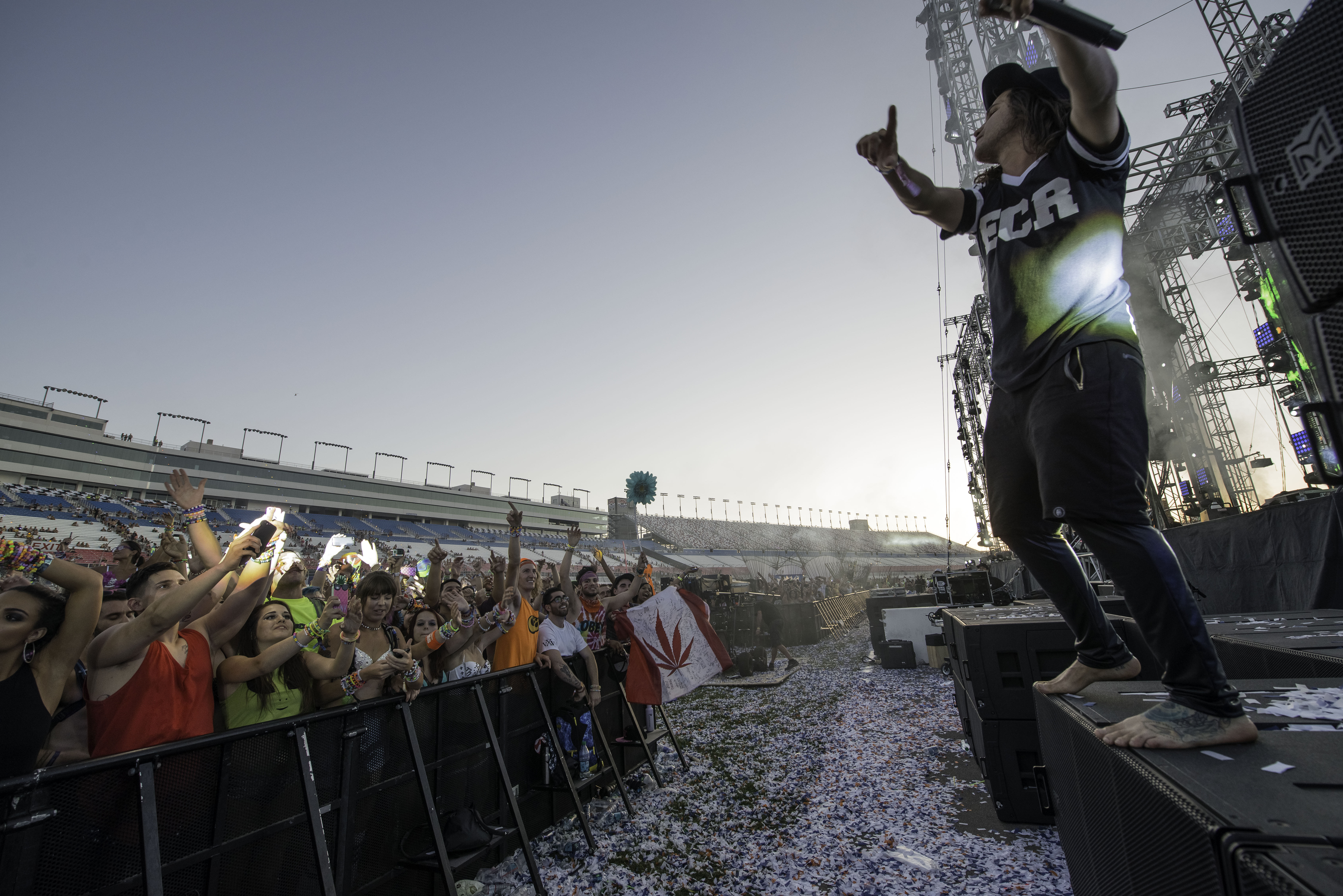 The sunrise, that is all we have to say. The biggest thing we think that separates Insomniac with any event is its hours. From 7PM till 5:30AM. It's the only music festival from our knowledge that goes that long into the night till the sun rises and it's something beautiful. The last day especially was special as that is the last sunrise to close of the event which we did with DVBBS as they closed out their set with "Gold Skies" to go along perfectly with the setting.
So there you have it, our favorite moments of this years EDC. As each year goes by, each EDC gets better. If you have yet to attend, we highly recommend planning a year to attend as it is an event not to miss and that we love! See you once again next year under the electric sky!
Comments
comments