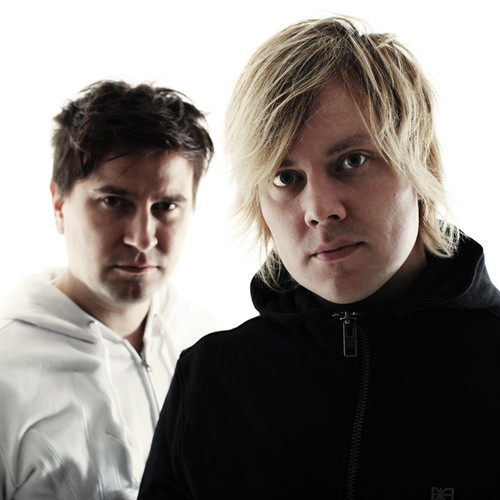 Catching up after a thrilling set at Paradiso Festival, I got to ask Finish trance duo Super8 & Tab about their new album, and the state of trance in 2014.
1. With a massive new album coming out on Anjunabeats, what should long time fans expect from the next major Super8 and Tab release?
We´ve put lots of time and love into this, and we feel there's some killer vocal tracks there and many interesting collaborations. One of the key tracks is "No Frontiers" with Julie Thompson, and the release date has been asked for over and over again after it was played at ABGT050. Finally we have the release date for it, and we also have more to come with Julie.
2. How would you compare working with Anjuna to working with other labels? What made them the right choice for Super8 and Tab?
I don't know if we chose Anjuna or they chose us, but we have been there a very long time. Almost from the start, so it's been natural for us to be there. They have always been forward thinking with great A&R, and that suites us very well.
3. Can we expect any major stylistic changes on the new album?
Nothing dramatically different, but of course it's 4 years after the last album so lots has happened in music since, and that has influenced our music too. We have 2-3 tracks that are a bit different on the album from usual S8&T sound, but mostly it's very recognizable Super 8 & Tab. This is a bit more club ready compared to our Empire album, but still very well-fitting just for listening purposes too.
4. How does playing an US festival differ from a European show? What's your favorite place on earth to play and why?
You know, without any complaints about Europe festivals, US festivals are still something even more special. Electronic Music is so huge in US right now that it feels and shows everywhere. The crowd is excited, artists are excited, line-ups are massive and productions are top notch. It's just great.
5. How does the Gorge compare to other venues internationally?
There's no comparison. It's completely unique and the scenery is amazing.
6. How do you feel about the state of trance, EDM and music at 128 in general? Do you believe the market is over saturated or that originality is still thriving?
It seems we have two different trance genres now don't we. There's 'new trance' in the 128-132 BPM era and 'classic trance' in 138-140 BPM era. For us it's all music and if it's good it's good. At the moment we feel more excited to work with slower tempos as it gives groove more time to breath and bass more time to play, but we have played with an idea to work on faster tracks too, so you never know.
7. Super8 and Tab has already become a very accomplished brand and live act, so what happens next to raise the bar? Where do you go from here?
The album will show where we are going next musically, and we have tested out bunch of new tracks from the album at our gigs with good and encouraging response. There's also some research going on with how to bring new elements to our live show, so it will soon be revealed what we have in our pocket for the album tour.
Super 8 and Tab v Jaytech – Code Red| Buy |
"Follow" Super8 & Tab | Facebook | Twitter | Soundcloud |
Comments
comments