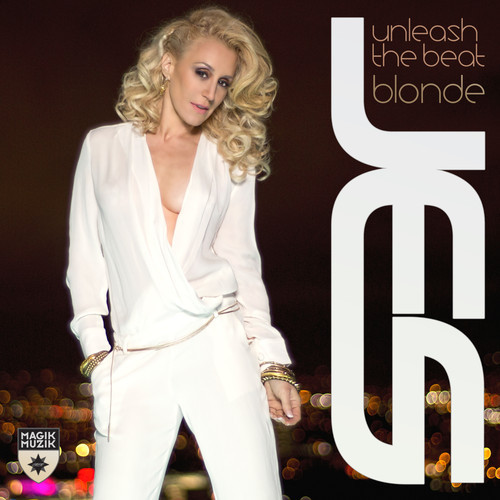 I had a chance to catch up with legendary producer/DJ Jes, and discuss the release of her upcoming mix compilation, Unleash the Beat: Blonde.
Unleash the Beat Blonde is a digital mix album; explain what that is for people who may be unfamiliar with the concept. What draws you to release a musical compilation in this fashion as opposed to a straight album or EP?
I try to release 4 mix compilation albums a year that support my weekly mix show (www.unleashthebeat.com). Only one of those releases is a physical CD (which is usually a double album), and the other albums are digital only releases. I still approach the digital releases like a normal album with artwork, etc., but I think making more frequent, small releases is better for the fans. It means I can make the albums more current so they better reflect what's happening in trance, progressive and electro right now. Most of the tracks are favorites of mine from recent "Unleash The Beat" mix shows and the digital format seemed to be the most effective way to bring my latest mixes to my fans. My Unleash The Beat Blonde mix will be available on July 14, 2014 on all major download stores and you can get a preview of the action here.

You have two production credits on the mix for "Runaway" and "Like a Waterfall", what made these two tracks the right choice for this compilation? What do those tracks mean to you in the context of your personal collection, and where you are as an artist today?
"Runaway" is my current single and "Like a Waterfall" is something of a trance classic that recently just got re-released with a brand new set of mixes. They both fell into the perfect timing for being included on my new CD and it seemed like a great combination as the tracks span very different times in my career. "Like a Waterfall" will always have a special place in my heart; I wrote it at a time when I was just starting to work in Electronic Music and it's one of the songs that helped to launch my career. I was attracted to work on "Runaway" with Cold Blue and Dennis Sheperd because it was an interesting new direction. It seemed to combine the best of the past with a bright new future, and there was a depth to it that a lot of music in EDM right now is lacking. As an artist I'm constantly striving to keep the energy and excitement up on my work and to maintain the qualities in the music that drew people to it in the first place. Music is a feeling, and keeping that feeling alive for your fans is the most important part of making music.
You've been around the DJ game for a while now, who is your all time favorite collaborator and why?
I have been lucky enough to work with a lot of the biggest DJ's and producers in EDM throughout my career. What I love about collaborators is that they all have different talents and bring out different qualities in my writing and performance. It's very hard to pick a favorite, but if I had to pick just one it would be Richard Robson. He has worked with me as a writer and producer on so many of my projects so I would have to say he is my all time favorite!
Looking back on your personal collection, what song stands out as your absolute favorite, and what makes it special to you?
That is a very tough question! I can never pick an absolute favorite because I only release songs that I really believe in. When I start on any project I have a lot of different ideas. During the writing and production process they get narrowed down to a short list of my favorites, so if it's been released and you've heard it, then it's a favorite of mine! There are some songs that translate to EDM songs very well and some of my songs are personal favorites because of the story behind them. Most of my songs are autobiographical on some level so they all transport me back to a significant time or place in my life. I love writing songs on piano or acoustic guitar and translating them to the dance world. Some of my favorites that happened that way are "Every Other Way" (with BT), "Everything" (with Tiesto) and "High Glow" (released under the name Taxigirl, which is another moniker for me that I produce and release under), but it's impossible to pick just one song.
What's your favorite place to DJ in the world? Where do you get the best crowd response?
I have definitely noticed different reactions at the start of shows in different countries. Music is a universal language and in the end it's just about connecting with the fans in the most honest way you can. Hopefully that will break down any differences or barriers and bring people together. Being from the USA I have a big fan base here, so I do tend to get a great response in cities like Denver, Seattle, Los Angeles, New York, and also in Florida and Texas. I also tour internationally and get great reactions in Mexico, China, Hong Kong, Taipei, Spain, Poland, Czech Republic, Russia, South Africa, Australia, New Zealand, Canada, Brazil, Costa Rica, Trinidad, Columbia, Netherlands, Panama, Lebanon, Romania, India, and the Philippines! They are all lovely audiences. The fans are always so welcoming and I love to play in new places whenever I can. One of the places I would love to play the most that I have never visited is Japan ;-)
Give a tip to aspiring artists/producers. What's one thing they should be doing to further their careers and better their music that they might not already be doing?
Music is a team sport. You really need to find a team of people to help you develop your career so you can focus on making the best music that you can. Try to make sure that every day (and I'm including weekends, holidays, birthdays and any other time you would normally take off!) you do one thing to further your career. However big or small it may be you have to push yourself forward every day. It might be emailing someone, or working on a new song, but whatever it is make sure that you make it happen. I think it also really helps to set short-term goals that lead up to something big. Small daily steps can lead to achieving a short-term goal, and in turn that can add up to affecting a big change in your situation.
Jes – Unleash the Beat Blonde Teaser| Listen |
"Follow" Jes: | Facebook | Twitter | Soundcloud |
Comments
comments