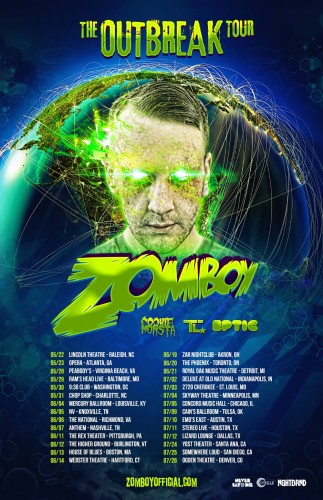 Friday the 13th is about to get really freakin' filthy in Boston. Tomorrow (TYBG that tomorrow is the weekend, but anyways,) Zomboy brings The Outbreak Tour to Boston's House of Blues.
Zomboy comes to the city in good company, bringing with him TC, Brillz and Cookie Montsta, a lineup that is basically a headbangers heaven. The Outbreak Tour kicked off about three weeks ago, and will run through August 3rd, hitting just about every major city in the US and slamming them with face melting dubstep and drum and bass.
I saw Zomboy a few weeks ago at Mysteryland, and take my word for it, this is not a show you want to miss. Not only has Josh been throwing down bass-loaded sets, his new work is (literally) music to a basshead's ears. Zomboy is releasing his LP 'The Outbreak' on August 4th, so mark your calendars for that.
If you haven't heard it yet, check out his most recent release, a ruthlessly heavy collab with Must Die titled Survivors.
Tickets are still available online here – but grab 'em quick because this show is bound to sell out! Cya there, fam!
Comments
comments