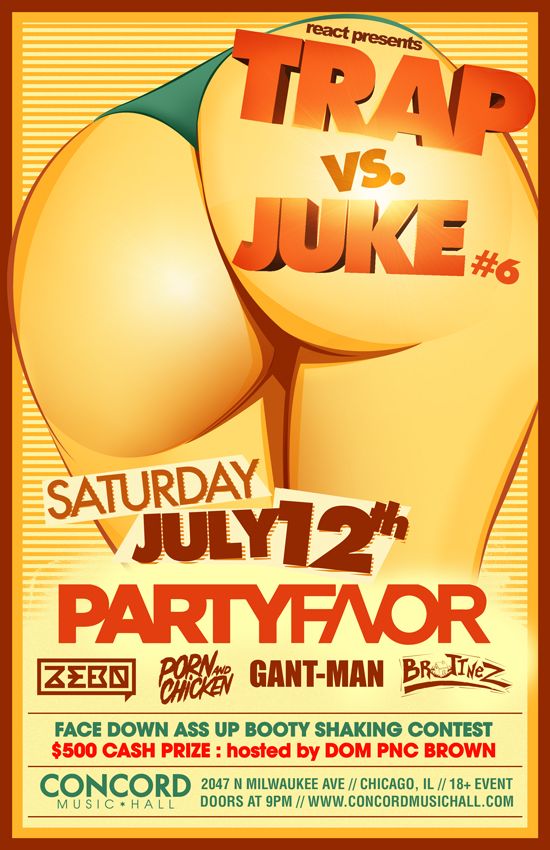 As if one giveaway wasn't enough, we're here with another to take your Friday to the next level. On July 12th Party Favor is taking over Concord Music Hall in Chicago and were giving away TWO pairs of tickets!
This night labeled "Trap Vs Juke" has the perfect line-up to get anyone twerking, literally anyone. And if the music wasn't enough, there is even a "Face Down Ass Up Booty Shaking Contest" with a $500 prize. We will announce the winners a week before the event. So ladies try to win that money, and EVERYONE try to win these tickets!
Just to be safe, you can grab your tickets here.
"My very first EDC Las Vegas was insanity!!! Thank you so much for the support! Here is my live set recording from stage 7, 6/21/14.

This was recorded directly out of the main soundbooth. The crowd mic wasn't working here and there and some audio channels came into my recording for whatever reason but I am extremely happy with how the recording turned out. :)" – Party Favor
PARTY FAVOR Live @ EDC Las Vegas 2014 | Download |
Tracklist:
1. Metallica – Enter Sandman (Party Favor Boot-UP) w/ Ain't Worried- French montana
2. ID
3. Party Favor & Meaux Green – GString
4. Drop Top (Party Favor & Meaux Green Remix) [Forthcoming: ULTRA]
5. Diplo ft. Nicky Da B – Express Yourself (Party Favor Remix) [Mad Decent July 8th]
6. ID & Party Favor – The Anthem
7. Meaux Green & Mr. Collipark – No Discrimination [Forthcoming: Mad Decent]
8. Diplo & Grandtheft – Pretty With her eyes low (Party Favor 'quick edit')
9. Tropkillaz – Baby Baby
10. DJ Snake x Lil Jon x LA REZ – Turn Down for What (TWRK Edit)
11. Major Lazer ft. Busy Signal – Bumaye (Party Favor Remix)
12. Tyga – Make it Nasty (Party Favor Remix) [Universal/Cash Money]
13. Bro Safari & UFO! – Drama (Party Favor Remix)
14. Mayhem & Antiserum – Cry Baby
15. Fatman Scoop – Be Faithful w/ (Hot Damage Twerk Mix)
16. Yellow Claw – DJ Turn It Up (Party Favor Re-work)
17. 50 Cent – P.I.M.P (Zeke x Zoid Remix)
18. Carnage ft. Migos – Bricks (Party Favor's 'Festival Derp' Mix)
19. Afrojack – Annies Theme (Carnage 'Festival Trap' Remix)
20. Flux Pavillion – I can't Stop
21. Showtek ft. We are Loud! & Sonny Wilson – Booyah (Party Favor 'VIP' Remix) [Spinnin']
22. ASAP Ferg x Mayhem & Antiserum – Work (Benzi Edit)
23. DVBBS & Vinai – Raveology (Tomsize Festival Trap Remix)
24. Deorro – Clap Your Hands W/ TNIGHT – Higher Ground
25. Flosstradamus – TTU (Too Turnt Up) Feat. Waka Flocka Flame [ULTRA]
26. Reel 2 Real x Alice Deejay x Vangaboys x Rick Ross – Hustle (Party Favor's '90's Kids' Mash)
27. Buku – That Thang W/ Ludacris – Move Bitch (Acapella)
28. Ludacris X Killagraham – Move Bitch (TWRK Edit)
29. Iggy Azalea – Fancy (Yellow Claw x TWRK Edit)
30. Bro Safari & UFO! – The Dealer (Milo & Otis Remix)
31. Flosstradamus ft. Casino – Mosh Pit (Meaux Green & Party Favor Remix) [ULTRA]
32. Axwell x RL GRIME – Mind FLOOD (Party Favor Bootleg) w/ Bombs Away – Party Bass (Acapella)
33. Nari & Milani – Atom (Spenca & AFK Remix)
34. Major Lazer ft. Amber – Get Free (What So Not Remix)
35. Kill The Noise x Brillz x Waka Flocka – Grove Street ROOTS (Brillz Edit)
36. GTA & Juyen Sebulba – Hard House
37. Aquadrop x Nadastrom – Favelas (RL Grime Private Pussy Edit)
38. Destroid – Bounce (Antiserum & Mayhem Remix)
39. W&W – Rocket (Lookas Remix)
40. Lorde – Team (Party Favor Private Edit)
41. Carnage ft. Kat!e Got Bandz – Kat!e (Party Favor Edit)
42. Dan Farber – Kiss The Sky
43. Tropkillaz & Party Favor – Dat Booty
44. DJ KOOL – Let Me Clear My Throat (Party Favor Remix)
45. Keys N Krates – Dum Dee Dum (Party Favor's Bounce Remix)
"Follow" Party Favor: | Facebook | Twitter | SoundCloud |
Comments
comments