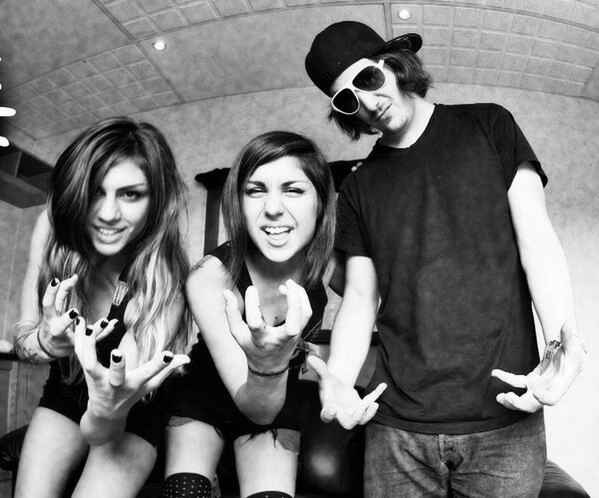 VI.VIII.MMX (6/8/10) is the day that Kris Trindl, Jahan Yousaf, and Yasmine Yosaf dropped everything and dedicated their lives to what is now Krewella.
I don't know about you, but if that doesn't say they've got some big f*cking balls, I don't know what else to tell you.
Check out Krewella's jam pack 13th edition troll mix to celebrate their 4th 6/8/10 anniversary with full tracklist below (feel free to correct the 2 IDs as I can't recognize them).
Krewella – Troll Mix Vol. 13: 06-08-2014 | Download |
Tracklist:
1. Krewella – We Are One (Noise Killerz Remix) vs. 3LAU & Botnek – Vikings
2. Calvin Harris & Alesso (feat. Theo Hurts) – Under Control (Bare Remix)
3. Tritonal ft. Cristina Soto – Still With Me (Seven Lions Remix)
4. London Grammer – Wasting My Young Years (Sound Remedy Remix)
5. Fliwo, Charlotte Haining – Never Divide
6. Peking Duk – High ft. Nicole Millar
7. Krewella – Pass The Love Around
8. Rameses B – Moonlight vs. Yuna – Lullabies (Adventure Club Remix)
9. Calvin Harris – Summer (Club Killers Festival Trap Remix)
10. Krewella – Human (Tom Swoon Remix)
11. Skrux – Escapade (Original Mix)
12. Daft Punk – Harder, Better, Faster, Stronger (Dillon Francis Remix)
13. Lana Del Rey – Summertime Sadness (Cedric Gervais Remix vs. ETC!ETC! Trapped it! Remix)
14. Skrillex (feat. Niki & The Dove) – Ease My Mind
15. Birdy – Skinny Love (Vanic Remix)
16. Koven – Make It There (feat. Folly Rae) (The Prototypes Remix)
17. Machinedrum – Body Touch
18. Krewella – Alive (Rebourne Remix)
19. Above & Beyond – Sun & Moon (Club Mix)
20. Bastille – Pompeii (Audien Remix)
21. ODESZA ft. Madelyn Grant – Sun Models
22. Seven Lions – Don't Leave (feat. Ellie Goulding)
23. Krewella – Live for the Night (Dash Berlin Remix)
24. Krewella – Enjoy the Ride (Armin van Buuren Remix)
25. Disclosure – Latch (Lido Remix)
26. Max Alto – City Lights
27. Gareth Emery feat. Krewella – Lights & Thunder (Omnia Remix)
28. Nicky Romero feat. Krewella – Legacy (Vicetone Remix)
29. Snails & Antiserum – Wild
30. Nero – Satisfy
31. Ron van den Beuken – Headlock (feat. Imogen Heap) (Clokx Re-Work)
32. Adventure Club – Wonder (feat. The Kite String Tangle)
"Our amazing director Miles Evert put this together last night to celebrate 6-8-10, the day we got the balls to drop everything and dedicate ourselves to krewella full-time!!

Thank you to our krew for helping the dream come true. love yall!" – Krewella
Video by Miles Evert – Song by Krewella – We Are One (Noise Killerz Remix)
For some very odd reason, Krewella, indeed, has a rambunctious amount of cruel and unforgiving haters. The type of haters in which their blood boils each time Krewella is ever mentioned upon them. Now, why would anyone hate such a group? A couple reasons: 1. popularity 2. their music 3. the fact that most of these haters will never ever be able to be with such beautiful women as Jahan and Yasmine.
In my own experience, I personally have been keeping up with Krewella since they've had about 2-3 tracks out and 8K likes on their fan page. To see these three become what they are now is truly riveting. The pain, struggle, and pressure they've put themselves through has all been worth it. This is why I congratulate them continuously and exult myself in indulgence because from one artist to another, it really does take a lot of balls to completely drop everything just because you sincerely believe in your own craft and you're willing to do anything it takes to make your dreams a reality.
So the haters can hate all they want. As for Krewella, nothing but homage should be paid. "You can hate me, but why knock my hustle?" – Nicki Minaj.
"Follow" Krewella: | Facebook | Twitter | SoundCloud |
Comments
comments