Photos by: Thomas Gallatin (TSS) & Collin Taylor (LiveEditsLab)
Wow. What an amazing weekend it was out in the beautiful Ozarks of Arkansas. With a pretty killer lineup of artists for this year from all across the spectrum of music, there is no way that one could not make memories to last a lifetime. I sure did. This place is one of a kind, there's no where quite like it that I've been able to come across thus far.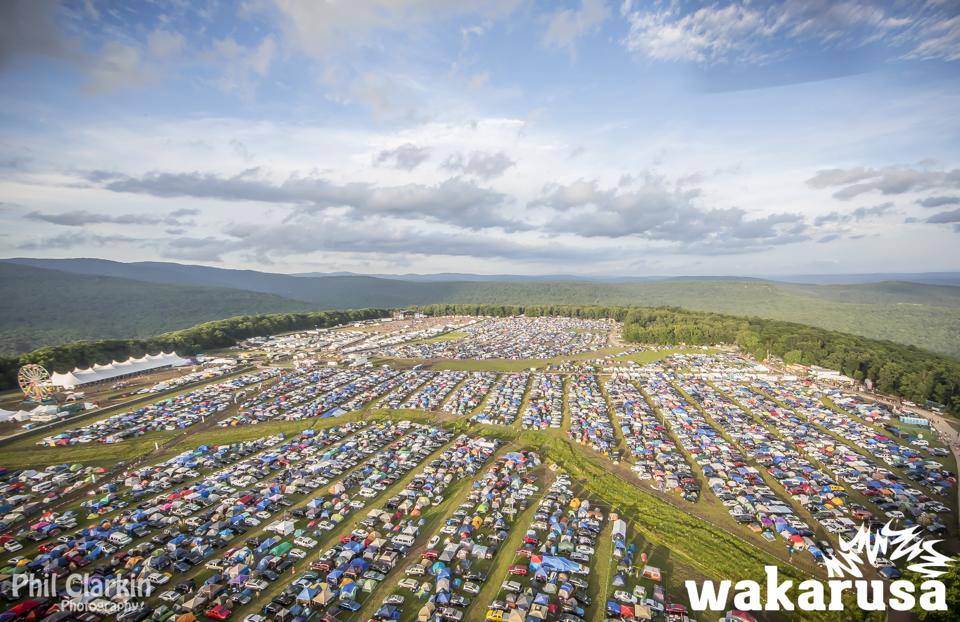 Photo: Phil Clarkin Photography
Wakarusa Music Festival is unlike any other festival you've been to, it was truly created BY music lovers FOR music lovers across the nation and to bring all these different types of people to come together and celebrate their love that they share for music. And there's almost no better ground to do it on than Mulberry Mountain. Festival attendees are constantly surrounded by both beautiful scenery and music, while sharing it all with lovely people. The mixture of genres that are at Wakarusa and the fanbases that they bring who are present for the experience is what puts Wakarusa among the most popular camping music festivals in the United States.
Having been there before, I knew what it was going to be like and the vibe that you get while you're there, as well as just being prepared for the weekend especially being out there against nature. For first-timers at Wakarusa you can find yourself really unprepared which can take a toll on your weekend as whole. Luckily, this years weather was a whole lot better than last years 'Swamparusa'. This year there were just a few rain showers, one long shower mid-day on Saturday mainly during Buku's set and then a big long shower for most the day on Sunday up until Cherub's set on the main stage. So no real storms this year, thank you mother nature! Wakarusa's lineup this year was one of the most diverse lineups with artists and acts from all different genres. There's all sorts of folk, funk and jam bands, raggae, all different sub-genres of electronic music and a little hip-hop. Acts such as legendary Bassnectar for the bassheads, The String Cheese Incident for all the cheese heads, STS9 for the tribe, The Flaming Lips, Edward Sharpe, Umphrey's McGee, then to Adventure Club, Rusko, 3LAU, Keys N Krates, Rusko, Infected Mushroom, Minnesota, HeRobust, Wick-it The Instigator, Alvin Risk, SuperVision and many more.
* THURSDAY *
D.V.S*


D.V.S* was a perfect set to start the weekend for me and my crew right after the journey up the mountain and getting the campsites all situated. Since it was my first set of the weekend, that means it was my first time at the Satellite Stage for this year and ever since seeing last years I fell in love with the stage and was excited to see what it would look like this year! They kept the same feel and decor but just made it look a little bit better and more evolved. Anyways, I love me some funky beats and instruments infused with some electronic for the electro soul/funk so this set was a real fun one out in the sun in the early afternoon before some big sets for the evening. Climax of the D.V.S* set had to be his smooth Nu-Disco remix of Disclosure's "Help Me Lose My Mind". He was impressive on the guitar strings and unique in production, and the drums were a great asset to the live presence as well.

______________________________________________________________________________________________
ProbCause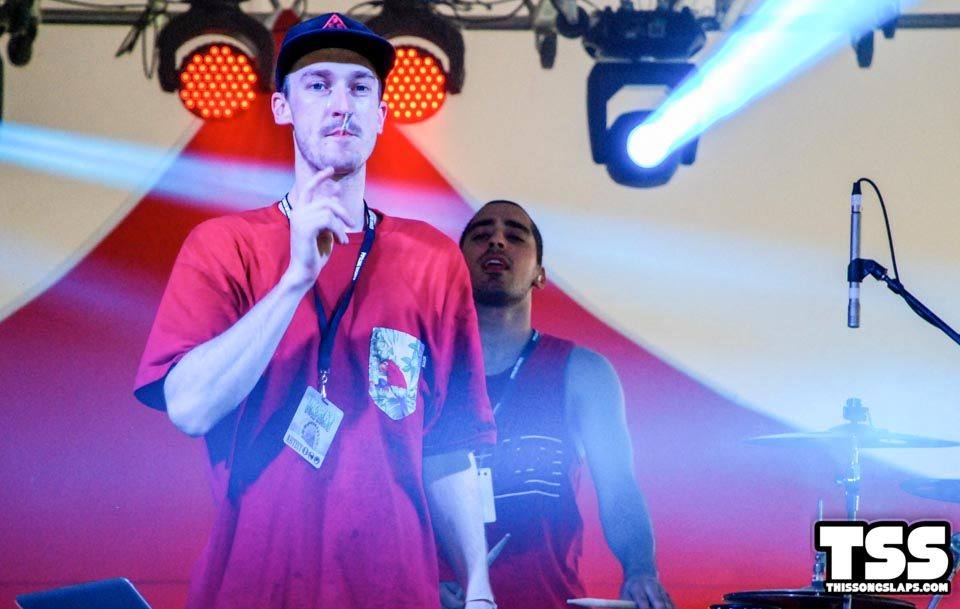 It's hard for a hip hop act like ProbCause to come in to a festival where there's hardly any other artists that fall under the same genre and expect a big turnout, but you bet I was there for that. I first heard of ProbCause when seeing all the support from Gramatik, Exmag and Two Fresh since the release of ProbCause's Waves EP and immediately loved their rap lines on the beats they were throwing with them. I thoroughly enjoyed their performance but the best parts were when they would jam out and rap over some tracks such as What So Not's "Jaguar" and RL Grime x What So Not's "Tell Me", and then over some of the homie Gramatik's beats too.


______________________________________________________________________________________________
Freddy Todd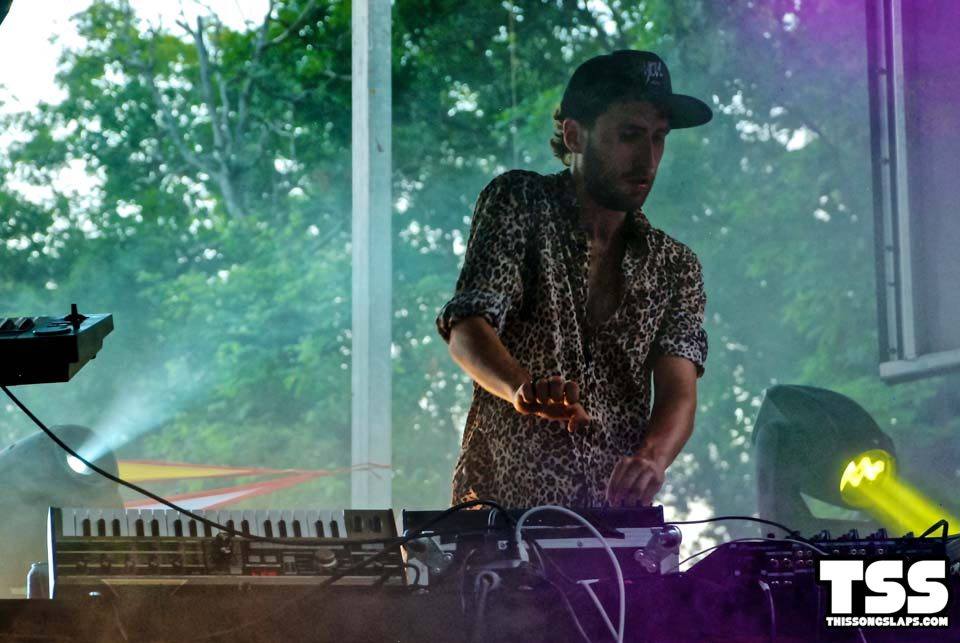 After seeing some hip-hop at the Outpost Tent, I headed back over to my favorite stage (Satellite) to go get down to some more electronic. Wakarusa usually brings in a good amount of some dubby glitch-hop artists and I had been listening to Freddy Todd's future glitch style for quite some time at that point. When looking around at all the people behind me either sitting down on the hill, standing under the trees or laying up in a hammock, everyone was down to get glitchy with Freddy Todd as he threw it down on us all, track after track.


______________________________________________________________________________________________
ill-esha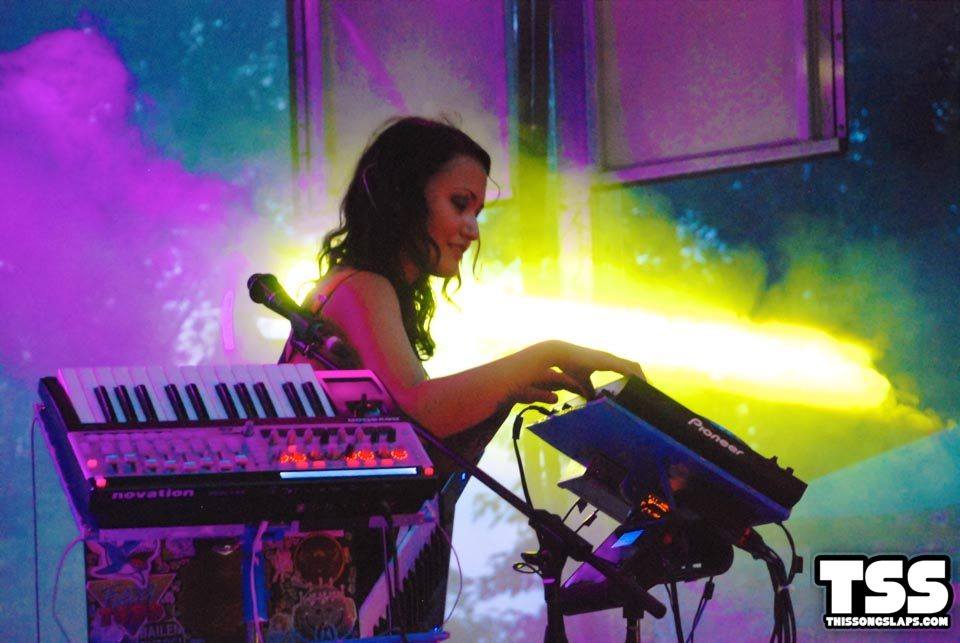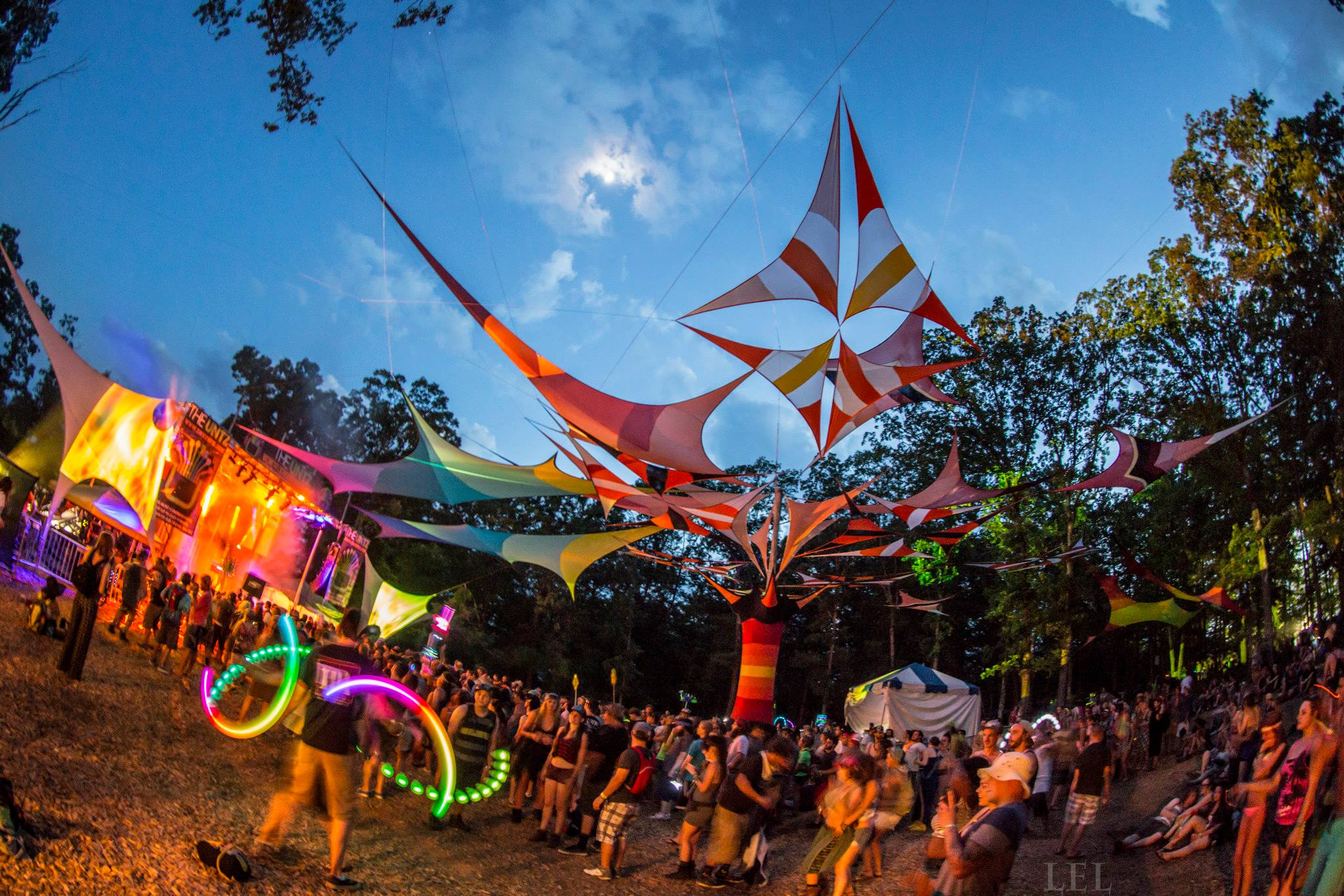 As ill-esha made her way to the stage for set up, I noticed that people were taking great interest in what she was bring up on stage with her for production. She brought her glitch hop beats to the table just like Freddy Todd, who actually they have been known to do a couple remixes of eachother's tracks so it was fun to keep my ears peeled for those in both of their sets. Ill-esha has a great stage presence, with some keys and synths, deck and beatpad, and she even had a keytar hanging down in front of her that she would start jammin' on from time to time. All of these things while still providing vocals on the microphone. For me, the highlight of ill-esha's set was when she brought out the Chicago based rapper ProbCause for their collaboration song entitled "Let Me See".


______________________________________________________________________________________________
STS9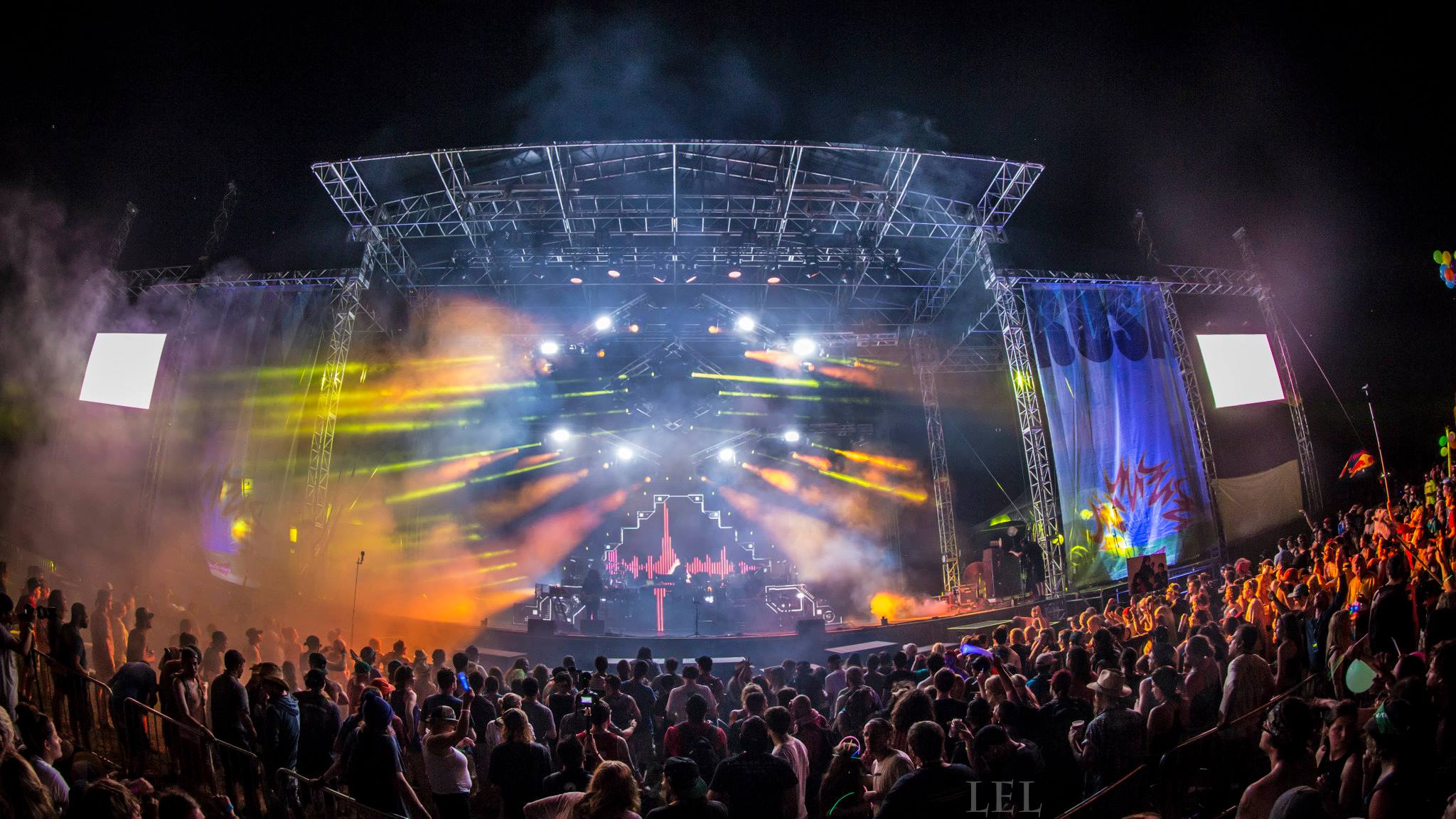 Okay, so I had never seen STS9 before although I am a huge tribe fan and have been for a real long while but never had got the chance to see them play live except for last year at Wakarusa but ended up not be able to see them due to unfortunate weather. So this was my chance! And I was stoked. Absolutely everyone at the entire festival made their way to Main Stage to see Sound Tribe, as there was literally no one else playing on any other stage for the most part. The Main Stage area was absolutely PACKED when we got there, but we made our way up towards the front for this one to be able to actually see the band members. I have never seen it that packed before with the sea of people that were there all ready to jam out with STS9. Sound Tribe is super talented and make some of my favorite music. Their live show is one of a kind. Their visuals and light shows synced with their tunes as they jam seriously make their show very unique and explains why they have such a vast fanbase following. "Golden Gate" was surreal, it was like the golden gates to Heaven.


______________________________________________________________________________________________

Adventure Club
– After STS9, a good portion of fans cleared out of mainstage to go see some other sets at different stages but my crew and I of course stayed to see Adventure Club throw the hell down on the main stage sound system. The Canadian duo opened up their set by building up The Chainsmokers' "Selfie" which seemed to get a good chuckle out of the people around me. But little did they know what was about to happen. So they built up the original track and then dropped Botnek's "Selfie" remix, which instantly turned the crowd up and made a massive shower of glowsticks onto the crowd. Really was an incredible site. So right off the bat, they delivered their message that they were here to party with the people of Wakarusa. If you couldn't tell from their song selection and how the opening of their set went, then if you just watched the duo's body language you could clearly see that they were all about the party. Botnek's "Selfie" was an instant suprise to everyone but the highlight for me was when Moody Good's hard hitting "Hot Plate" was dropped. Adventure Club really played some of the hottest tracks in the dance scene, pulling from mostly trap and dubstep. First half of the set, if not more, was a full on mix of some of the hottest current dance tracks and it wasn't until further into their set that they started playing their Adventure Club originals and hits although they seemed to tease them a bit leading up to them.

______________________________________________________________________________________________
Keys N Krates [Night Set]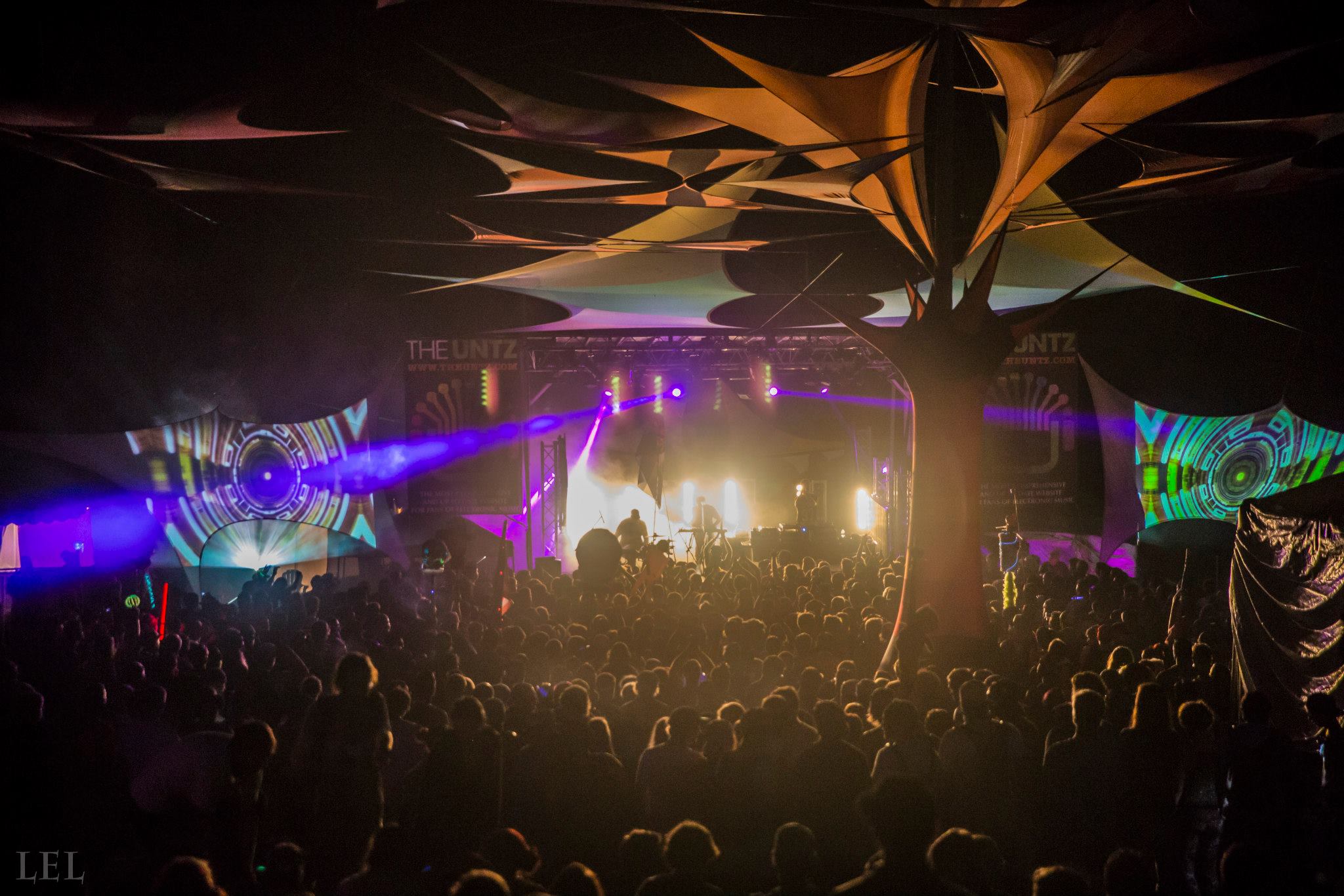 Leading up to Wakarusa, Keys N Krates was who I personally was most excited to see live aside from Bassnectar. I absolutely love their music, everything they have ever produced including their remixes. Don't forget about some of their mixes either because they are really impressive. Best live trap in the game all while being completely melodic which I just love. This night-time set of theirs at Satellite was one of the sickest surroundings for a late-night Keys N Krates set. Everything was perfect.
Highlight tracks were of course "NOWIMGUNNACHANGE", the feel good tune of "Follow You Down", their trappy remix of Kayne West's "Clique", and their hit song "Treat Me Right". Then towards the very end of their set, band members abandoned their live instruments and all 3 were behind the turntables as they began to DJ a couple tracks for us all. It was like a whole different aspect of their show which was super cool just because they were switching it up and still going just as hard behind the deck. So this lead to the peak of this particular Keys N Krates set which was undeniably when they played their new "Keep It 100" tune that they made with fellow Canadian producer Grandtheft.
If you haven't had the chance to catch them live, you should absolutely go to a show of theirs if the chance arises. They are probably my favorite complete live show in the entire game right now, even above acts like Disclosure who I've been obsessed with since day 1 and so that's really meaning something.



______________________________________________________________________________________________
Wick-it the Instigator


After the stunning set from Keys N Krates, Wick-it The Instigator comes in directly after and decides to turn it up a little more from Keys and really gets some stuff poppin' off for a high energy super-late night set at the Satellite Stage.

______________________________________________________________________________________________
* FRIDAY *
Lettuce


Friday was such a beautiful day. Sun was out and shining bright with some clear skies. The beauty of the day made Lettuce's set THAT much better. If you can't get down to the funk lords of Lettuce out in the sun surrounded by beautiful people, then I don't know if I can be associated with you…just kidding…but for real. Lettuce was so rad, I had been hearing so much about them and loved hanging out getting the funk down.

______________________________________________________________________________________________
Break Science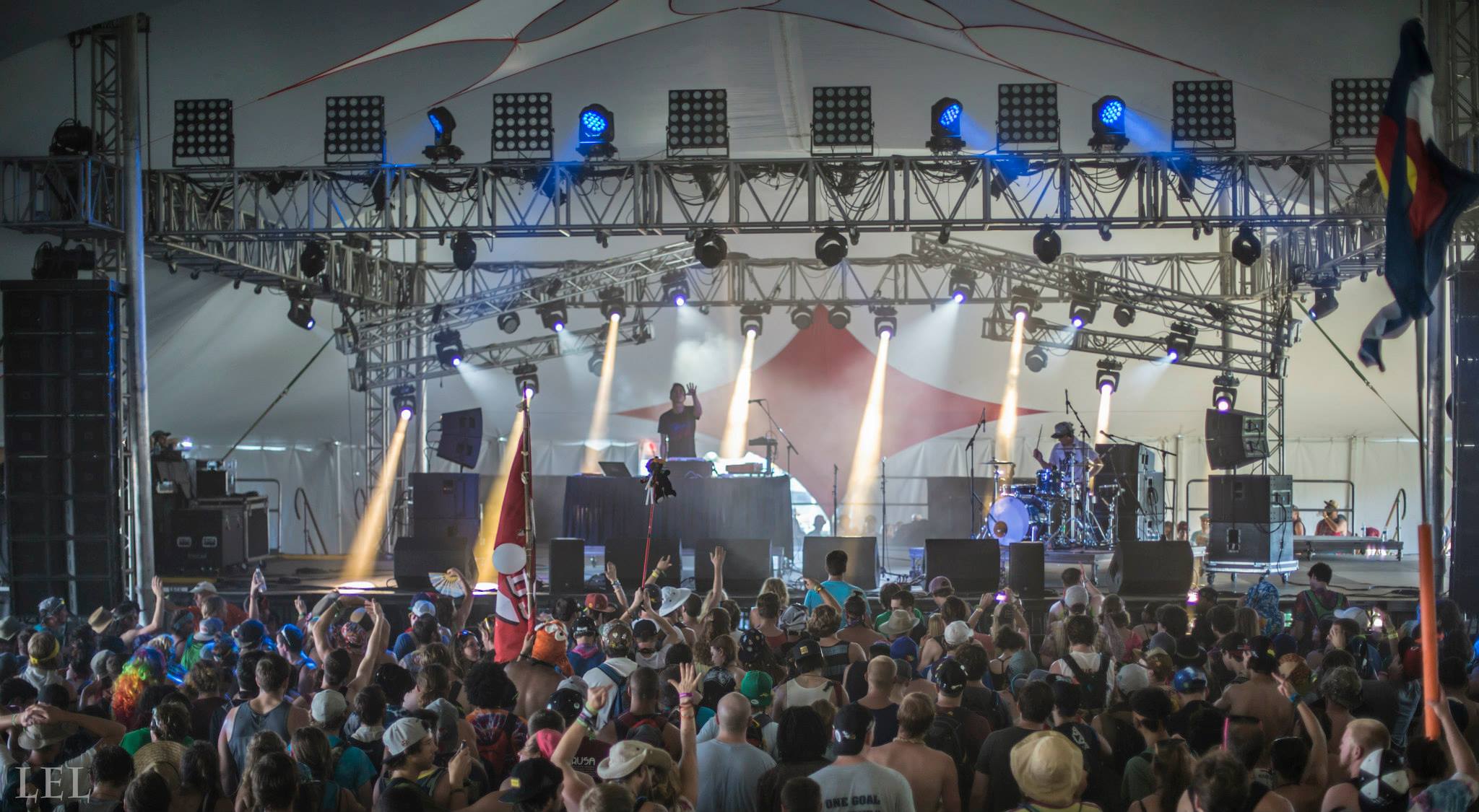 The transition from Lettuce to Break Science was perfect. They had the Outpost Tent completely jam packed, my crew and I were still chillin hard from being posted up at Lettuce so we decided to do the same at Break Science. We found some shade, plopped down our chairs and kicked backed & relaxed to some PLM with Break Science.


______________________________________________________________________________________________
Keys N Krates [Day Set]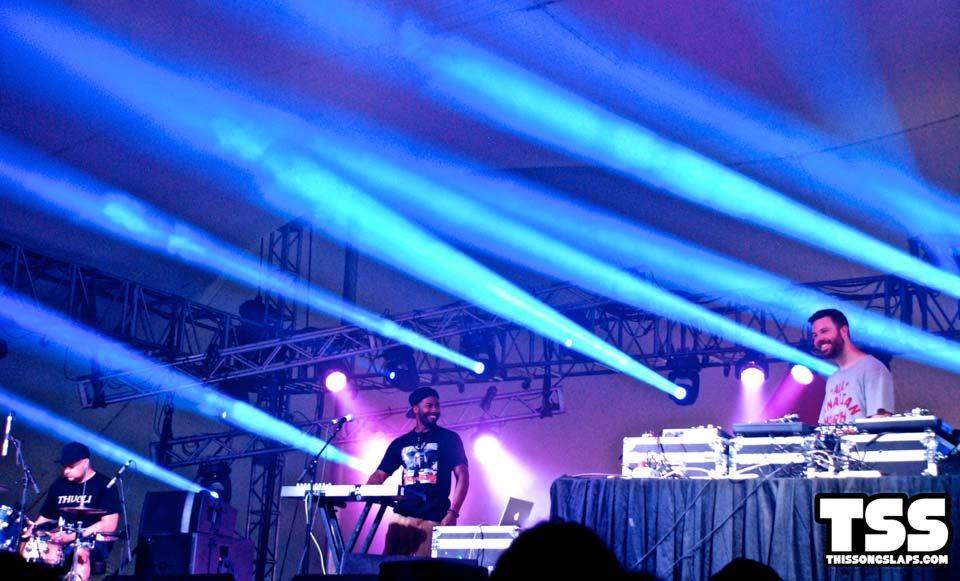 So I enjoyed the Keys N Krates set soo much the night before that I decided I had to go and skip a couple big acts we were overlapping their set in order to go see Keys again, but this time at the Outpost Tent for their day-time set. Because of the couple big acts that we playing during this time, this second set of theirs was no where near as packed as it was at Satellite the night before. But there was still a real good turnout so I was excited to see how it would go.
Once again to no surprise, I was completely satisfied with their set and there was no glimpse of disappointment in anyone's minds. Their sets are seriously so good and they like to show off their immensely evident talent as a group and individually. So if you have never even heard a mix from this trio, here's one you should definitely check out until you see them live :)


After Keys N Krates' day time set we went back to main stage to check out some more STS9 and see how they would switch it up from their night set. It was indeed different, different song selections for sure and also the crowd was pretty massive once again. But during the day it was super nice to go post up at the back to chill and vibe to some of the best jams in music. Next up at the main stage after STS9 was the trippy Flaming Lips. I'm not a big fan of The Lips but I did enjoy their music and live show. With some crazy and outrageous stage props and visual productions they always make sure they stand apart from everyone else.
_____________________________________________________________________________________________
* SATURDAY *
Buku


Having seen Buku twice before back in Fayetteville, I was super excited to see him throw down his trappy hip-hop infused beats with his fresh style that he displays. He matched my expectations and even exceeded them. This was all going on (for the most part) in the pouring down rain which only added to the feel for the set, and refreshed everyone out there dancing their asses off. Buku was without a doubt, the most underrated act out of "ALL DEEZ" hoes at Wakarusa.

______________________________________________________________________________________________
Phutureprimitive
For the first set of the day for me, Phutureprimitive was unlike most sets I've been a part of. I hadn't heard much of him before the set, but I knew what he and his super glitchy style was about so I had to go see what's up. Let's just say he and his set had everyone in a whole different dimension. Check some pieces.


______________________________________________________________________________________________
The String Cheese Incident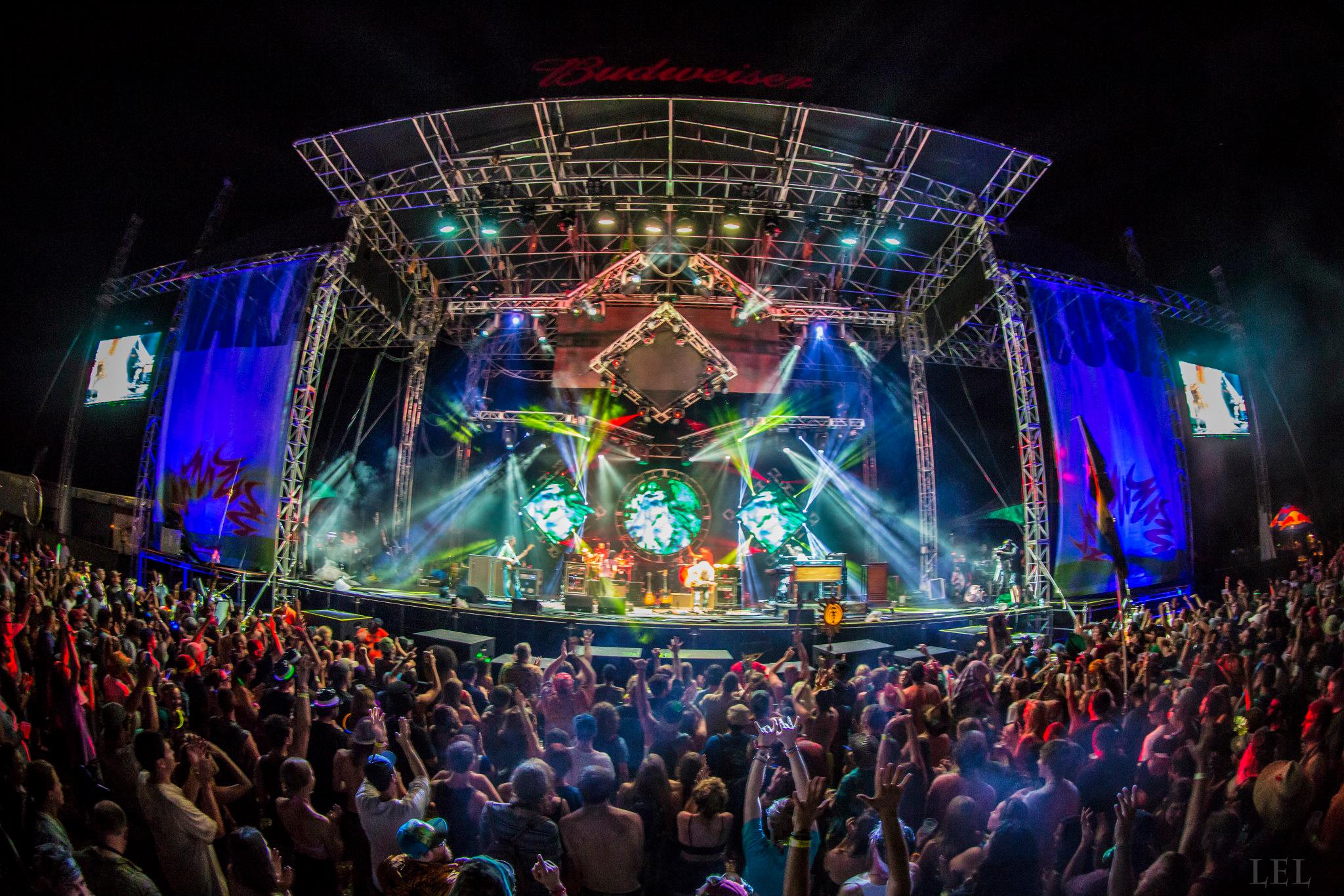 For SCI's set at main stage I was hanging out in the back of the main stage field by some of the great art installations that Waka provided this year. It was great vibin' from back there and hanging out with a whole bunch of different people. Here's a couple of pictures of some of the installations.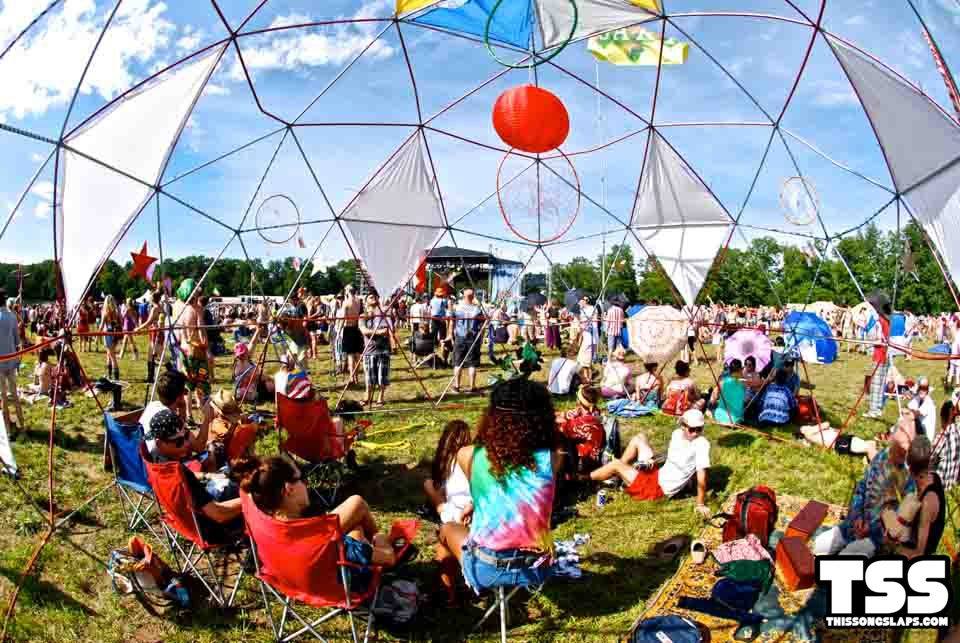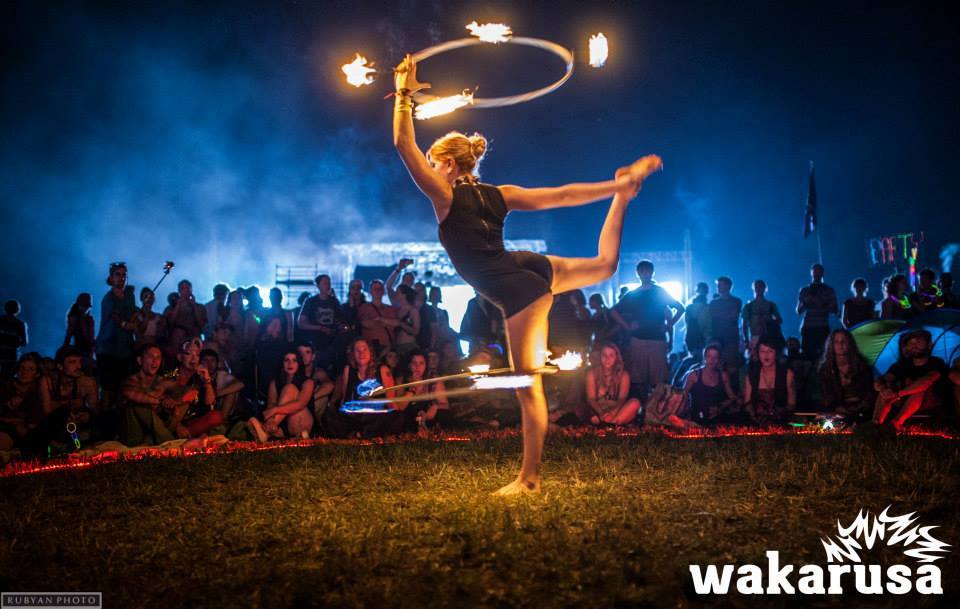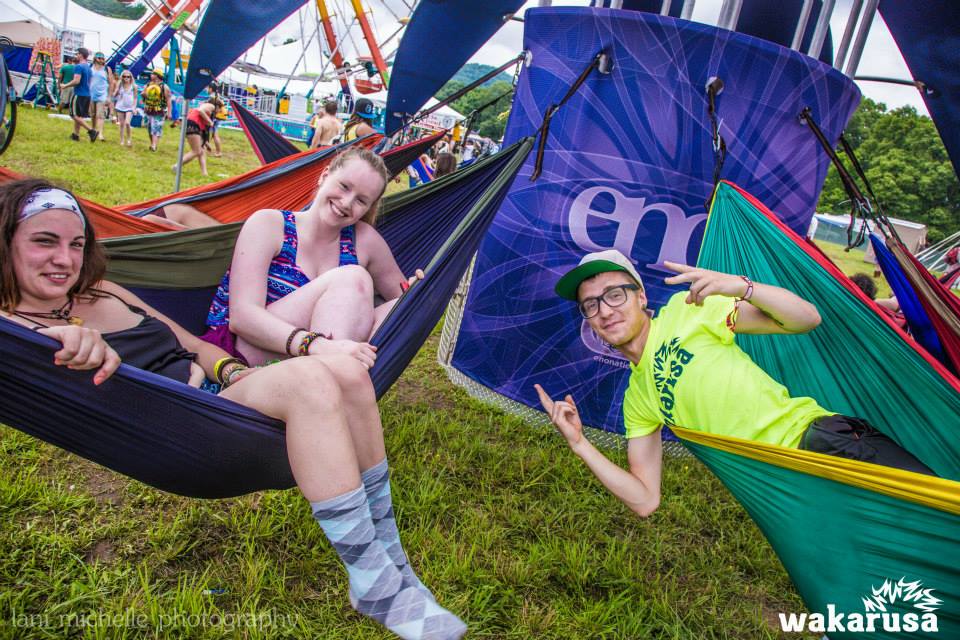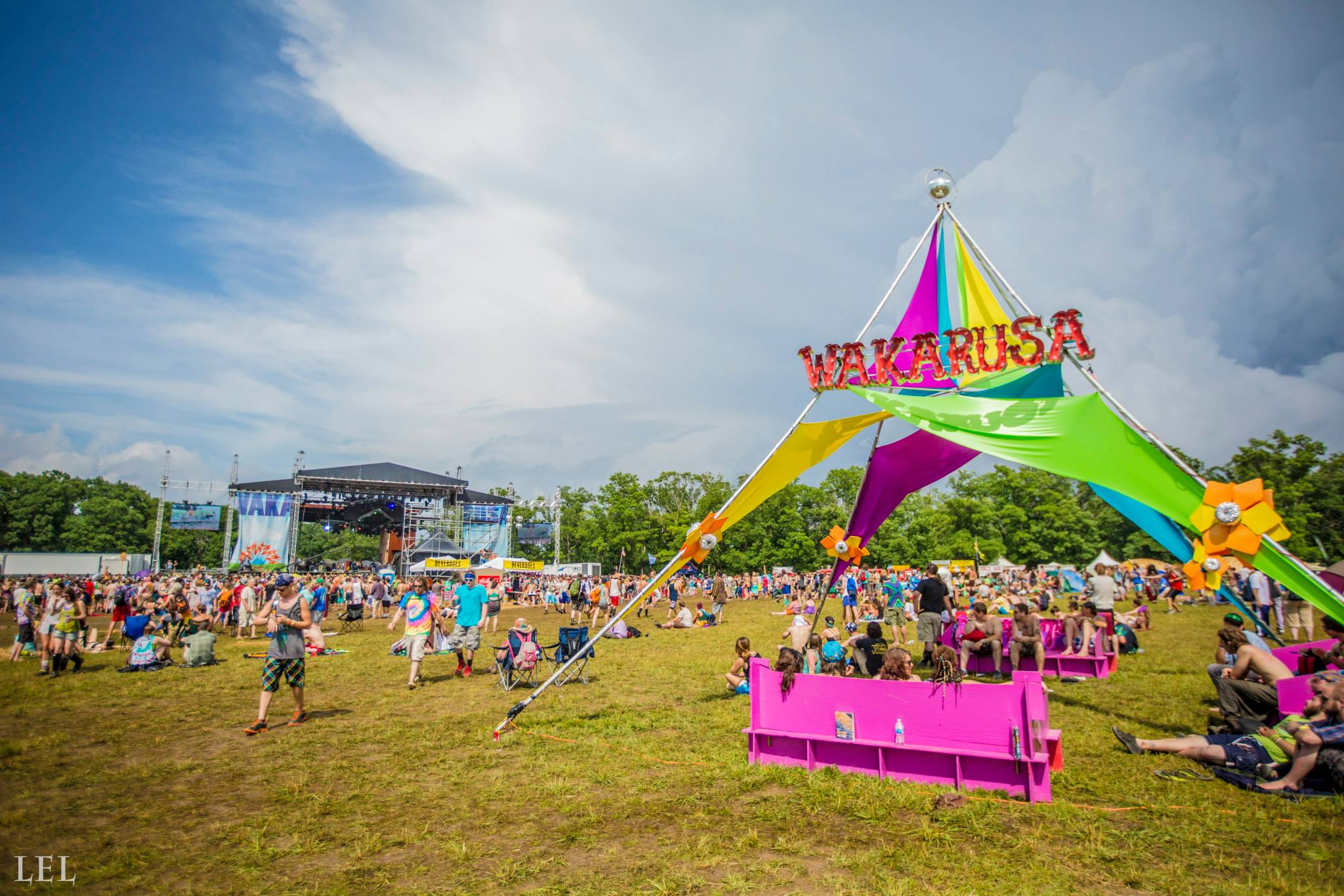 ______________________________________________________________________________________________
BASSNECTAR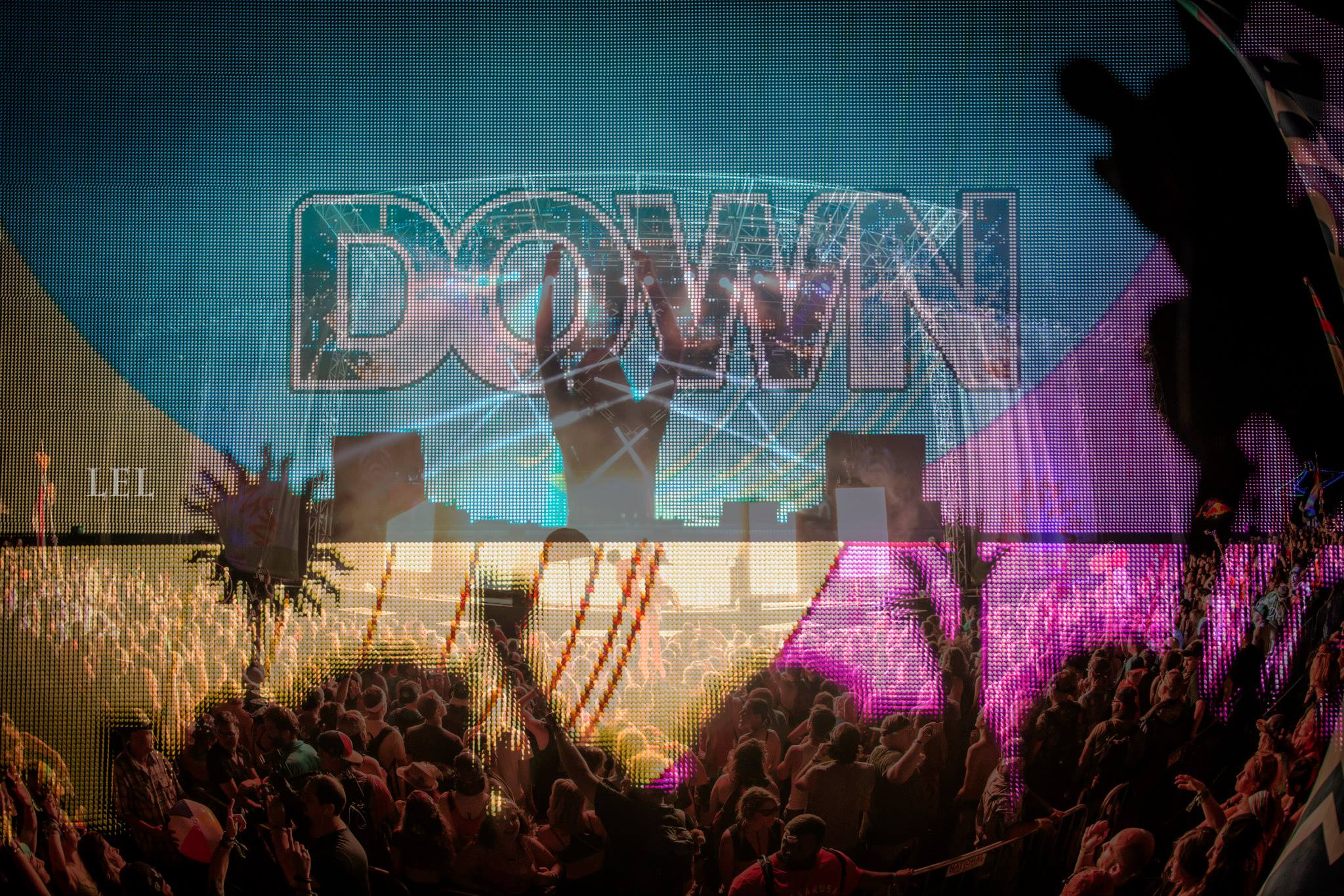 There was no greater anticipation. Excitement was at an all time high with Bassnectar's upcoming and soon-to-be released full album "Noise Vs. Beauty" on the horizon and teasing the whole LP by releasing some tracks leading up the festival like "Now", "Hold On", "Ephemeral" and "You & I". The Bassheads piled in at main stage with bring in a forrest of totem poles and rage sticks as the production crew rolled out Nectar's massive light rigs. The start time for his set had arrived but Lorin was not out on stage yet so with every minute that passed, more and more anticipation was building up. Everyone was stoked to see what Bassnectar had in store for a crowd just like the one on that very night.
Bassnectar has taken a long time off from touring while he was making his journey through producing his new masterpiece of an album, therefore everyone was anxious to see what the new show would be like. Would he play a set that seemed "normal" for Bassnectar in the past or would it be comepletely new and different in regards to the new album? Well…this was my 3rd time to see Bassnectar and this show he did for Wakarusa was so different than the ones I had experienced in the past.
He kicked off the headlining set with "Let The Music Take Control" and it definitely did just that. He played some down tempo stuff and also got real trappy with it which was surprising to me at first but I loved every second of it. Of course he played his selected dub bangers from his past but most of the set was his more recent tracks like ones off of the "Take You Down" EP and also his "Immersive Music Mixtapes".
The first half was mostly all of Bassnectar's old hits that never get old, then the next 1/4 was him having fun with us and changing it up by throwing in some real trappy beats and having fun with it, for example when he played the beachy surf anthem "Wipeout" which was super fun. Then that leaves us with the last 1/4 of the set which was all comepletely new and raw material from Bassnectar with the majority of it being the whole new "Noise Vs. Beauty" LP being dropped on all our heads.
It was incredible, absolutely mental and so well put together. He blew everyone away and blew all other sets out of the water. Insanity yet beautiful at the same damn time. "Noise Vs. Beauty" is a masterpiece that I can't wait to be unchained so I'm able to marvel at it on my own in just a couple of days when it's finally released on Jun 24th.
You guys better get ready for this shit, it's going to be an album for the books. I just can't contain my excitement.
Set highlights for me included, his collaboration track with ill.Gates on "Expanded", Nectar's remix of Nina Simone's "Feeling Good", and then of course everything off "Noise Vs. Beauty". As far as shows that I have ever been a part of, this particular Bassnectar show sits at the top for me.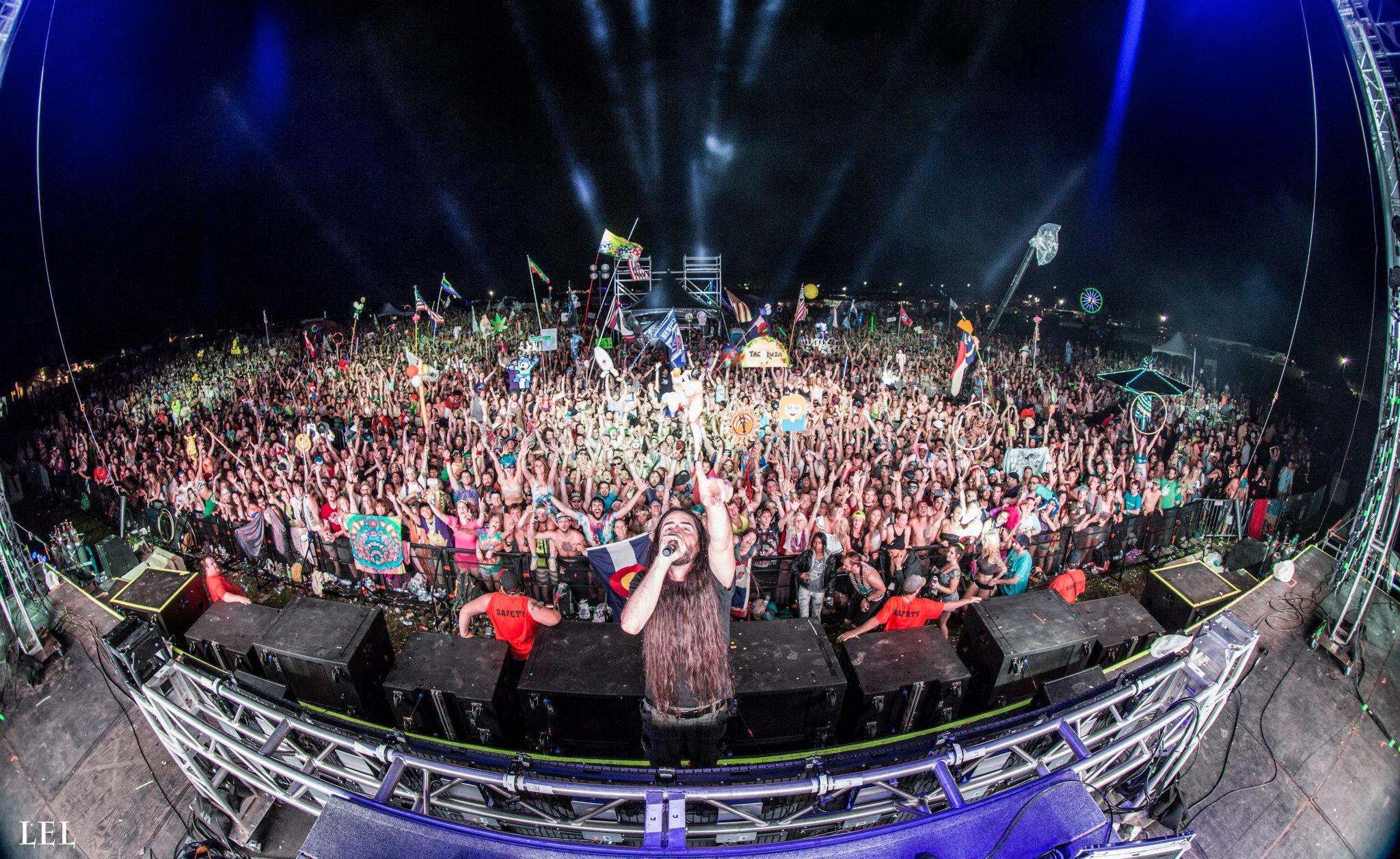 BASSNECTAR FAMILY PHOTO by LiveEditsLab
______________________________________________________________________________________________
Papadosio
After leaving Bassnectar completely mind blown. I made my way over to the Revival Tent to check out some Papadosio. I had kept hearing great things about them and heard from friends who were at Counterpoint this year that Papadosio and their live show is one not too miss. So I took their word and went to the tent. What did I think? My friends sure were right. I had a great time jammin' out to some Papadosio for the time I was there and definitely will be seeing more of their shows in the future.

______________________________________________________________________________________________
ill.Gates
ill.Gates came on real late and came out ready to party. With a very well organized set with his originals and remixes, as well as some select songs that are hot in the bass and trap scene. Since it was not too long after Bassnectar's set had ended, the highlight of ill.Gates' set for me was playing his collaboration with Bassnectar "Expanded" and then also dropping both Moody Good's mind boggling slappers "Hot Plate" and the remix of Slum Village's "Fall In Love". These really got the place up in another zone.

______________________________________________________________________________________________
* SUNDAY *
On the final day of the festival, everyone woke up pretty exhausted from going so hard to Bassnectar the night before that people got some late starts to their day and the rain didn't help make anyone decide to start any earlier. It was raining all morning and then pretty hard in the afternoon. The first set I got out to see was Boombox who was on main stage doin' there thing out there in the rain. There was a good amount of people out there gathered for them in the mud and rainy weather.
Cherub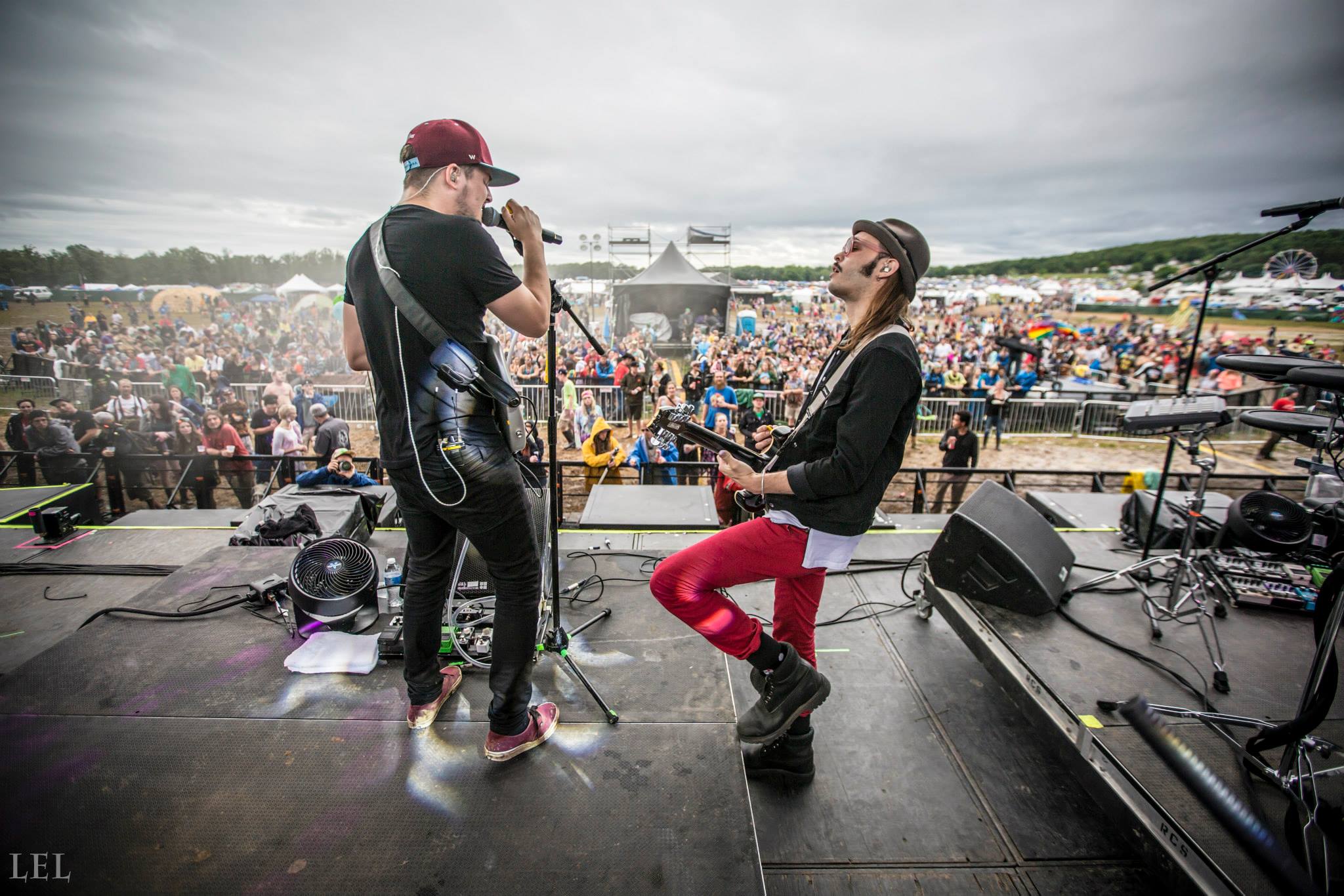 Mother Nature decided to clear up pretty nicely just in time for a main stage Cherub set. This was the first time Cherub had played on the main stage at Wakarusa so they were pretty excited for it, as were all of us. Cherub made sure that their set that they had in store for us on the main stage was different from the set they played the night before at Satellite. They accomplished this by performing more of their new music in comparison to the previous set, as well as doing some covers. When Cherub decides to cover a song, you know it bout to get real fun. Some covers they performed included Daft Punk's "Around The World" which is honestly super amazing and then also Calvin Harris' "Feel So Close" which was the highlight of the set because they just brought out so much energy for it and the crowd couldn't have responded any better to it.
______________________________________________________________________________________________
EOTO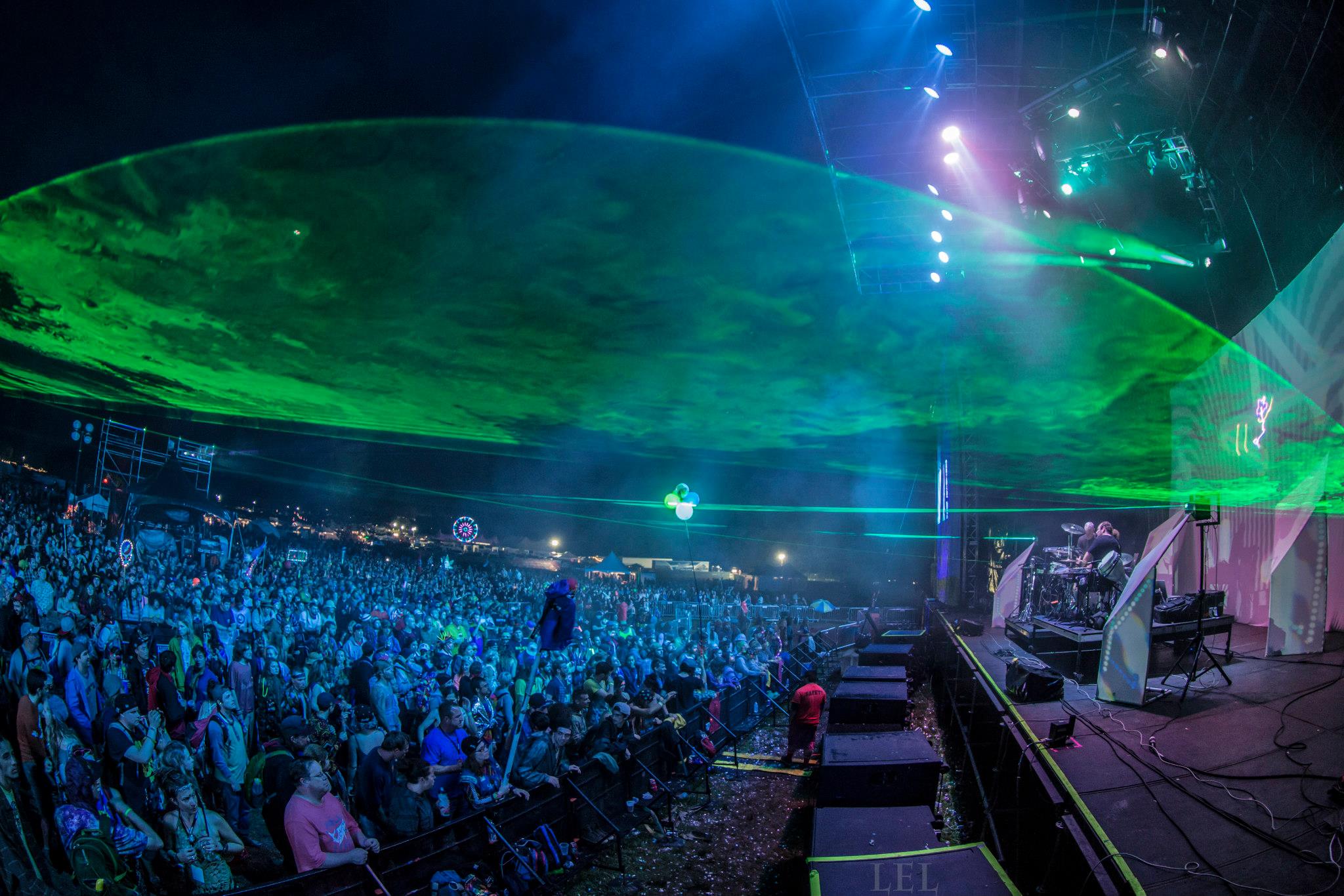 After a killer set from Cherub we decided to hold down our spot at the main stage from EOTO. If you are unfamiliar with them, EOTO is a 100% improvisational dubstep duo that consists of String Cheese Incident members Michael Travis and Jason Hann. Crazy right? Ya, they mix the organic sounds of live drums, bass and guitar through a variety of production technology to create a sound of catchy dance music. So two beasts on the drums and an incredible light show to go with it is what makes an EOTO show. These stunning visuals and lazers accompained with their creation of music is a blend that is truly unique and I don't think there is anyone else in the same realm of them. How badass is that though, two members from SCI?! Crazy. They put on an awesome show.
______________________________________________________________________________________________
SuperVision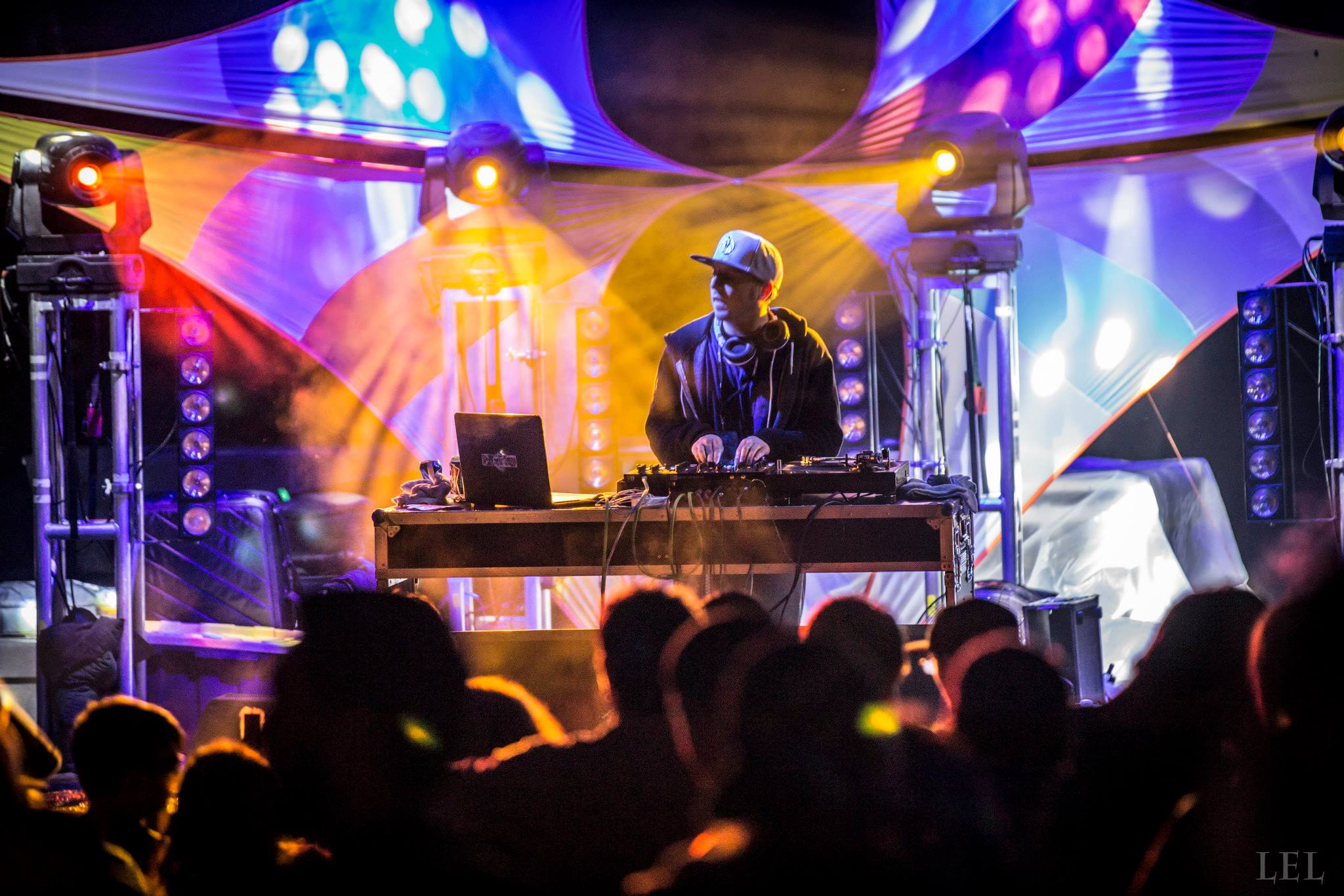 By this time I was comepletely exhausted from the whole weekend but I really wanted to stick around for SuperVision. I love Pretty Lights and love everyone on the Pretty Lights Music label and had never been able to see SuperVision yet. This was my chance so I decided to stick around a little bit longer. I'm always down for some PLM and I love the mixes that SuperVision puts out for Pretty Lights on his radio podcast "The Hot Sh*t", so this was a wonderful way to wind down the festival a little bit. Since I was so exhausted I was just chillin' on the ground from the hill at Satellite, jammin'. Definitely am looking forward to seeing SuperVision again in a different setting, he's got mad talent!
______________________________________________________________________________________________
The Floozies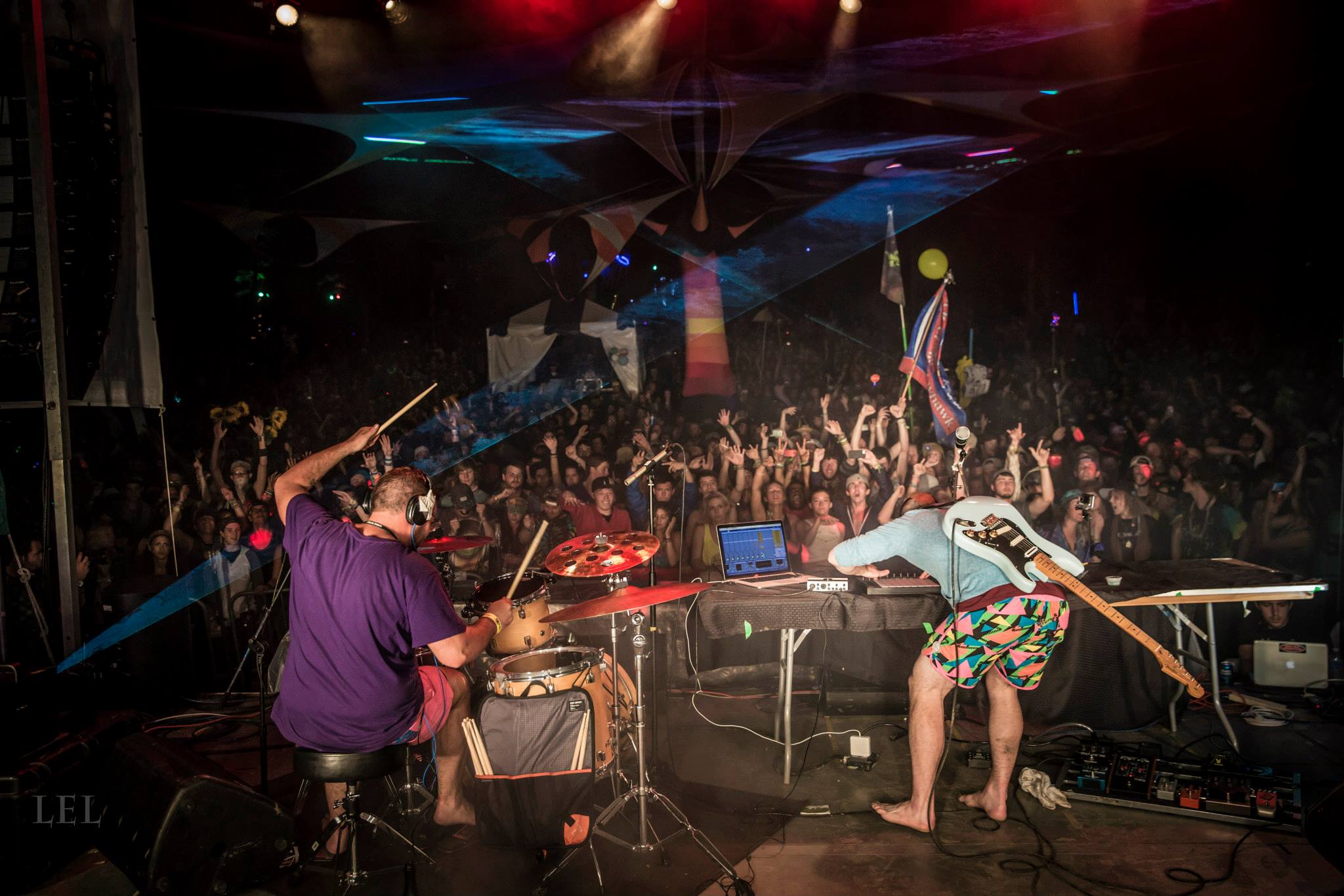 The Floozies had the honor of closing out the entire Wakarusa Music Festival for 2014 and I don't think there could have been a better group to be chosen to do so. I have seen The Floozies many times before so by this time (late Sunday night/Monday morning) I was gone and on the road back to Fayetteville. But I know how well they performed, I heard that they had an amazing set put together, jammed packed with the funk! Cause boy they bring that funk! The two brothers are a BLAST to watch play live, they constantly look as if they are having just as much, if not way more, fun than crowd as they perform. The funky electronic duo has a stage presence that does not go without noticing whatsoever. It's so fun just to watch how lively they are up on stage as they do what they love. It's honestly inspiring to be a part of.
______________________________________________________________________________________________
We had a ton of fun covering at this one of a kind festival and we can't wait for next year. At Wakarusa you are constantly surround by amazing people who all are giving off the best of vibes to you are your friends which really I haven't experienced at any other festival to the extent that I feel at Wakarusa. If you've never been and want to check out a completely unique festival experience, we highly recommend attending next year as this festival continues to grow in popularity and exceed expectations. It's magical. Head over to Facebook to check out some of the images we captured! Thank you Wakarusa for having us out & thank you to everyone behind the scenes as well, so much goes into festivals and we all appreciate it so much but sometimes it seems like those people never get any credit. SO THANK YOU! We love you and can't wait to be back on top of Mulberry Mountain next year for Wakarusa Music Festival!
Thanks for letting us all Live Our Dreams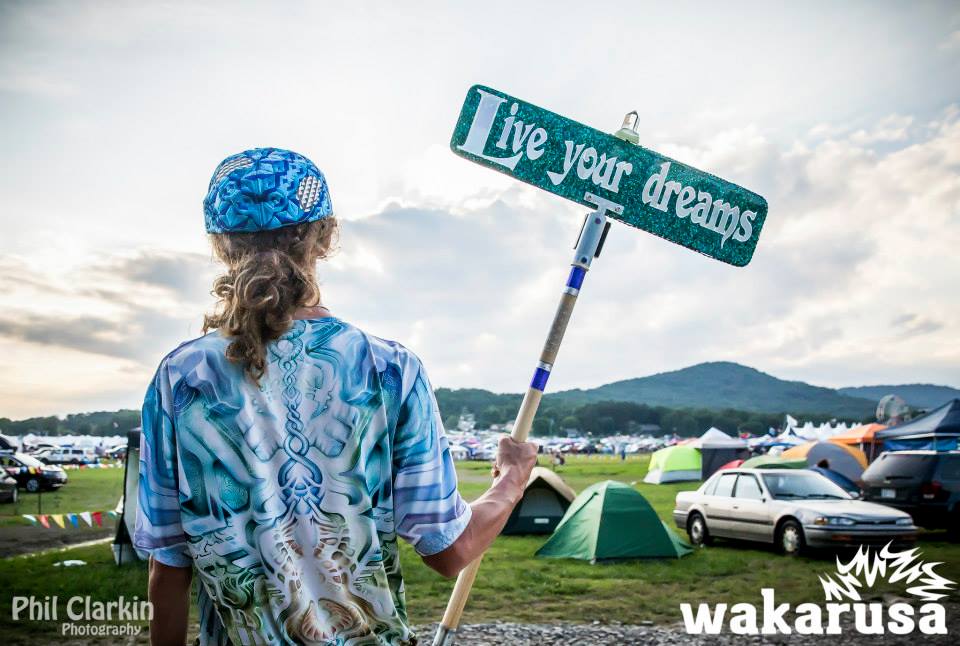 Photos: Thomas Gallatin (TSS) | LiveEditsLab (LEL) | Phil Clarkin Photography
Comments
comments