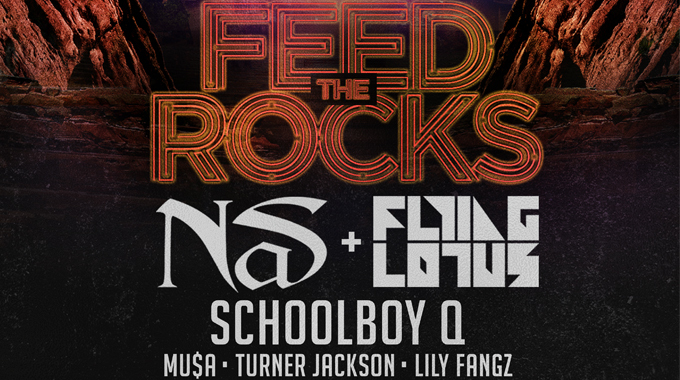 Photos by S. Flynn Photography
Red Rocks was the host of its annual Feed the Rocks fundraiser. Featuring local artists Klassick, Qmack, and Skydyed on the top stage and Turner Jackson, Lily Fangz, Schoolboy Q, Nas, and Flying Lotus on the main stage. People gathered to party down and support non-profits Gang Rescue And Support Project (GRASP), Preserve the Rocks, and Helping Our People Excel (HOPE). Five percent of proceeds went to each group.
Lily Fangz and Turner Jackson got it going representing Welcome to the D.O.P.E Game. Two artists that are definitely starting to take off. I saw them at Snowball Music Festival earlier this year and they threw down even harder at FTR. Schoolboy Q was the next up and ended up being probably the most talked about after the unfortunate events that followed the show. Things seemed routine, Schoolboy played hits such as "Studio" and "Man of the Year". Nothing to suggest what the future held.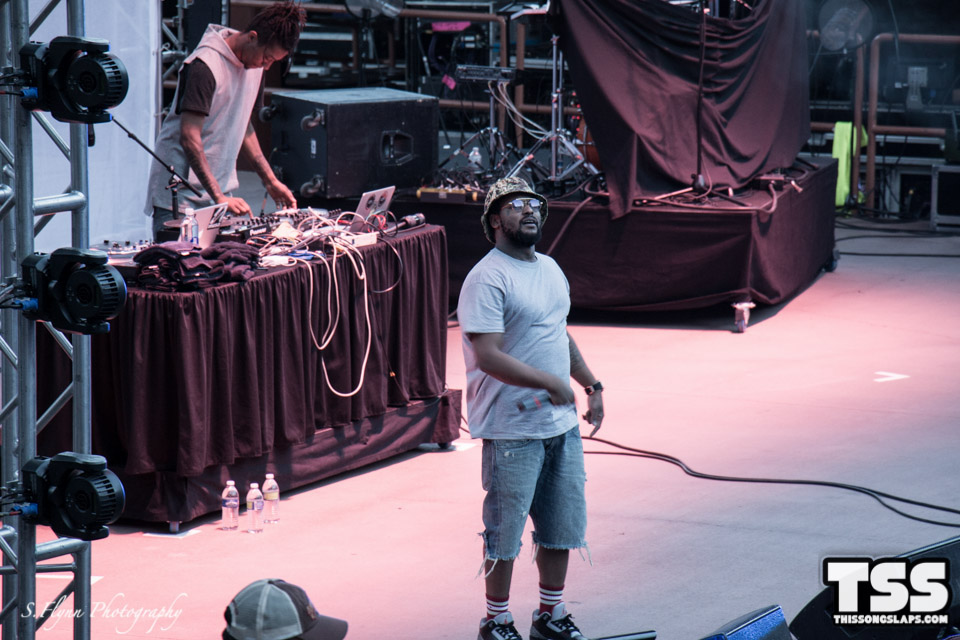 Following Schoolboy Q was what most thought to be the headliner of the event, Nas. Coming out of Queens, Nas is one of the original hip-hop artists in the game. Drawing fans from every age group, Nas showed why he is one of the most revered artists in the scene. Of course he delivered like the rap god that he is. Rowdy cheers burst from the hazy crowd as chart toppers N.Y. State of Mind and If I Ruled the World (Imagine That) blared out the iconic Red Rocks' Sound System. Chills ran up and down my arm as I witnessed one of the best rappers alive do what he does best.
As the night came to the close I became anxious to see what I knew would be one of the best visual sets I have ever seen. Flying Lotus has an amazing live show production. Playing from a booth set in between two gigantic screens, it became clear why he was headlining this gig. The spectacle was unlike anything I have seen before. Words can't capture everything that this production incites within those that are in the crowd. I just have to say, get to FlyLo ASAP.
While Flying Lotus was blowing everyone away with his performance, mayhem was unfolding in the parking lot. As Schoolboy Q was pulling away, shots were fired upon his vehicle, hitting three of its passengers. The suspect fled into the vast, cavernous Red Rocks Park and the vehicle fled the scene. Q and his crew were pulled over a few miles away from the amphitheater in Denver for questioning. Three of it's occupants were taken to a nearby hospital where they are currently in a stable condition. It's such a shame that this should ever happen in such a beautiful loving place. This was a benefit concert with proceeds going to an organization to help prevent things such as this occurring. We do not know the story behind why the shooting took place and information is still coming to the surface. The suspect is still at large. We will keep you posted.
Comments
comments