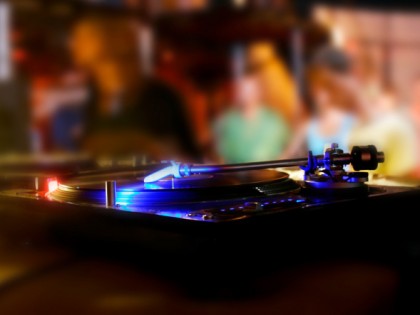 My name is Evan James and I am a DJ/Producer
Throughout my time researching and exploring music production I have come to believe that of the great unanswered questions in the industry at large is how to get exposure completely from scratch. Essential asking if it's possible to pick up producing and mixing overnight with the right blend of knowledge, dedication and enthusiasm and be successful, and the answer is yes. It's certainly not as easy as some people make it out to be. This is not something ten year olds do by themselves; crafting a unique sonic experience is something that can take decades, and having it pay the bills puts you in small company. But is it possible to play shows, and thrive on a local level without widespread notoriety (at least in the short term), yet consistently generate both money and fans quickly? Again the answer is yes, but it requires some creativity, a lot of socializing. I wanted to go out and explore the questions for aspiring producers and DJs, and find some real examples of DJs working consistently in the local scene, people who have made the leap to playing shows regularly, and find out what works for them. Not everyone can be a child prodigy, not everyone can have rich parents, but everyone can invest the time and expect returns, which is the great appeal of producing music. Here are some real answers from people making the dream work.
Note: the common factor in all the people all I've ever talking to is that they are very hard working. There is a direct hours and effort to success ratio in the DJ game.
Who they are:
Gravity Lift: DJGL is a duo of Dave Knudson and Jordan Goff, who first and foremost are music enthusiasts that bring a wealth of dedication to the table. They will be playing Bumbershoot Festival 2014 in Seattle.
Troy Crowder:
Troy is first and foremost a DJ, and as such plays his show exclusively with hardware, running rekordbox as he crafts a journey on his CDJ. Troy is fresh out of his first festival, Paradiso 2014 at the Gorge in Washington.
Questions:
• What DJ software/Hardware do you use and why
Gravity Lift: Logic 9, smooth interface, full soundwave edits.
Troy: Rekordbox on CDJ2000s and a DJM900 Mixer.
• How to you define an opening set?
Troy: An opening set is much harder than a casual or a party mix. What you need to play might not be your forte, genre or taste in music, meaning you need to think on your feet. Opening for Above and Beyond was the greatest challenge of my career, as I had never opened for a trance act before. Creating quality opening sets requires hours of commitment researching, finding new tracks and most importantly, expanding your tastes and variety of tracks to play.
Gravity Lift:
An opening set is trying to create an energy, a vibe. The club needs to be able to follow it through the progression of a night. Starting at a low level of energy, progressing to heavy, bigger tracks, pacing up to what the headliner will play. If you hit heavy all night, people get bored. Transition the energy level form a loungey, chill atmosphere to a party vibe later on. People need to be able to drink, socialize when the night is young, there should be a natural progressing of getting more and more people to dance. You're not the star, people are not there to see you! Try to impress the club and the DJ after you, not the crowd. You want to control the dance floor, but save the grand finale for the headliner. Please the people who pay or hire you.
Play less LOUD, in actual decibels. Don't overload peoples ears too early. Never be in the red. Build a relationship with the sound guys, with the club workers, the bouncers, the bartenders. Personal connections are essential to perform and play with quality and consistency.
• What genre blend do you use in an opening mix? Does it vary depending on the night?
Gravity Lift: It depends on both the time and the headliner, but especially the headliner. There's an expectation for people in the club to hear the kind of music they think they paid for, and it keeps the club happy. For A/B, dark progressive trance, for a big name house DJ, big room deep. Something more chill than the headliner, if there's three different DJs, there are three different energy levels to be conveyed throughout the night. The vibe is the most important thing.
• What would you say is the best way to land a gig?
Troy: Putting in face time and making personal connects is huge. Humility, being able to put yourself out there, asking for it. Nobody will ever offer you a gig if you aren't confidant to step up and take it.
Gravity Lift: Podcast. Internet. Buy decks, practice first. Tell a story with your particular set, story board it out if you can. For us we posted to social media, met a personal contact and got connected through her with the University of Washington. We put a heavy emphasis on the local scene, people you can actually meet and give face time, even if it's over the internet. Owning your own equipment is not essential, but very important both for practice and getting to do live shows.
• Where was your first show? How many people?
Troy: First show was opening for Fedde Le Grand at Foundation, sold out show. It was absolutely amazing; One the best experiences of my life.
Gravity Lift: Dantes in Seattle, 100 people. Brought own speakers for better quality, got asked to play other shows right then and there. We played at Dante's for about 8 months before we got our first show at Foundation. Gravity Lift has been a mainstay at Foundation night club ever since, running on 18 months.
• What's your favorite aspect of opening or playing smaller shows
Troy: 1400 people for above and beyond was the best I've ever played. I went out of my comfort zone and played very deep, progressive tracks to an enthusiastic response. The crowd is all friends and family were there for it, so it was very personal. There's love and support for the local scene, and the hype in Seattle is real. I'm excited to play my first festival ever in the Gorge this year for Paradiso.
• Do you get paid? If not then how do you sell yourself to clubs?
Gravity Lift: Its important to establish an hourly rate. What you make depends on the demand to see you, and once you can play with regularity and pull an audience the club will trust you with better headliners and timeslots if its earned.
Way before any of that though, there is work involved. I (Jordan Goff) spent time as driver, assistant intern and promoter to the local DJs for USC events. Thousands of hours of commitment and effort were spent over the first year before Gravity Lift even got up to speed. That's a combined figure which encompasses producing, mixing, learning how to use hardware, extensive practice, finding, downloading, organizing and bookmarking music, working for USC events and generally networking with people who proved to be important to our vision, and being able to do what we wanted to do later on.
All of that is to achieve 45 minutes of new music per set, two sets a week, storyboarded on paper first. The podcast is utilized as a kind of beta test to work out transitions and track selection for live shows. Five hours of research for one hour of viable music is a solid ratio; picking and sorting through new and especially old material. Old school music still rocks, and especially in an opening set people connect strongly with the classics.
• How important is social media in getting booked?
Gravity Lift: Very important (Twitter, Instagram, Soundcloud, Facebook, Bandcamp)
Networking in the real world pushes people to social media, Social networking is the new business card.
Troy: Social media is everything, absolutely everything. Whatever you've got, run with it, put the stuff up, maintain it and promote it. Be very personable, make the fans feel like individuals who know that you want them there. It goes beyond status updates or tweets, it's the personal touch that makes people connect with you as a DJ. Music is an emotional experience at heart, let your internet presence reflect the emotion you aim to cultivate on the dance floor. Have a good sense of humor to endear your way through criticism and exercise humility that people can respect.
• General advice for someone looking to break out?
Gravity Lift: Make relationships with people. Its not entirely who you know that makes it all work, but it's just as important as the music. It's important to cultivate an audience, and that takes time.
Troy:
Message, and personally connect with club promoters, anyone who works at the venue. To get my first gig, I contacted the foundation booking email address and sent them a long message about myself, the kind of person I am. That face time before hand was what made the difference in getting to play.
• Any big Dos or DO NOTs?
Gravity Lift:
Don't – Go over 128, don't play to many bangers
Do – Play high quality songs
You'll have a large variety of music at your disposal, and you have decide what sounds the best at the club, through real speakers being listened to by real people. Not all of your favorite tracks are going to work in that environment, and it's about tuning, tweaking and even cutting a mix that gets it really clean.
• If you could give one tip to aspiring DJs what would it be?
Troy: The music you play is the most important thing. 1-2 hours a night digging for music, discovering, sampling, diversifying your library. Play a new set every show, put max effort into finding a unique style. I try to cultivate a "troy" specific show, leaving the crowd with an unforgettable experience. Find your sound and make your mix to roll with and stand out with your sound.
Be sure to follow Troy and Gravity Lift for some of the freshest Deep and Progressive sets you will ever hear.
"Follow" Gravity Lift: | Facebook | Twitter | Soundcloud |
"Follow" Troy: | Facebook | Twitter | Soundcloud |
Comments
comments