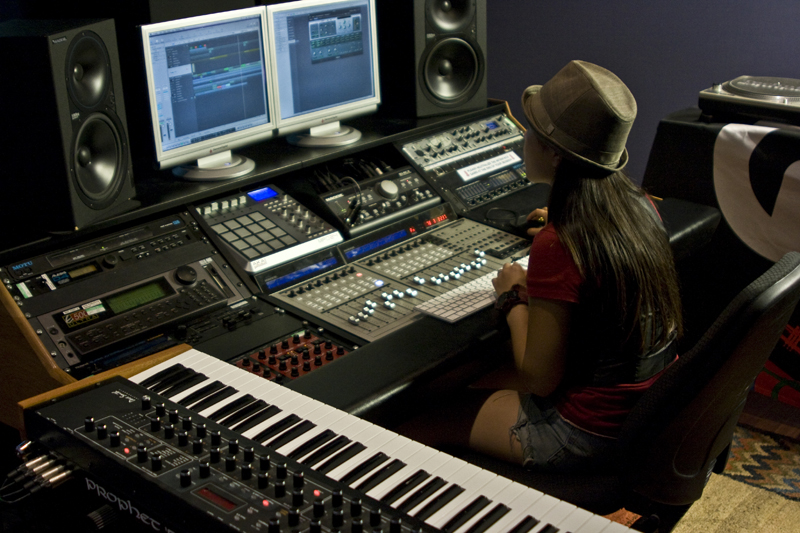 The biggest question that hovers over music production these days is cost: How much do I need to get started? What should I buy first? Can I get the software for free?
Every once in a while some big name producer will post something about "it's not how much software you have, it's how you use it" or "you don't need hardware to produce great music!". While its true that style over substance matters and sometimes less is more with studio equipment, there is absolutely an entry fee to produce quality music right away.
Here's the raw, unbiased truth: You need to be willing to invest financially to be successful as a producer or audio engineer. You need a computer that can consistently and reliably handle very CPU intensive software. You need storage to hold the thousands of sound files you will be creating/cutting/tweaking/sampling/warping. You will need a fast hard drive to handle the wav files that comprise your song. Most importantly, you will need the production software itself.
Someone will probably suggest that you pirate the software; this is an incredibly bad idea. Yes some artists have done it and been successful, but they are the supremely talented exceptions to the rule.
Here are my eight major recommendations for aspiring producers looking at buying a setup:
1. Don't pirate it, it's not going to work
So you've pirated a copy of Ableton Live, you're ready to produce right? In your dreams. Ableton checks your registry key at launch to make sure you don't have a cracked version. If you do have a cracked version, it will either tell you and not let you save, or it won't tell you and not let you save; either way you are screwed. Even if you can save once or twice, or ten times, good luck getting it to work consistently, especially once you have a bunch of VSTs loaded up into your project file. Audio project files are MASSIVE (pun intended), and they will work your computer over if it lacks sufficient RAM and storage transfer rates.
That's beside the fact that VSTs (the software that emulates synthesizers or instruments within the DAW) are nearly impossible to find cracked versions of. Some of the big ones are out there, but you'll find that the smaller, lesser known VSTs are often the most reliable and consistently sound the best. Even if you can find the application file somewhere, VST keygens are not in high enough demand to exist in most cases, or be updated even if they do exist. Combine that with the problem of finding a 64 bit VST versus a 32 bit or Mac vs PC version, and the whole concept of pirating VSTs becomes such a massive time wasting headache that it isn't even worth trying.
2. Even if it works, it won't be reliable
Even if you get your DAW up and running with a keygen, you run the risk that it can and ABSOLUTELY WILL crash. It will crash when you load files, when you save, when you change important factors. It will crash at times for no reason other than it's incredibly complex software and even the legal version is prone to going haywire, frequently. Nothing is more frustrating that getting deep into the production stages only to save or try and load a sound and watch your whole computer brick up and crash violently to the desktop. Save yourself the headache, buy the DAW.
3. The best stuff isn't free, can't be pirated
Any recent or niche VST probably has no cracked version, or no keygen to pair with it. Don't waste your time looking for it if it isn't there, or trying to get it to work if it wont. It's frustrating to use the demo version of a synth and make a song you can play, just not save and/or export. Do some research, find some VSTs and Effects, demo what you can, pay for what really works and you will be rewarded with better sound.
4. Don't be cheap
Save a little longer, plan a little better and spend a little more to get the right configuration to produce with. Get the fastest hard drive (Macintosh flash storage is the best, high speed solid state is the runner up), the fastest processor and the most RAM that you can.
For the first year, maybe even 5 years you produce, your music probably isn't going to be very good. It will have promise, show some potential and might even get some positive responses, but it's not ready for the big stage. There will come a time, or maybe even a specific track when everything clicks and you really start to flourish with your skillset in a specific DAW or with a set of VSTs. At this point your mind will race with all the endless possibilities you can create with what you know. Don't let that potential be limited because your computer can't handle the software. Your music will thrive if it can be what you make it to be, as uncompromised as possible by hardware and software limitations.
5. Mac only matters if you get flash storage
Everyone wants to know: Do get a Mac or a PC? It makes zero difference whatsoever. The only way the mac is better is if you spring for the best of the best; the $3,000-$8,000 range of iMacs and MacBook Pros. You can build a $2000 MacBook as a desktop PC for $900, so don't waste your money unless you're going all out and spending over five thousand dollars for every bell and whistle.
6. Run a 64 Bit OS and DAW
In the later stages of producing you will be thankful for the 64 bit. On day 1, even day 500 of your production journey it will not matter. Once you reach the point of great complexity in your creations you will want the extra capacity.
7. Master the essentials before you go all out
All you need up front to get started is the computer, a DAW (any one is fine) and a synth (again, doesn't matter which one). Learn to use what you have before you buy more. Big names like Whiiite and Sound Remedy produce about 90% of their original sounds exclusively with Massive. There are unlimited possibilities within a single synth, and knowing how to get 90% out of one VST makes for better music than getting 20% out of four. Having the software is a major step, learning to use it is everything else you will need to be successful.
8. Be Patient
Making music is hard, time consuming and expensive. Don't give up when you feel like everything you make sounds terrible. Don't get discouraged when you can't afford every little VST you've ever heard of. Don't get frustrated when other people don't respond well to original works that you like. Learning to produce and getting results are separate processes that take extensive practice. Put in the work and you will see results, but don't go in expecting to be Hardwell in three years, you will be let down. Sound design is an art and a science, so be prepared to study.
Comments
comments