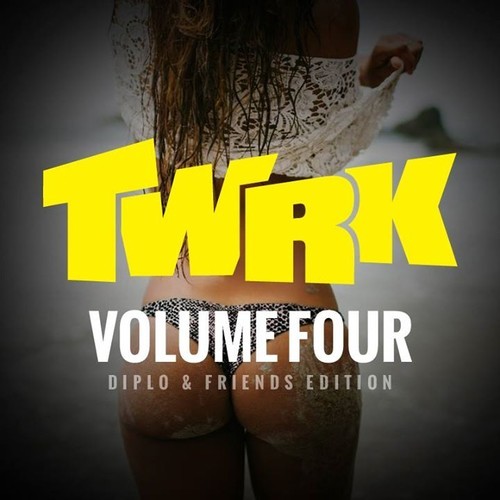 Benzi and Dj-eSenTRIK are back with another white hot mix. Talk about a power duo. Both of them release dynamite originals on the regular, and they've chosen to come together and grace us with the sounds of TWRK and their electrifying mixes. Speaking of consistently good mixes, Benzi's Girl Trapz are also phenomenal if you haven't heard them yet, you probably have. TWRK Vol. 4, however, is fire from 00:00 until 61:06. While the mix is trill/hype/raucous throughout, it also has some Hip-Hop influences that are really pleasing while twerking. Snag the free download and enjoy getting naughty.
TWRK – Volume. 4 | Download |
Tracklist:
Party Favor – Bap U
Low Pros & Juvenile – Muscle (TWRK Remix)
$yrup – Amazon
G-Buck – TWURNT
DJ Snake & Lil Jon & La Rez – Turn Down For Bellz (TWRK Edit)
Gents & Jawns – Fireball
D!RTY AUD!O & Ying Yang Twins – Reverse
Saint – Like A Hoe
ETC!ETC! & Jesse Slayter – Juicy
Sudden Beatz & DJ Craze – Bring It Back
Borgore & Waka Flocka Flame – Wild Out (Evan Gartner Remix)
Milo & Otis – Pigeons
Saint & G-Buck – Gijibae (VIP Remix) (Get Right Recs)
Hot Damage & Jason Perez – Twerk Your Enthusiasm
Iggy Azalea & Charlie XCX – Fancy (TWRK vs Yellow Claw Edit)
Evan Gartner – Bonkers!
Mace – Bombah!
Tropkillaz & Meaux Green – Pump Up The Volume
PoundPoundPound & FootwoRk – Booty In the Pants
Skrillex, Kill The Noise, & Fatman Scoop – Recess (Basomatik Edit)
Doobious & DJ Sweap – Get Up
Lil Jon & TYGA – Bend Ova
Ying Yang Twins – Whistle While You Twerk (Swizzymack Remix)
Aryay – The Lawnmover
Grandtheft & Keys N Krates – Keep It 100
Yellow Claw, Waka Flocka Flame, LNY TNZ, & Diplo – Techno
G-Buck – Bounce
The Partysquad – Helemaal Naar De Klote (Abstract Remix)
GTA – Dhalsim Money
What So Not & RL Grime – Tell Me
Audien – Elysium (gLAdiator Remix)
GTA & Juyen Sebulba – Hard House
Dimitri Vegas & Like Mike & Martin Garrix – Tremor (TWRK Edit)
Steve Aoki, Deorro, & Diplo – Freak
Bumbaclot Vikings (TWRK Edit)
DJ Snake & Mercer – Lunatic
Diplo & GTA – Boy Oh Boy
Diplo & GTA – Boy Oh Boy (TWRK Remix)
Ape Drums – Bookshelf
Justin Timberlake – Rock Your Body (Party Favor Remix)
Dj-eSenTRIK also released a chill jersey club/future bassey remix of "Nobody Else" a couple weeks back. Check it out.
"Follow" TWRK: | Facebook | Twitter | Soundcloud |
Comments
comments