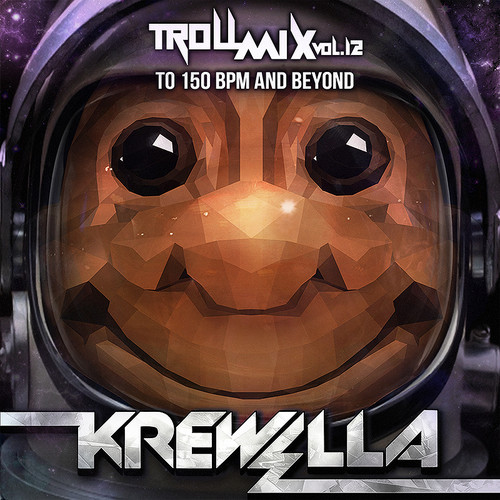 Less than a month after their 11th Edition of the Troll mixes, the Krew is back with Volume 12 and really kicks it up a notch. Known for being beloved bass heads, Krewella decided to give a full Troll Mix of bassy goodness filled with plenty of high energy drum & bass songs as well as your hard hitting dubstep. Even while on the road for the Verge Campus Tour, the mixes they're putting out seem to be getting better and better with each round. eEven Yazzy said it was her favorite:
prob my fav troll mix we've ever released, so many of my most loved DnB & hard dance tracks are in here; https://t.co/pigUiQftlu <3

— Yasmine (@krewellayasmine) May 1, 2014
Grab the free download now and fuck finals!
Krewella – Troll Mix Vol. 12: To 150 BPM And Beyond | Download |
TRACKLIST:
Sigma – Nobody To Love
Netsky – Detonate
Tim Ismag -Hell Racing
Krewella – Come & Get It
Skrillex – Ragga Bomb
High Maintenance – The Future (Original Mix)
MODULATE – WHAT YOU GOT
Petruccio Ft. Mark Slammer – Side By Side
State of Mind – No-Operative
High Maintenance & Mediks – Watching Me (Original Mix)
HeRobust – Sheknowshebad (Grabbitz Remix)
Adam F & Corey Enemy – When It Comes To You (Adam F DNB Remix)
Drumsound & Bassline Smith – Violator
DVBBS & Borgeous – Tsunami (Jump) [Ft. Tinie Tempah]
Gold Top – I Know
Major Lazer – Get Free (Andy C Remix)
Party Favor – Touch (Jorgen Odegard Remix)
Elliphant – Revolusion
Dillon Francis – Bootleg Fireworks (YEAHDubz Booty Bounce Bootleg)
Krewella – We Go Down (Daren Styles Remix)
Krewella – We Go Down
Krewella – Party Monster
Headhunterz ft. Krewella – United Kids of The World (Flosstradamus Remix)
Pegboard Nerds – Hero
Energy Syndicate & F.O.I.D – Sandstorm
Andy Whitby, Cally Cage & Klubfiller – Everthings Alright (Breeze & Modulate Remix)
Flosstradamus – Mosh Pit (Nick Thayer Remix)
Nicky Romero & Krewella – Legacy (Wildstylez Remix)
Gamer & Re-Con – I Know You (Drop This)
Krewella – One Minute (DotEXE's Dopest Dope Remix)
The Prototypes – Lights (Original Mix)
Krewella ft. Gareth Emery – Lights & Thunder (Darren Styles Remix)
Torro Torro – Go Deep (Killagraham DNB Edit)
Sub Focus – Turn Back time (Metrik Remix)
Le Castle Vania – Disintegration (Memtrix Remix)
Bel Heir – Kiss The devil (Just a Gent Remix)
Joe Ford – The Moment ft. Tasha Baxter
Krewella – Killin It (Dirtyphonics Remix)
"Follow" Krewella: | Facebook | Twitter | Soundcloud |
Comments
comments