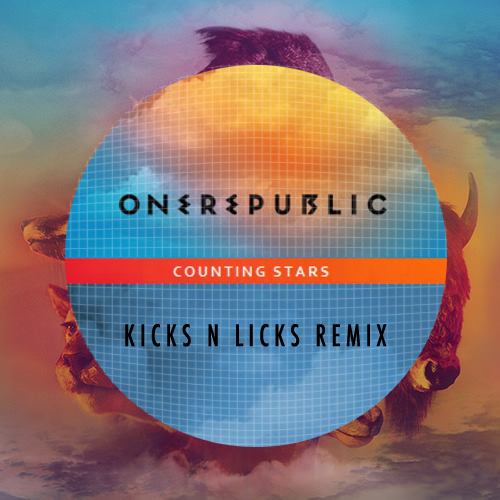 I first heard Kicks N Licks on one of my late night soundcloud adventures after stumbling upon their "Days To Come" remix. To make a long story short, these boys have been on my radar ever since, surprising me each and every time with their unique ability to remix and reinvent some of my favorite tunes. To top it off, they recently dropped a dope mix title "On The Rocks," that premiered on Earmilk which provided some of the best remixes and tracklist choices I've heard in awhile for my Sunday stroll. Featured on this mix was some new and old edits that left me curious to ponder- who exactly are these masterminds behind the music? Well, the boys behind Kick N Licks happily answered some of my questions as well as decided to drop their One Republic "Counting Stars," remix for free download. So press play, take a read, and meet Andy and Jarrod aka Kicks N Licks.
One Republic – Counting Stars (Kicks N Licks Remix) | Download |
How and why did you get your start? Any interesting anecdotes there? Is there anyone you owe "big time?" Why?

Andy: I've been involved with music far as long as I can remember. I started playing piano at a young age then got into playing drums when I was about ten. Around high school I started messing with Garage band making beats and eventually moved over to reason. Jerrod and I started making Hip Hop Beats together and that's how the project started.
Jerrod: I started by playing the trumpet around the age of 7,then got into playing drums around my early teens. Around high school I was introduced to the Akai MPC and started making hip hop beats with that. After that I started torrenting audio software and sounds anywhere I could find off the internet. Soon I started sharing some of the software and sounds I was downloading with Andy, and we quickly started making hip hop beats together and we haven't stopped since.
…If there anyone we owe big time it would have to be everyone that has been supporting us and believing in us. Also the internet because with out that we wouldn't have an outlet to share our music and wouldn't of been able to download all the software that we use today.
Where does the name Kicks N Licks come from? Any funny story?
Its pretty random actually, one of our favorite reggae tunes growing up was a track by Israel Vibration named Licks and Kicks so we just switched the words up too Kicks n Licks and ran with that.
Can you walk us through your various musical phases? From early interest to actual creative output, how did they tie into your waking life?
We both grew up listening to a lot of different genres. Anywhere from reggae, hip hop, Metal, hardcore, jazz and all types of electronic. We still enjoy all types of music and they all definitely have an influence on the music and me.
How do you decide which songs you want to remix and how is it working and brainstorming ideas back and forth between each other for creative output?

For us anything that catches our ear can be something we end up remixing. Many times it's the vocals of a track that really make us decide on a track,but pretty much anything we are feeling is a possible remix.
What was the first show you attended? Who with? Where? What stood out the most to you?
Andy: I honesty cant remember my very first show I ever went to… but the first EDM show I went to was probably Rusko in LA in like 2008 with my buddy Austin. What stood out to me most was the energy and the vibe that bass music brings to people!
Jerrod: The first EDM show I went to was Audiotisic in San Berndino with a group of friends, which had a pretty stacked line up it was Benga, DJ Fresh, Doctor P, Flux Pavallion, Datsik and the list goes on. What stood out to me was seeing all the stage production and lighting and hearing some of my favorite tunes at the time on a huge system
How do you prepare yourself before a gig?Any pre-show rituals or traditions? Superstitions? Explain.
We keep it pretty simple we usually try to look for some local tree, get some food and have a few drinks before a set. And afterwards we usually start gathering people for an after party
What does 2014 hold for Kicks N licks? Any EPs, tours, etc?
Right now we are working on a few remixes and will be touring off our next single in May. Also we are putting an EP together for late summer/fall and will be hitting the road for a while around that time too. Other than that you can expect to hear various free releases and mixes from us throughout the year! :)
"Follow" Kicks N Licks: | Facebook | Twitter | Soundcloud |
Comments
comments