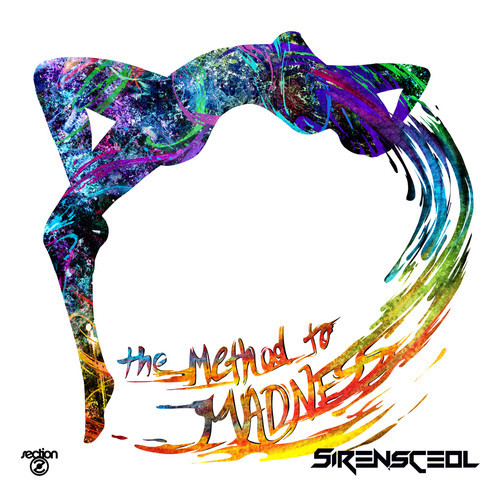 SirensCeol has completely taken over iTunes and Beatport with his debut album "The Method to Madness." A marvelous work from start to finish portraying an effort not seen by the rest of the industry. The album contains all sorts of genres ranging from Dubstep, Electro, House, Progressive, Drum n Bass, Chillout, vocal tracks, literally everything!
First Half Of Album
The Glitch Waltz took me by surprise. I thought I was going to get a lesson in classical music and I wound up having my face melted off. A very solid dubstep song. "Atrium" is just good ole Sirens and man we love him every bit for it. "Adventure Time" takes a bit of what he has been doing in the past and kinda blends what I imagine a future version of him being. The first vocal track off the album comes with an upbeat summer anthem courtesy of Jeff Sontag tilted "Feel Alright." I am really digging this and it vibes with the spring season. "Islands" is my favorite track so far that contains some seductive and perfectly placed vocal samples accompianed by the never ending punchy kick.
"The Devil's Swing" is one of Sirens breakaway tracks in my opinion. He really reaches to break new ground and it is impressive to say the least. "Not Gonna' Fall" is the last up on the first half of the album. Fun fact the vocal sampling is actually my artist Brenton Mattheus sampled from their highly successful collaboration "Can We Survive" which you can listen to here.
Second Half.. Ready!?
We are going to start strong with a quick game of "Russian Roulette." Don't worry this WILL kill you and in a completely positive way. This almighty electro record blends the melodies and catchy basslines into a swirl of rage and beauty. Really like this one. Next up we have my now #1 favorite place taking over the place of "Islands" that we talked about earlier. This one happens to feature a vocalist by the name of Heaven on Earth..okay not really her name is Ayana but she is remarkable on this. "My Story" is the first track I can feel Sirens coming alive over the speakers. A sense I haven't found as deep and touching as I do with this one. "All You Are" features …you guessed it! SirensCeol himself. As you have already taken witness to he is easily one of the most talented musicians out there and I am excited for him to make a lasting impression on this world and the next.
"Memories" has a nice touch to it with the return of wonder woman Ayana to lay down some quick and soft vocals on the 2nd breakdown before another genreless drop section. Another vocal track and we are so lucky with this one. Inure's passionate touch reminds me of a seasoned painters stroke across the canvas. The painting lures you into a deep sleep only to have your wishes granted by the genie Sirens himself. We got two left..one is chillout and one is some good old wobbles. "A Heart Without A Home" belongs synchronized to a movie of chasing the sun and knowing that tomorrow is never guaranteed. You need to take every chance you can get to make a difference and leave a handful of inspiration for those who follow. This is my #1 favorite off of the album and it makes me feel alive.
Last but not least we close out this album review with a melancholy and almost tradegic effort that hints and new light. A "we can do this" approach to the aftermath of a downfall. Yeah both of these are at a solid tie. Both need to be on movie soundtracks and I give this album a 9.0/10. Sirens the minus 1 point is so that you will push the limits even further next time around. Support this talented artist below and grab yourself a few tracks or the whole album!
SirensCeol – The Method to Madness [FULL ALBUM] | Purchase |
"Follow" SirensCeol: | Facebook | Twitter | Soundcloud |
Comments
comments