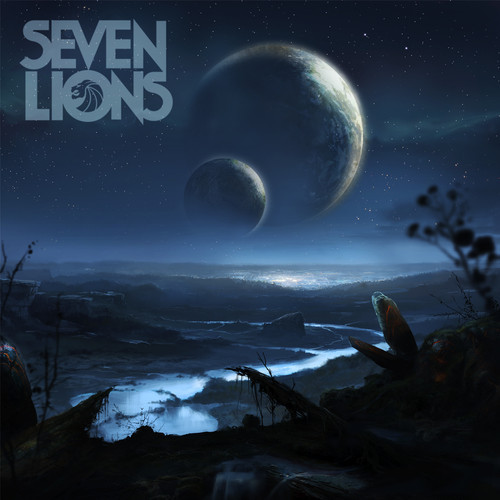 Seven Lions has without a doubt proven himself as a producer whose music not only uniquely stands out from current dance music but also remains timeless. Experimenting with different time signatures and different BPMs on his latest work, the Santa Barbra native producer manages to maintain the blend of Dubstep and Trance that he has coined while each track sounds completely different. His style has continued to propel this scene into amazing new places and we are more than happy to share our review of his Worlds Apart EP. This incredible EP is out today on iTunes!
'Don't Leave' featuring Ellie Goulding
Seeing these two names on a song together is both giddiness-inducing and daunting. Ellie Goulding's ever-enchanting vocals perfectly suit the melodic and euphoric presence that Seven Lions' signature production entails. The two prove to be a perfect fit with each others musical styles to create a superbly emotive song that will go down as timeless. The track's up-tempo drop displays the true versatile nature of Seven Lions' productions to say the least.
'Worlds Apart' featuring Kerli
The title track on the EP features one of two guest appearances from Kerli. 'Worlds Apart' itself is yet another demonstration of beautiful melodies combined with a much more dubstep feel that Seven Lions is known for. The euphoric bass in the drop combined with Kerli's haunting vocals combine to make a track that feels right, and takes your breath away with the magic that Seven Lions is so adored for.
'Nepenthe'
Although not featuring a vocalist on this track, Seven Lions makes use of an opportunity to create a truly powerful song with his unique blend of different production elements. The first drop brings a dark, low grumbling array of bass and slowly 'Nepenthe' builds up to an incredible climactic point where Seven Lions unleashes an all-out assault on the listener's senses.
'Strangers' featuring Myon and Shane 54 & Tove Lo
As the song that has helped propel Seven Lions to a lot of his success, an edited version of 'Strangers' on the EP makes perfect sense. The emotive song stands as one of the best demonstrations of collaborative work; Seven Lions' powerful and well-structured bass blends perfectly with Myon and Shane 54's trance breakdowns and melodic direction. Tove Lo's top line comes in as the icing on the cake to take the single to greater heights, proving its prior release on a film soundtrack.
'Keep It Close' featuring Kerli
As we close out this remarkable extended play, we welcome Kerli back for another round of stunning vocals. While it's sad to see such a beautiful piece of work come to an end, we leave on a high note that has listeners grasping for more. The powerful vocals accompanied by Seven Lions' signature sound thrown on top of heart throbbing drums leaves our eyes wide and jaws dropped. While this may not be the lead track of the EP it is vital to its overall success. We couldn't have asked for a better way to close out Worlds Apart.
"Follow" Seven Lions: | Facebook | Twitter | Soundcloud |
Comments
comments