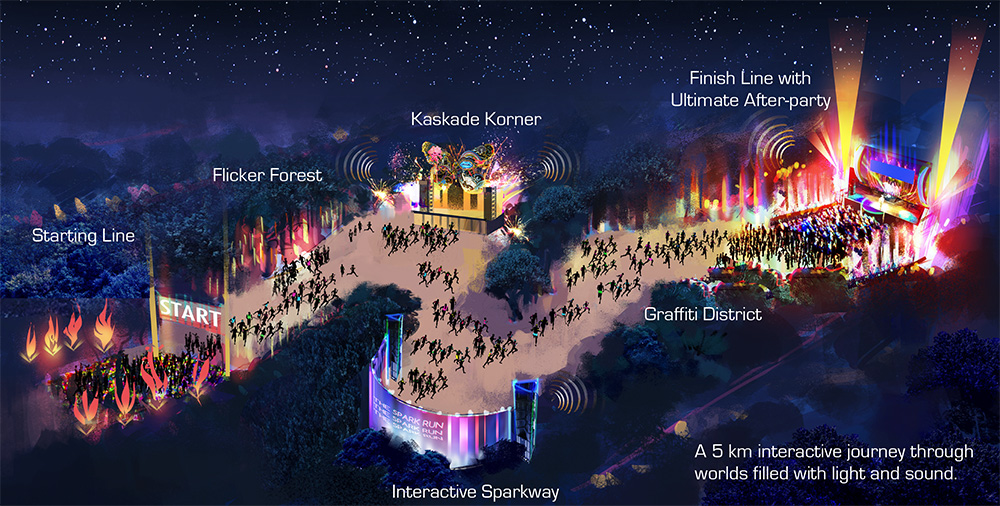 If anyone is focused on both music and lifestyle, it's Kaskade. The original idea of a "fun run" has been taken by Kaskade and blown so beautifully far out of proportion. Incredible lighting, live music from Kaskade himself, and good times. The five kilometer walk/jog/run admits all regardless of age, and is encouraged as a family affair.
The series of runs will be focused around giving back to the community, and on each of the six stops, the event will be teaming up with a local charity to bring both donations and awareness to a good cause.
Below is a note from Kaskade.
It's interesting when worlds collide. Finding a way to combine two things that are both important to me, but more than that – actually FUN – is a treat. So when I had the opportunity to partner up with some friends and create The Spark Run, I was all in. Running? Check. Music? Check. No brainer.

Let's get you up to speed. The Spark Run is what in the past people have called a "fun run". But we've updated this business. We are here to celebrate originality. This run encourages costumes, glowsticks + LED's. You don't have to be a runner to enjoy this. Register, show up early, take part in the activities, then walk the 5K with a bunch of friends. Obviously (you know me, right?) theres an after-party with live performances. Get down with the community of people who just shared the same experience. And if you are a runner? Get in there! Running at night, on a course like we're creating is incredibly satisfying.
In fact, it's so fun, that I'm going to be right there to make sure The Spark Run kicks off dripping in style. Our first event takes place in Denver, on May 9th, 2014. I will be running the 5K, and will also be performing. We will have the sound loud and lights lit. You will know you're at the finish line, friend.

This is an event that I'm really proud to be involved with. Connecting the music I love with an environment everyone is welcome in is an uncommon opportunity. I look forward to attending as many of the runs as I can, and encourage you to participate. It is designed to include everyone.

Ignite the Night.
Comments
comments