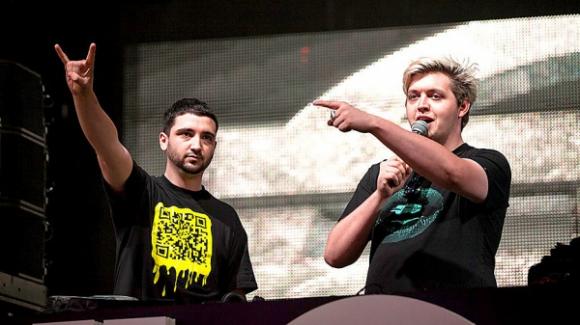 During MMW, we got to sit down and catch up with Flux Pavilion and Doctor P. Peep the interview below to hear about their DJing preferences and what it's like being on a team like Circus Records. Also, it's more fun if you read their answers in an English accent…
TSS: How would you say you've grown as a DJ and producer since starting in the dubstep scene in the UK?
DR P: I've definitely improved as a DJ. The first gig I ever had, I had never used CDJs before, I literally just looked for the play button. I also never used a microphone for years and then I did once and the reaction was so positive, I thought it was cheesy like a wedding DJ or something but now I realize people respond so well when you use a mic. You have to learn that skill. You can't just pick up a mic and get the crowd going you actually have to learn how to hype the crowd up. I used to talk really quick.
TSS: When did you start incorporating lights into your shows?
Flux: I do now at my shows but most of my shows I use minimum lights because it's about the music really. Every act has "their thing" like Deadmau5 and Excision, and I'm not into that to compete with them. People now watch things as a spectacle. I've always wanted confetti but it's crazy expensive, the actual confetti itself is cheap but the clean up is expensive. Hopefully if my album goes well you'll see confetti at my next show.
TSS: What's it being a part of a team like Circus Records?
DR P: It's interesting. It's an interesting way to learn how it all works.
Flux: It started with just 4 of us and now there's a team of like 12 of us.
We all live in different places, none of us live near each other. So the whole company is just phone calls and email.
TSS: What are your favorite things to do when you come to America? Like foods, etc.
Flux: I try to avoid the food. But I do love the weather.I feel like America is just bright and sunny the whole time and England is grey and gloomy so I just like enjoying the sunshine once in a while. And all the space – it's really great. You get a lot of personal space, apart from shows. I just like the friendliness of America. People are friendly in the UK, but it's a lot different. In the UK people are polite, but Americans are friendly.
DR P: Before I came to America everyone said people are friendly but it's all false. But I don't think that's true I think Americans are really friendly. Everyone is just like really happy and excited all the time I think.
TSS: Do you guys like playing in America?
DR P: UK shows are kind of weird. English people are really concerned with what's cool. Now Europeans only want dubstep. It died down for a little bit but now it's all they want. I can'y play trap or house it's all dubstep.
TSS: Hell yea it's that grimy bass, we love it too.
Flux: See that's the thing about us as artists, we never said we are dubstep artists because I don't want to be tied down into a genre. Circus is the same as well, we want to be broad, but even that said, everyone does like dubstep. Everyone likes it. Everyone who says dubstep is dead if you ask them if they like it they say "yeah man I love it." – so it's not. It's still fucking good music, it's great, it's just not the thing that everyone is talking about right now.
TSS: Do you guys work really closely which each other? Do you play off of each other's production at all?
DR P: We used to a lot, and then we stopped, and now we just started to again.
Flux: We did a two and a half month tour together and then we didn't speak for like a few months.
Dr P: It was too much of each other
Flux: It was our first American tour together and we hadn't gone through like, all the flights and hotels. And then we pretty much didn't talk for 6 weeks. When we landed back in the UK it was like "ok see you soon." But yeah, now it feels fresh and exciting. The process of doing this album has rekindled all the communication. And we've been talking more about the tracks and using each other as a platform for creativity. This album was a process of becoming solid as a unit.
TSS: Do you guys prefer smaller clubs, or bigger festivals? What about America vs. UK, what are the differences in those performances for you guys?
DR P: My favorite shows are always the really really sweaty, grimy, underground basement venues. It just feels real. You feel like everyone in there is fully involved. Whereas at festivals you have huge groups of people facing the other way, sitting on the ground, doing other things. But festivals are cool though.
Flux: I don't have a real preference either way really.. I just kinda like to play music to people. Sometimes I like it when no one is there. It's a really weird thing, but yeah, turn up to a party and there is like 10 people there, so I'm like fuck it you know what I'm going to make sure these 10 people have a fucking amazing time.
DR P: I played a show in England for 7 people. Literally 7 people turned up… and it was really good. We just had a chat to them, asked them what they wanted to hear and then we just played and it was actually really good fun and they were loving it. So even though it seems depressing, it's actually really fun…
TSS: Do you guys prefer B2B sets with each other or solo sets?
DR P: It's nice doing a mixture. I mean, when you do it back to back you're sorta forced to be creative. Cause he'll play tracks I've never even heard or I've never mixed and so like you've got to actually think. Whereas when you're on your own you kind of get into a rut of playing the same stuff every time. So it's cool, it's good to only have to do half the work as well.
Flux: I don't really like back to backs I don't think. I like the rut. Because it's a very well, like carefully planned and executed rut that I've been working on for like a year to make it so that it's perfect and it sounds really good. So sometimes when I'm like, I don't even wanna get from this track to this one, there's two in-betweeners like a really perfect mix. We do a back to back and we only get one song each, but every time we do it I'm like, I'm just gunna play three, cause I don't want to get here. That's just my style that's the way I play.
DR P: I like how back to backs always end with a small argument just before the end of the set cause one of us wants to do one thing and the other wants to do another.
Flux: We always end with Golddust. I've been ending my set with Golddust for like four years now. I don't I've even tried to end my set with anything else cause like ya know what, it works. Still now, people who have seen me play five or six times see me do that. To still recognize them and see them go crazy at that, I'm just like, I think I'm gunna be playing that as my last track until I die. And I'm cool with that.
Comments
comments