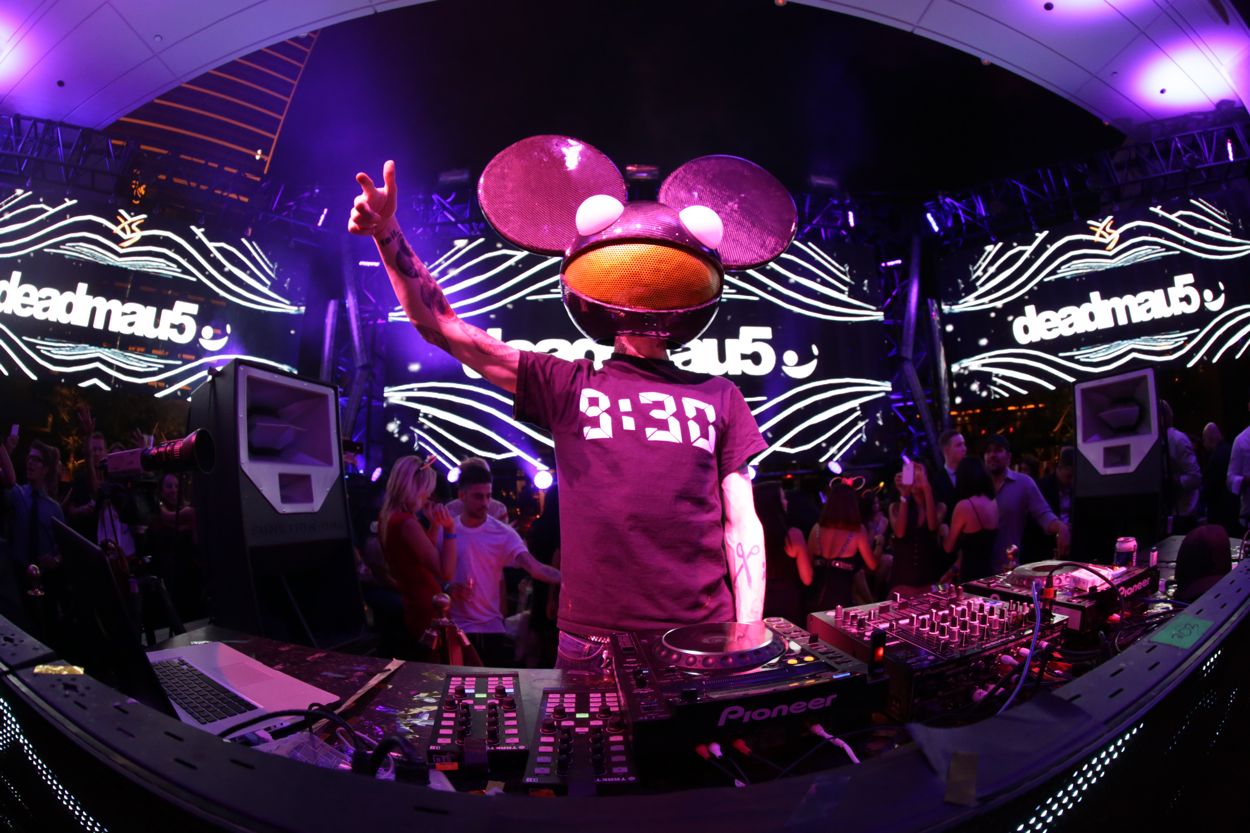 This past Saturday night Deadmau5 treated us to a very special 2 hour set from his Toronto penthouse which he called "mau5 after dark". I say this was a very special set because this wasn't the usual set you would expect from him; this set was "unhooked". For those of you who don't know, Deadmau5 'unhooked' is what he calls his freestyle sets. The tracklist for his 'unhooked' sets include some of his favorite tracks, originals, bootlegs and plenty of "ID" tracks you won't hear anywhere else. He has done a few of these are in the past but they are pretty rare, luckily for us someone was kind enough to record the livestream and upload the set!
This latest 'unhooked' set includes tracks from Pryda, Joris Voorn, Max Cooper and even Avicii's "Levels" made an appearance. Even though this isn't the type set most expect from the Mau5 one thing remained the same, he takes us on a musical journey like no one else can. We already knew Joel was a phenomenal producer but this live set proved to those who doubt him that he really is a very talented DJ. I could go on for days about the legendary Deadmau5 but I'll just stop here and let the set do the talking. Check out the set below and enjoy, this set was really something special.
P.S. Is it just me or does his studio look more like an evil laboratory?
Full Tracklist:
ID – ID
Lluis Ribalta – Belial
Deadmau5 – Luxuria
RAR – The Tool w/ Deadmau5 – Secondary Complications w/ Deadmau5 – Sometimes Things Get, Whatever
ID – ID
Whyt Noyz – In 95
Carlo Ruetz – I'm F***ing Famous
Pryda – Muranyi
Theo Parrish – Falling Up (Carl Craig 2013 remaster)
TG – Mr. Dry
Audion – Noiser
Joris Voorn – Decay
Schneider TM – The Light 3000
ID – ID
*TRACKLIST 2ND HOUR*
Max Cooper – Enveloped
Deadmau5 – Petting Zoo (working title) w/ Deadmau5 – Glish (working title) w/ Deadmau5 feat. Rob Swire – Ghosts 'n' Stuff w/ Nine Inch Nails – Survivalism (Deadmau5 remix)
Deadmau5 – 74 (working title)
Tony Rohr & Layton Giordani – Careless Suggestions
Cari Lekebusch & Joseph Capriati – Missed Flight
ID – ID
Ricardo Villalobos – Arild
Miro Pajic – Digits (Billy D'Alessandro remix) w/ Avicii – Levels
Chazzy Chaz – Imun (Chazzy's panic re-edit) w/ Deadmau5 – Gula
Deadmau5 – Cyclic Redundancy
Deadmau5 – Orca
"Follow" Deadmau5: | Facebook | Twitter | Soundcloud |
Comments
comments