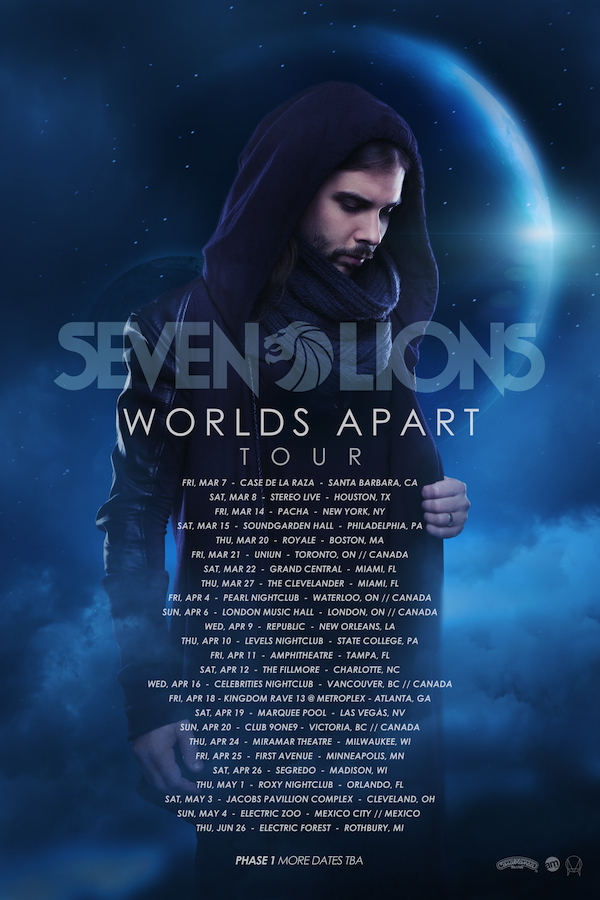 Seven Lions just recently announced his very first self-headlining tour "Worlds Apart". The world renowned producer is kicking off the tour tonight in his hometown, Santa Barbra, California, and will stopping by all major North American cities such as New York, Boston, Miami, Toronto, Mexico City, Las Vegas and more TBA.
Seven Lions, in my eyes, is one of the few successful artists with 100% original content. A genre he's self-curated and evolved throughout the years has finally landed him a well deserved tour. Along with an impeccable SoundCloud, it's without a doubt Seven Lions music is out of this world, eye-opening thematic music for those who have never ventured their ears through the sound of bass music.
Anyways, check out the tour dates below (more TBA) and get a full listen to Norin & Rad's remix of "Strangers" by Seven Lions with Myon & Shane 54 featuring Tove Lo.
Date | Venue | Location

March 7th – Casa De La Raza – Santa Barbara, CA
March 8th – Stereo Live – Houston, TX
March 14th – Pacha – New York, NY
March 15th – Soundgarden Hall – Philadelphia, PA
March 20th – Royale – Boston, MA
March 21st- Uniun – Toronto, ON (Canada)
March 22nd – Grand Central – Miami, FL
March 27th – The Clevelander – Miami, FL
April 4th – Pearl Nightclub – Waterloo, ON (Canada)
April 6th – London Music Hall – London, ON (Canada)
April 9th – Republic – New Orleans, LA
April 10th – Levels Nightclub – State College, PA
April 11th – Amphitheatre – Tampa, FL
April 10th – The Fillmore – Charlotte, NC
April 16th – Celebrities Nightclub – Vancouver, BC (Canada)
April 18th – Kingdom Rave 13 @ Metroplex – Atlanta, GA
April 19th – Marquee Pool – Las Vegas, NV
April 20th – Club 9One9 – Victoria, BC (Canada)
April 24th – Miramar Theatre – Milwaukee, WI
April 25th- First Avenue – Minneapolis, MN
April 26th – Segredo – Madison, WI
May 1st – Roxy Nightclub – Orlando, FL
May 3rd – Jacobs Pavilion Complex – Cleveland, OH
May 4th – Electric Zoo – Mexico City, Mexico
June 26th – Electric Forest – Rothbury, MI
>>>TICKETS<<<
Seven Lions with Myon & Shane 54 feat. Tove Lo – Strangers (Norin & Rad Remix) | Stream Only |
"Follow" Seven Lions: | Facebook | Twitter | Soundcloud |
Comments
comments