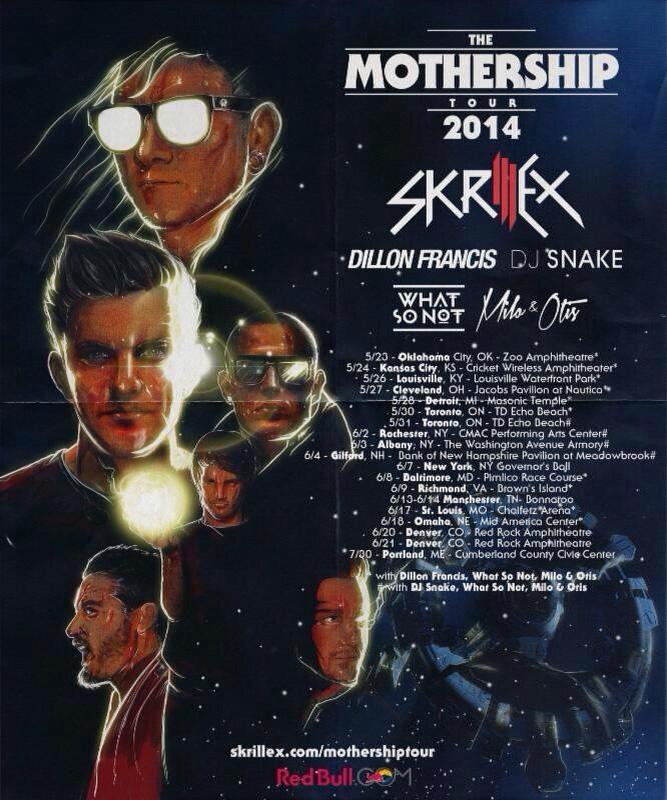 It's been a very busy Monday for Skrillex and company! On top of the secret folder opening today with album info, Skrillex and gang announced the massive 2014 Mothership Tour. This tour will be hitting major North American cities and will be including the likes of DJ Snake, Dillon Francis, Milo & Otis and What So Not! If you can't tell we are pretty excited over here. That's just the tip of the iceberg though…
While some artists may sit and plan out the perfect date to release their albums, Sonny Moore likes to take a different approach. Skrillex has always been one to think outside the box. Look at his OWSLA label for example, he specifically likes to find artists that are doing things out of the ordinary and create weird sounds. So it should come as no surprise that Skrillex decided to release his album in a way that is out of this world.
If you were paying attention last week you would have noticed that Skrillex.com took on a completely new look. There was a cool little alien friend on there that when clicked on would play a sample or a weird sound. These samples and sounds actually changed daily as well. Along with the new site came an app called Alien Ride. Now, it's no secret that Sonny loves aliens and weird intergalactic things so naturally the app was a cool outer space game. But with that game came something…different. A locked "secret" folder and a timer with it in the bottom right hand corner. I didn't know what to think at first. I was hoping for the best (new music) but didn't want to get my hopes up. Could it be? Could we actually be getting new Skrillex music!? Well the obvious answer now is YES!
This album that we can now call "Recess" has been years in the making. We all know Skrillex didn't play as many shows and festivals this past year because he wanted to focus on production and creating some ground breaking music. This album is a going to be a piece of musical perfection to say the least. All 11 tracks could easily change the direction of Electronic Dance Music. There's no denying that this will be rocking the scene for quite some time.
Now don't get too ahead of yourselves, it's not all getting released at once. We will get a new song after every countdown which is about 30 minutes long each. So, make sure you stay tuned to this post as more songs come out each half hour! We will do our best to provide updates and links as they pop up. We have already been blessed with "All Is Fait In Love And Brostep" and "Recess for the first two songs, what could possibly be next?
PS. Go listen to these songs as they come out in the Alien Ride App mentioned above!
Update: Hope you guys are loving Sonny's "Recess" album as much as we are!
Update: Full album available for download next Tuesday, March 18th!
1. Skrillex ft. The Ragga Twins – All Is Fair In Love And Brostep
2. Skrillex x Kill The Noise ft. Fatman Scoop Recess
3. Skrillex Stranger
4. Skrillex x Alvin Risk – Try It Out (Neon Mix)
5. Skrillex ft Chance The Rapper Coast Is Clear
6. Skrillex ft. G-Dragon & CL – Dirty Vibe
7. Skrillex ft. The Ragga Twins – Ragga Bomb
8. Skrillex x Mishka – Doompy Poomp
9. Skrillex – Fuck That
10. Skrillex – Ease My Mind
11. Skrillex – Fire Away
Skrillex – Recess (Available Match 18th)| iTunes |
"Follow" Skrillex: | Facebook | Twitter | Soundcloud |
Comments
comments